Categories: New York City, Groundbreakings
04.21.2014
Project represents Phase I of the Livonia Avenue Initiative in Brooklyn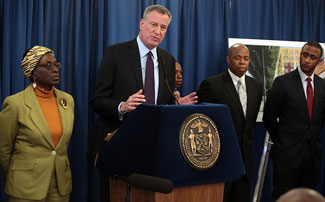 New York City broke ground earlier this month on Livonia Commons, a 278-unit project devoted to affordable and supportive housing in the Brooklyn neighborhood of East New York.
This $90 million development will consist of four individual buildings on a formerly vacant lot. Fifty-one of the units offered will be set aside for supportive housing. Of those, 43 of the units will house individuals with mental illness through the NY/NY III Supportive Housing Agreement and eight will house individuals with developmental disabilities through the NYS Office for Persons with Developmental Disabilities (OPWDD).
Network member Dunn Development Corp. is developing the project. The formerly homeless tenants will receive on-site support services from CAMBA, another Network member.
"Livonia Commons will help revitalize the Livonia Avenue corridor with a dynamic mix of new affordable housing, retail stores and community spaces," said Martin Dunn, Dunn Development Corp. President and a member of the Network's Board of Directors. "Working with our community partners, we'll build the kind of innovative and holistic development that the East New York community deserves."
"CAMBA is proud to be part of Livonia Gardens, where our staff will provide comprehensive on-site case management services to residents who are formerly homeless or have disabilities," said Joanne M. Oplustil, CAMBA's President and CEO. "Our clients know they always have someone nearby to help them if a crisis arises. And over many years of experience, we've proven that supportive housing is a cost-effective and successful approach to ending homelessness and helping tenants flourish."
A press conference held to mark the ground-breaking featured a number of high-profile guest speakers, including Mayor Bill de Blasio, NYC Deputy Mayor Alicia Glen, NYS Homes and Community Renewal (HCR) Commissioner Darryl Towns and Brooklyn Borough President Eric Adams. See below for video of the April 7 event:
An array of government agencies and private investors have helped fund Livonia Commons. These include HCR, the NYC Department of Housing Preservation and Development (HPD) and NYC Housing Development Corporation (HDC). OPWDD and NYS Office of Mental Health (OMH) will subsidize the support services for the tenants living with development disabilities and mental illness, respectively.
Livonia Commons represents the first phase of the greater Livonia Avenue Initiative, which will create 791 affordable apartments upon completion. The Phase I project is slated to open in December 2016. The City has since announced a Request for Proposals for Phase II of the Initiative. You can read that RFP here.
We congratulate Dunn Development Corp. and all partners on breaking ground on the first phase of the Livonia Avenue Initiative!
Photo courtesy of the New York City Mayor's Office