Categories: New York City, Network Events
10.08.2013
NYC Residence of the Year at the Network's 2013 Awards Gala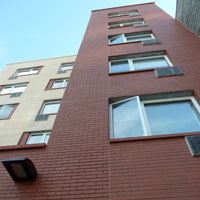 Click here for information on tickets to our Gala!
True Colors Residence is quite literally one of a kind: The first – and only – supportive housing residence for homeless and runaway lesbian, gay, bisexual or transgender (LGBT) young people AND the first New York supportive housing project associated with a genuine star.
This trailblazing residence is the result of the fortuitous pairing of West End Residences and musical icon (and recent Tony-winner) Cyndi Lauper. Long an LGBT advocate, Ms Lauper helped raise funds for True Colors, which is named after her 1986 song and album.
"The True Colors Residence provides these young people with a real home and the leg up and encouragement that will help them make it in the world," says Ms Lauper.
To the 30 young adults who live here, the residence is an oasis from life on the street, which can be especially treacherous for LGBT youth – who make up an estimated 40% of all homeless youth in NYC.
"When my family rejected me for being transgender, I remember asking myself, 'Where am I going to sleep? What am I going to eat?'" says True Colors Residence tenant Trina Carter. "Now, here I am at True Colors Residence, a place to better my life. What else can I ask for?"
True Colors Residence offers its tenants access to a host of social services especially aimed at supporting LGBT youth. Tenants can consult a life-skills coach, case manager or social worker to help with everything from budgeting for groceries to taking the right medication. Job readiness training, self-esteem exercises and identity affirmation activities are among those offered daily by the building's staff.
Located in Harlem, True Colors Residence is a gorgeous, green new construction that's emblematic of the best of modern supportive housing. Among its special features is a two-story outdoor space graced by a back-lit sculpture/fountain emblazoned with the "True Colors" lyrics.
But the real beauty of True Colors lies in the warmth and pride of the staff and tenants, which is palpable everywhere you look.
"I am humbled and inspired by the resilient efforts of our residents to overcome the trauma they have endured and am proud of the wonderful True Colors staff for assisting and guiding them along the way," says Colleen Jackson, Executive Director of West End Residences.
In light of the shocking dearth of both temporary and permanent housing options for the City's homeless youth, the hope is that True Colors will spur the development of more such residences. Indeed, West End is already at work on True Colors Bronx.
For its groundbreaking work to provide a safe home environment for New York's LGBT homeless youth, True Colors Residence is the recipient of our 2013 NYC Residence of the Year award.