Categories: New York City, Openings
10.24.2017
Project Hospitality's first single site supportive housing residence opens.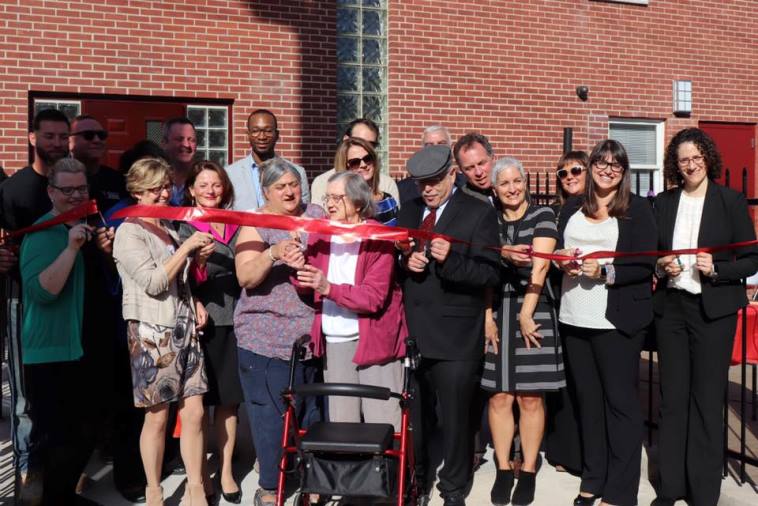 Cutting the ribbon at 411 Vanderbilt.
On an unseasonably warm sunny morning in late October, some fifty friends, staff, partners and well-wishers gathered in the front yard of 411 Vanderbilt to celebrate the long-awaited opening of Project Hospitality's (PH) first single site supportive housing residence in its 35 year history of serving homeless people on Staten Island. The project was also the first New York City project funded through the state's Empire State Supportive Housing Initiative (and only the second supportive housing residence to open on Staten Island). Both Project Hospitality's first Executive Director -- now CEO – Rev. Terry Troia and its new Executive Director Carrie Bloss were on hand to do the honors, as they helped cut the ribbon on 16 beautiful new apartments for formerly homeless individuals.
Project Hospitality Board Chair Rabbi Gerald Sussman told the story of the organization's twenty five year effort to build 411 Vanderbilt, which included multiple owners reluctant to sell, a long stretch in which the building was inhabited by squatters, and a fire that pretty much destroyed the building. Through the vision and tenacity of Project Hospitality and the project's architect Amie Gross, its contractor Mammoth Construction, as well as important funders, 411 Vanderbilt literally rose from the ashes.
Kimberly Smith of the Office for Temporary and Disability Assistance (OTDA) was not the first or last speaker to acknowledge the difficulties in developing this project. Ms. Smith and OTDA's Dana Greenberg presented Project Hospitality with a certificate of recognition from Commissioner Roberts as well as greetings from the Governor. Project Hospitality, for their part, gave out plaqued bricks to significant project partners including CSH, Capital One Richmond County Savings Foundation and the US Department of Housing and Urban Development (HUD).
CSH's Kristin Miller – whose organization had loaned PH the money to acquire the property -- noted that it had taken 25 years to make a loan for supportive housing on Staten Island, and predicted the next loan would not take as long.
Capital One's Heather Gershen pointed out that it "takes a village" not just to support our most vulnerable neighbors, but to support the groups that support them as well.
Arthur McCarthy of Mammoth Construction told listeners that he never forgot where he came from – a modest upbringing -- and that his "heart goes out to people who haven't been as lucky." He then proceeded to offer a check for $2,500 in his recently passed father's name to be used to fill the refrigerators of the 16 people who would be moving into 411 Vanderbilt over the next few days.
Also on hand were representatives from Richmond County Savings Foundation, HUD, OASAS, the Staten Island Foundation, the Network and HSU.
411 Vanderbilt was funded by HUD, OTDA, CSH, Deutsche Bank, Capital One and the aforementioned foundations. Service funding will come from the NYS Department of Health.