Categories: Network Events
10.24.2017
The Supportive Housing Network of New York celebrates the achievements of our community.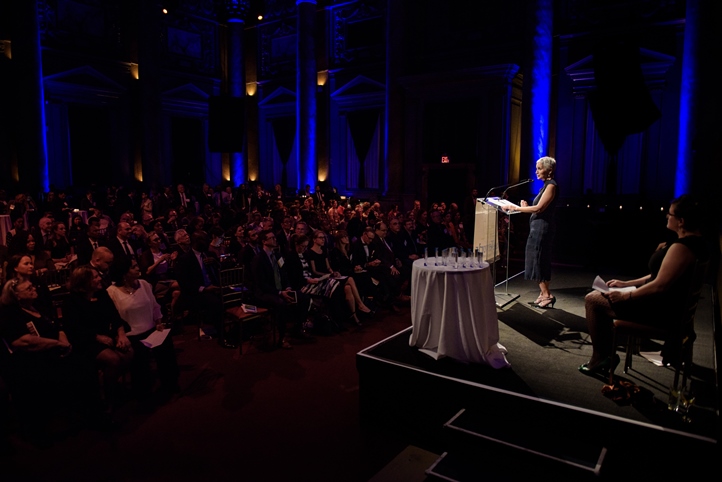 Network Executive Director Laura Mascuch addressing the crowd at the 2017 Network gala.
New York's supportive housing community came together on October 18th for our annual Network Awards Gala in a year of beginning to implement the historic commitments from the Governor and Mayor for 35,000 new units of supportive housing.
More than 600 guests joined us at Capitale to celebrate a few outstanding individuals and our amazing community. The mood was festive during the 90 minute cocktail hour as friends and colleagues revived old friendships and forged new ones.

The night's festivities continued with our awards ceremony. This year we honored Deutsche Bank as our Private Sector Partner of the Year, and RuthAnne Visnauskas as our Government Partner of the Year, as well as three remarkable tenants and two outstanding residences.
Network Board Chair and Breaking Ground President & CEO Brenda Rosen welcomed the crowd, and introduced the Network's Executive Director, Laura Mascuch, who expressed her heartfelt thanks to the Network's Board, staff and the community for all their support. Ms. Mascuch also offered special thanks to our gala fundraising committee chaired by Ralph Fasano of Concern for Independent Living and Hercules Argyriou of Mega Contracting.
Milagros Bursey, of the YWCA of Rochester, accepted the first of the evening's three Tenant of the Year awards from the Network's Sydney Kopp-Richardson. Ms. Bursey spoke forcefully about the difference supportive housing – and the YWCA of Rochester – had made in her life, after struggling with homelessness, domestic violence, and myriad health challenges.
The Network's Steve Piasecki presented our upstate Residence of the Year award to Melissa O'Geen of DePaul for their gorgeous Carriage Factory Apartments, serving a mix of formerly homeless and low-income individuals and families.
Kimathi Witt of Concern for Independent Living, accepted the second of the evening's Tenant of the Year awards from the Network's Ms. Kopp-Richardson. Mr. Witt spoke movingly about how connecting with Concern for Independent Living was the key to turning around a life full of challenges including undiagnosed manic depression and homelessness. Since moving in with Concern, Mr. Witt has reunited with his son, married his girlfriend, completed one Master's degree, was inducted into the Phi Theta Kappa Honor Society, and started a successful photography business.
Former Network Board Chair William Traylor, President of Richman Housing Resources, welcomed John Kimble of Deutsche Bank to the podium to receive our Private Sector Partner of the Year award on behalf of Deutsche Bank. Mr. Traylor highlighted the huge impact that Deutsche Bank has made on New York supportive housing. Mr. Kimble spoke about the importance of explicitly acknowledging issues of social justice in our work, in particular, the impact of racial inequity –as well as working to champion racial equity in our own organizations and partners.
The Network's Cynthia Stuart presented the second Residence of the Year Award to Robert Sanborn and Brian Bardell of Volunteers of America-Greater New York for the beautiful Creston Avenue Residence. Jessica Katz, Associate Commissioner of NYC Department of Housing Preservation and Development, presented our Government Partner of the Year award to RuthAnne Visnauskas, Commissioner & CEO of NYS Homes & Community Renewal. Ms. Visnauskas spoke to her long career in supportive and affordable housing starting with Clinton Housing, her time at NYC Department of Housing Preservation and Development and now at NYS Homes and Community Renewal implementing the very ambitious 20,000 supportive housing unit commitment.
The final Tenant of the Year Award was presented to Robert Offley of Urban Pathways by Ms. Kopp-Richardson. Mr. Offley spoke about the decades he spent living on the streets before finding a new life thanks to supportive housing. His emotional 'thank you' to Urban Pathways and all those assembled won a standing ovation.
The evening ended with more cocktails, conversation, and delicious desserts!
You can also read more about each of our honorees by following the links here and check out the photos of the evening.
We hope to see you at next year's Gala!