Categories: Federal
07.20.2017
Desperately needed housing and homelessness programs endangered.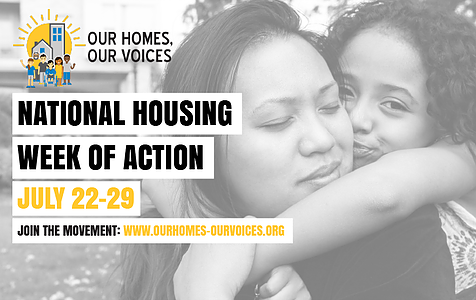 The House appropriations committee has approved a Transportation, Housing and Urban Development budget bill for FY 2018 that endangers desperately needed housing and homelessness programs. There is still time to influence members of Congress as the budget process continues in the coming weeks and months. See more about our current federal budget and policy priorities here.
More broadly, as a community we need to make our voices heard. Three out of four people eligible for housing assistance in our country do not receive it. As you know, New York faces its own homelessness crisis with 86,000 homeless people. We need to make our voices heard.
Join us next week, from July 22 to 29, for a national housing week of action, "Our Homes, Our Voices."
What can you do? The Network is participating in the following actions and we need your support:
National Twitterstorm, Wednesday, July 26, 2:00 pm

Use #OurHomesOurVoices to link your tweets to our national call for increased investments in affordable homes and an end to homelessness. By engaging on Twitter at the same time, we will draw the attention of members of Congress to the affordable housing and homelessness crisis and to the Our Homes, Our Voices campaign.
We will follow up with sample tweets next week.
Follow and retweet the Network: @TheNetworkNY
New York Housing Conference will launch new videos of veterans in Representative Peter King's district highlighting the importance of federal housing programs. Follow and retweet: @theNYHC @RachelFeeNYHC @JFacciponti

National Call-In Day, Thursday, July 27

Call your members of Congress and tell them to lift spending caps and fully fund housing and homelessness programs.
We will follow up with call-in script next week.
Use number: 202-224-3121
There are additional actions happening in Long Island, Staten Island, and Brooklyn:
Letter Delivery & Rally, Representative Peter King's Office, Long Island, Monday, July 24
Twitter Booth, Red Hook, Brooklyn, Friday, July 28
Staten Island Letter Writing Campaign – HUD Senior Housing, July 24 – July 29
Create Your Own Week of Action
Press conference
Rally/March
Tour or meeting with elected official
Op-Ed
Postcard/letter writing campaign
Voter registration event
Why?
Supportive and affordable housing is our best chance for ending homelessness in our state. All people deserve access to basic living standards, including a safe place to call home. In order to make this a reality, we need adequate investment from all levels of government.
For more resources and talking points, visit the Our Homes, Our Voices website.