Categories: Funding, New York State
01.14.2016
An historic commitment of epic proportions.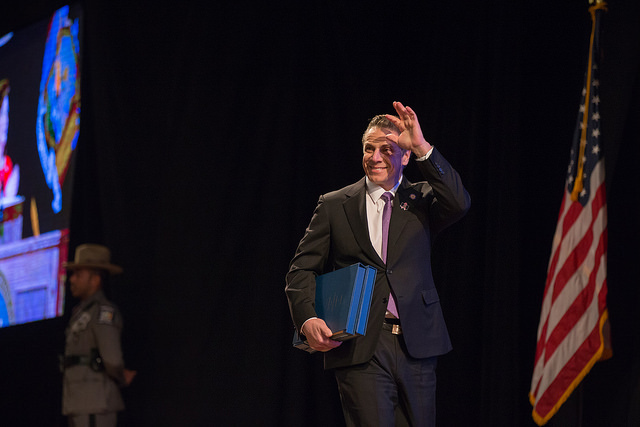 Yesterday Governor Andrew Cuomo committed to creating 20,000 units of supportive housing across New York State in the next fifteen years, an historic commitment of epic proportions. We are deeply grateful for this pledge and look forward to working closely with the legislature and the administration to ensure this commitment is realized.
The Network's Executive Director, Laura Mascuch said, "This is an extraordinary moment for the supportive housing community. We are deeply grateful to the Governor and our State partners for this incredible commitment. Thanks to Governor Cuomo's pledge we have a real chance to actually end homelessness among the most vulnerable New Yorkers over the next fifteen years."

Network Chair Bill Traylor, of Richman Housing Resources, summed it up when he said, "Simply extraordinary! With the Governor's commitment yesterday of 20,000 units and the Mayor's November commitment of 15,000 units we finally have the ability to meet the housing needs of our vulnerable citizens who are homeless all around the state. This is truly a momentous and historic moment."
Brenda Rosen, President & CEO, Breaking Ground, continued with more word of praise, "Governor Cuomo has been a champion of supportive housing for decades. With this announcement, he has made an incredible commitment to supportive housing that will help thousands of the most vulnerable New Yorkers. At Breaking Ground, we see supportive housing transform lives every single day. We thank Governor Cuomo for his leadership and dedication to helping the most vulnerable and at-risk New Yorkers who will now have safe, stable, affordable homes and access to the critical support services they need to succeed."
Governor Cuomo's stunning commitment coupled with the equally brilliant commitment by the Mayor to creating 15,000 units of supportive housing in New York City over the next 15 years means that, with your help, the Network and its partners in the Campaign 4 NYNY Housing met its goal of persuading the leaders of New York State and City to commit to creating 35,000 units of supportive housing. Fred Shack, Executive Director, Urban Pathways, said "The Governor's $20 billion homeless plan along with the Mayor's earlier commitment to create 15,000 units of supportive housing will result in the development of 35,000 new unit over the next 15 years. We applaud their collective commitments and look forward to working with them to place these new housing units in service."
While there is much work to be done to ensure these commitments are realized, we should all take a moment to celebrate this spectacular achievement. Tony Hannigan, Executive Director, Center for Urban Community Services, said "We have to provide homes to end homelessness, and the state and city's recent announcements to build tens of thousands more units of supportive housing will go a long way toward our collective goal of ending homelessness among New York's most vulnerable. These are extraordinary accomplishments."
Other members of the Network's Board continued the praise for the Governor's outstanding commitment to supportive housing. Ralph Fasano, Executive Director Concern for Independent Living, said "We are thrilled with the Governor's promise to develop 20,000 units of supportive housing statewide and with his idea for letting localities determine how best to use these precious resources. This is a major milestone for the state's most vulnerable homeless people and we are overjoyed."

And from Catholic Charities Housing Office of Albany and DePaul Housing Management's Executive Director, Deborah Damm O'Brien, "We are very happy to see the Governor's commitment to expanding supportive housing throughout New York State. Every day we in Catholic Charities Housing see how having a home with appropriate support can make a tremendous difference in the lives of men, women and families who have been homeless. With the dignity and help supportive housing provides, people have new hope that their future can be different from their past. We look forward to working with the Governor and the Legislature on this budget initiative."

It is thanks to you, your ingenuity, your compassion, your determination and your bone-deep commitment to helping the most challenged New Yorkers have better lives that this achievement was realized. We at the Network are deeply privileged to represent you.
Thank you to the more than 300 organizations that supported the Campaign.
Thank you to the more than 280 faith leaders who brought their moral outrage to the table.
Thank you to our champions in the Assembly and Senate.
Thank you to the hundreds of homeless and formerly homeless people who shared their stories, rallied and marched to help us get here.
And finally: thank you to the Governor and his committed staff. Governor Cuomo's lifelong commitment to addressing homelessness with smart, cost-effective and humane strategies was on brilliant display yesterday. His father must be smiling. We know we are.