Categories: Groundbreakings
02.23.2016
The complex's name honors the memory of Alan Epstein, a cherished member of the supportive housing community.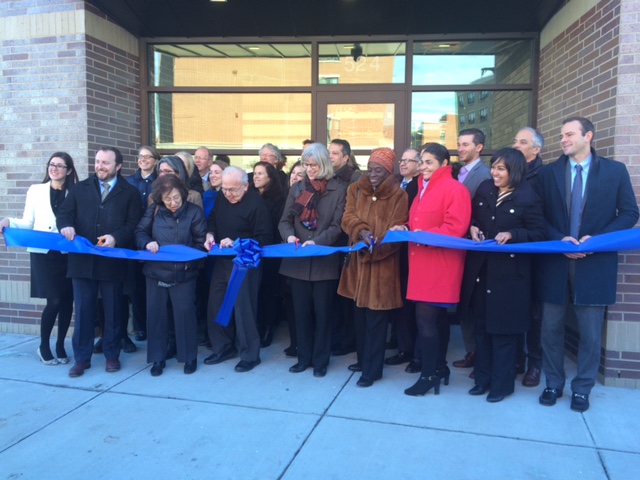 Cutting the ribbon at Alan Epstein Apartments.
On January 27th, the affordable and supportive housing community gathered in Spring Creek, Brooklyn for the ribbon cutting and dedication ceremony of the Alan Epstein Apartments (formerly known as Gateway Elton Street Phase II), a development complex featuring three multi-use buildings and beautifully landscaped outdoor spaces. Alan Epstein Apartments is the second of three phases of affordable, mixed use, and energy efficient developments by the Hudson Companies, Related Retail LP and CAMBA. This complex will consist of 175 affordable apartments, 30 of which will be supportive, as well as 24,000 square feet of ground-floor retail and community facilities. All units will be affordable to households earning between 40% and 60% of AMI.
The complex's name honors the memory of Alan Epstein, a cherished member of the supportive housing community, who passed away in 2013. Alan was a lawyer who fought tirelessly on behalf of his clients as a partner at Hirschen Singer & Epstein, LLP, and invented new ways of developing supportive housing, including approaches that have since become the norm.
Gathered for the celebrations were representatives from HUD, HPD, HDC, OMH, the Brooklyn Borough President, Enterprise, Wells Fargo Bank and Hirschen Singer & Epstein. The Hudson Companies' Aaron Koffman acted as emcee and co-developer Joanne Oplustil of CAMBA was also on hand.
Councilwoman Inez Barron called the Apartments, "a model for the City going forward to address the rise of homelessness."
Holly Leicht, Regional Administrator for HUD, spoke glowingly of Epstein's legacy, "he was the rare person who understood the whole world of housing, and someone who often carried nonprofits over the finish line to get the deals done."
Jessica Katz of HPD added: "There's not a day or a deal that goes by that I don't think of Alan and everything he gave to the supportive housing community. That this type of integrated housing is now routine is due to Alan's work. "
Paula Roy-Cruthers of HDC added "Alan brought the creativity that allowed us new ways to imagine deals."
Oliver Chase, partner at Hirschen Singer & Epstein spoke last: "Five years ago this land was a whole lot of nothing. Now it's a vibrant community of affordable and supportive housing. In addition to being a leader in the field, Alan was never too busy to mentor anyone. I am honored to carry his legacy forward."
A number of Alan's family were in attendance including his widow, Rachel Miller, as well as his brother and sister, and his in-laws.
Of particular note: the Alan Epstein Apartment complex has the largest solar energy system in New York State and has extensive solar paneling on the buildings' rooftops.
Services for the thirty supportive housing tenants will be funded by the State Office of Mental Health and will be provided by Services for the Underserved.
The building is a joint venture with the Hudson Companies, Related Retail LP, and CAMBA. Funders include the NYC Department of Housing Preservation and Development, the NYC Housing Development Corporation, NYS Homes and Community Renewal, Wells Fargo Bank, the Office of the Brooklyn Borough President, former City Council Member Charles Barron and NYSERDA. The project's architect was MHG Architects. The syndicator was Richman Housing Resources. The contractor was CH Builders LLC/ Cheever Development Corporation.