Categories: Network Events
03.31.2015
One hundred and fifteen members of our community gathered for the Network's annual meeting March 12th.

The Network's Executive Director Laura Mascuch addressing members at the 2015 annual meeting.
One hundred and fifteen members of our community gathered for the Network's annual meeting March 12th, to review the past year, meet our new Executive Director, hear from supportive housing's new champion, Assembly Member Andrew Hevesi and, as always network. In addition to a looped slideshow of the 22 beautiful supportive housing residences opened by our members in 2014, there was a continuous slideshow of photos from events throughout 2014.
Noting that this was her first public appearance as Executive Director, Laura Mascuch noted how many familiar faces were in the crowd. She kicked off the evening welcoming members as "the heart of the supportive housing movement," adding, "I'm amazed by the tireless commitment and great energy that you bring to our important work."
Special guest Andrew Hevesi, Assembly Member and Chair of the Assembly's Social Services Committee, delivered an impassioned speech and implored the community to educate stakeholders about supportive housing, calling the model "the only responsible answer for policy makers to address the long-term needs of homeless individuals, families and children." Later he shared his thoughts on our organization saying, "I was honored to speak at the Supportive Housing Network's annual event and I look forward to working with my new friends and partners at the Network to deliver a robust and critically important NY/NY 4 agreement."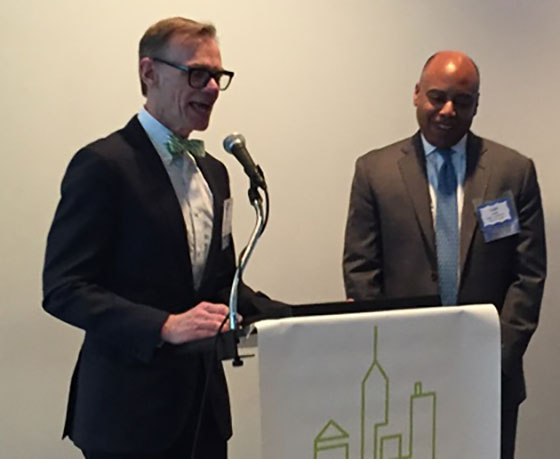 The Network's Board Chair Bill Traylor with outgoing Board Member Todd Gomez
The Network also recognized outgoing Board member Todd Gomez for his six years of distinguished service. "I have continually been amazed by the passion of the membership and the Network staff to serve our most vulnerable populations in New York," said Mr. Gomez. "First under Ted and now in Laura's very capable hands, it has been fantastic to watch the Network grow as its best self, the undisputed champion of supportive housing advocacy in the State. It means a lot to me to be recognized for making a small contribution to such an accomplished group."
This year's event marked other changes to the Network's Board of Directors. The Board welcomed two new members: Judi Kende, Vice President & New York Market Leader of Enterprise Community Partners, and Sam Marks, Executive Director of Local Initiatives Support Corporation. We're thrilled to have them on Board!
As always, the event was (brilliantly) catered by Project Renewal's Comfort Foods.
Our heartfelt thanks to all of you who joined us to celebrate our formidable accomplishments in preserving and expanding supportive housing in 2014 – and here's to an even more productive year ahead!