Sep.25.2017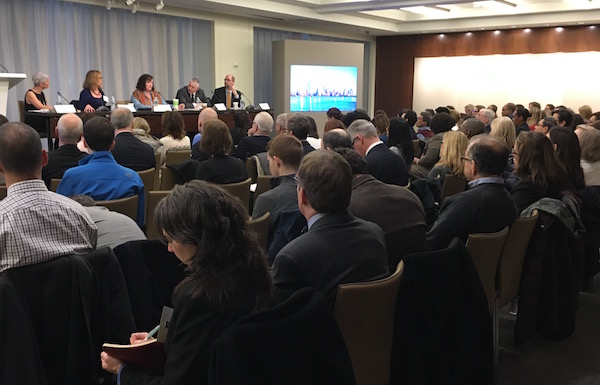 The Network's recent panel on the Empire State Supportive Housing Initiative (ESSHI).
Ever since last year, when the state and city committed to create 35,000 new units of supportive housing in two separate initiatives over the next fifteen years, the Network has focused on supporting our community in meeting this unprecedented opportunity. 27,500 of these units will be single-site. The state's commitment of 20,000 of these units – the Empire State Supportive Housing Initiative (ESSHI) – will be developed through an annual statewide RFP process, while New York City's 7,500 single-site units – part of NYC 15/15 – will be developed through an open, rolling RFP. The total number of units is three times that of any previous commitment.

The Network has embarked on a multi-year Getting to 35K Initiative for our nonprofit community. Last winter, we surveyed members to gauge their interest in developing supportive housing and to identify any impediments to the process. The results of this survey pointed us towards the types of trainings, convenings, and connections our nonprofit members needed to move forward.

In the first eight months of 2017, we convened our state partners for an ESSHI question and answer session which was attended by 100 members of our community. In February, we piloted a small, hands-on training on how to structure a joint venture with representatives from ShermanLaw, Bank of America, and Richman Housing Resources. Throughout the spring, we presented at various forums to help faith-based organizations partner with affordable and supportive housing developers, including a gathering we hosted with the Mayor's Center for Faith and Community Partnerships. Eight of our annual conference workshops were aimed at helping the supportive housing community implement NYC 15/15 and ESSHI. And in July, we held our first Joint Venture 'mixer' – bringing together for-profit developers and nonprofits interested in partnering to develop supportive housing…in a bar!

Over the next several months, we will be holding a number of events across the state on topics including financing a tax credit deal, joint ventures, and HCR's unified funding process. While we will be sending out specific invitations to each of these events, we wanted to keep you abreast of what we're planning to offer.

We would love to hear your thoughts on what else the Network could do to help us all meet our collective vision: ending chronic homelessness in New York State through the creation of sufficient supportive housing.
The Network would like to thank our funders for the Getting to 35K Initiative, without their support this work would not be possible: Bank of America, Capital One, Deutsche Bank, New York Community Trust, the Oak Foundation, Robin Hood, JP Morgan Chase, and the van Ameringen Foundation.