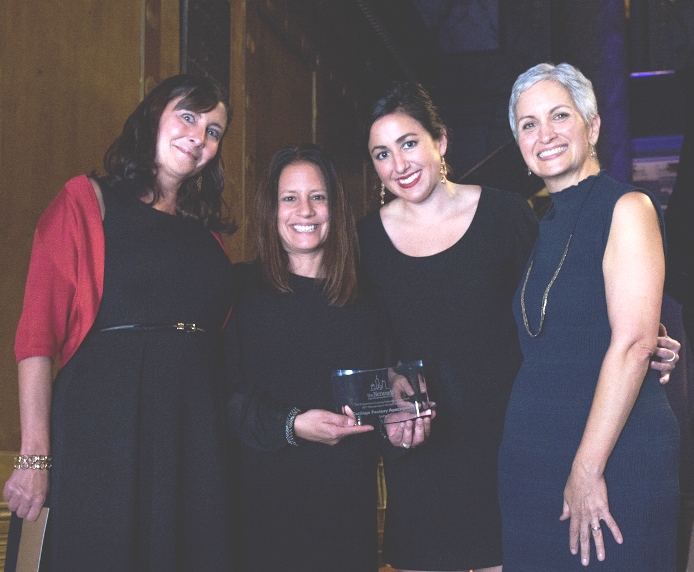 Melissa O'Geen, and the team from DePaul, accepting the Residence of the Year award with Laura Mascuch.
Carriage Factory Apartments- DePaul
DePaul's Carriage Factory Apartments has had many lives: what started out as the Cunningham Carriage Factory in the 1880's became an auto factory, then an airplane factory, and finally a derelict property atop a brownfield throughout much of the latter part of the twentieth century. But Mark Fuller of DePaul and other leaders of the Rochester homeless advocacy community had a vision: to turn the property into homes for a mix of formerly homeless and low-income individuals and families, bringing up the street and the historic neighborhood at the same time. Today, the Carriage Factory Apartments not only provide 71 beautifully designed apartments as well as an array of services, there is an actual brougham-style Cunningham Carriage situated in the lobby!
Senator Kristin Gillibrand predicted the residence's future impact at the groundbreaking saying, "Redeveloping sites like the Carriage Factory is a smart way to help our economy grow." Three years later, the residence has not only garnered eight design awards, it has also jump-started development up and down the block…a block that happens to be just down the street from the place Susan B. Anthony cast her famously illegal vote for president in 1872.
The Carriage Factory has carried on Ms. Anthony's advocacy spirit, hosting a hugely successful 2015 Campaign 4 NY/NY Housing event with dignitaries including Assembly Majority Leader Joe Morelle, State Senator Rich Funke, and Assembly Member Harry Bronson, calling for the creation of 35,000 supportive housing units statewide…which we won (!) thanks in part to seeing the success of residences like Carriage Factory Apartments.
The community inside the residence is just as strong thanks to the dedicated staff: in addition to comprehensive services including education and employment assistance, residents have participated in a number of neighborhood beautification projects.
The building was designed by SWBR and the contractor was Christa Construction.
Funding came from NYS Homes and Community Renewal, the Finger Lakes Regional Economic Development Council, the City of Rochester, Community Preservation Corporation, Federal Home Loan Bank, Goldman Sachs, NYSERDA, and the NYS Office of Mental Health.
DePaul is the winner of our 2017 Residence of the Year Award, for creating a superb new supportive housing residence in Rochester, Carriage Factory Apartments.
Volunteers of America-Greater New York's (VOA-GNY) Creston Avenue Residence is a glorious addition to the South Fordham neighborhood of the Bronx. The residence both blends in and enlivens the streetscape, with its huge windows, clean design and details that echo the facades and fire escapes of neighboring buildings.

Robert Sanborn, Fernando Villa, Brian Bardell, and Laura Mascuch.
Creston Avenue Residence -Volunteers of America-Greater New York
Creston features 65 apartments providing homes to formerly homeless individuals and families as well as low-income families from the community. There are 21 studios providing supportive housing for individuals; 20 units providing supportive housing for families; 8 VASH units for veterans who are disabled and 16 units for low-income families from the community.
Creston has an incredibly close-knit community: low staff turnover among case managers has promoted strong bonds among tenants and staff. The residence features an intimate rear courtyard and a lovely community room, both of which are popular places for tenants to gather and for families with children to play.
VOA-GNY also provides on-site social services including case management, employment referral services, life skills workshops, and afterschool activities for children. Creston sponsors popular barbecue nights in the summer and holiday celebrations throughout the year, as well as quarterly tenant council meetings and monthly community meetings. Services are funded by the NYS Office of Mental Health (OMH) and the NYC Department of Health and Mental Hygiene (DOHMH).
Creston's beauty goes more than skin deep – the building is LEED Platinum certified, and includes two green roofs and a rainwater harvesting system which irrigates the landscaped rear yard. Lobby digital displays offer transportation updates and details on building-wide energy consumption promoting environmentally sustainable living.
The residence's architect is Fernando Villa of Magnusson Architecture and Planning (MAP). Robert Sanborn served as Creston's Consultant and Co-Developer.
Funding for the project came from the NYS Medicaid Redesign Team program via NYS HCR – the very first supportive residence in New York City to receive such funding, Low-Income Housing Tax Credits, NYS Housing Finance Agency tax exempt bonds, NYS Homeless Housing Assistance Program, Federal Home Loan Bank, NYSERDA, Red Stone Equity, and Chase Bank. Predevelopment funding was provided by CSH.
Volunteers of America-Greater New York is the winner of our 2017 Residence of the Year Award for creating the outstandingly beautiful Creston Avenue Residence, that supports residents as they strive to live safe, healthy, productive lives.