Categories: New York State
03.31.2014
Budget includes several funding increases for supportive housing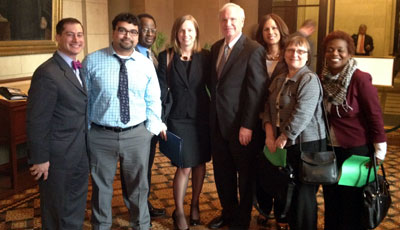 The NYS Legislature has finalized and is expected to vote on its 2014-2015 budget within the next few days. Overall, the $138 million spending plan is a positive budget for supportive housing and is very similar to Governor Cuomo's proposal submitted in January. It provides significant increases in capital funding for supportive housing development, large allocations of supportive housing service and operating subsidies for high-cost Medicaid recipients and modest increases to key supportive housing and homelessness programs like NYSSHP, STEHP and OMH Supported Housing. It also includes a 30% rent cap for persons living with HIV/AIDS in NYC and supports an OMH reinvestment fund to expand access to community-based services throughout the state.
To influence the debate on this year's budget, the Network co-hosted an advocacy day in Albany with Homeless Services United (HSU) on March 18. More than 60 volunteers and staffers attended roughly 40 meetings that day with NYS senators, representatives and their staff. We argued for the very issues outlined below in these meetings. We'd like to thank everyone who participated in this advocacy day as well as the one we co-hosted in February.
We'd also like to thank Governor Andrew Cuomo and his staff, the Division of Budget, the NYS Senate (specifically Senator Avella, Social Services Committee Chair; Senator Young, Housing Committee Chair; Senator Hannon, Health Committee Chair; and Senator Carlucci, Chair of the Mental Health Committee), the NYS Assembly (specifically, Assemblywoman Titus, Chair of Social Services; Assemblyman Wright, Housing Chair; Assemblyman Gottfried, Health Committee Chair and Assemblywoman Gunther, Chair of Mental Health) and all of the staff in both houses who worked tirelessly to put this budget together. We deeply appreciate your continuing commitment to supportive housing.
Budget highlights of particular interest include:
Office of Temporary and Disability Assistance (OTDA)
Homeless Housing Preventative Services Budget (HHPS) - $31.3 million
This is a $1 million increase from last year's budget. This program supports the NYS Supportive Housing Program (NYSSHP), the Solutions to End Homelessness Program (STEHP) and the Operational Support for AIDS Housing Program. This funding will keep all existing supportive housing and homelessness prevention programs whole at the baseline of last year's final adopted budget level and add an additional $1 million for new or expanded programs.
Homeless Housing Assistance Program (HHAP) - $63 million
The final budget accepted the Governor's proposal to double the HHAP capital development program for supportive housing. The program received $33 last year. This is the first time HHAP has ever been doubled, after being kept constant at approximately $30 million for more than a decade.
30% Rent Cap for Low-Income Persons Living with HIV/AIDS in NYC - $9 million
The final budget includes a 30% rent cap for low-income New York City residents living with HIV/AIDS. This will ensure that poor individuals and families living with AIDS/HIV in NYC have their rents capped at no more than 30% of their income, thereby providing affordable and stable housing.
Homes and Community Renewal (HCR)
Housing Trust Fund - $44.2 million
The final budget increases the Housing Trust Fund by $12 million, up from $32.2 million last year. These funds can be used for capital construction of both supportive and affordable permanent housing.
Department of Health/Medicaid Redesign Team (MRT)
MRT Supportive Housing Program - $222 million (over two years)
The final budget funds the MRT Supportive Housing Program at $222 million over two years. $95 million is budgeted for SFY 2014-15 and $127 million is budgeted for SFY 2015-16. Though less than the $260 million figure proposed for the MRT by the Governor, this is a $9 million increase over last year's funding level. This funding will continue to provide service funds, rent subsidies and capital dollars to create supportive housing for high-cost Medicaid recipients. Here is the allocation plan for how the spending will be used over the next 12 months.
Office of Mental Health (OMH)
OMH Supported Housing Rates - $6.6 million
A $6.6 million appropriation in the budget will increase scattered-site supported housing rates. $6.5 million is specifically targeted for a $550 per-unit annual increase in NYC, Westchester and Long Island, which will bring the current rate from $14,493 to $15,043 per unit per year. The additional $100,000 included in the final budget is to expand the $550 per-unit annual increase to supported housing in Rockland County.
OMH State Hospital Reinvestment Fund - $25 million
The final budget includes $25 million for the OMH State Hospital Reinvestment Fund, which supports the expansion of community-based services recommended by the OMH Regional Centers of Excellence committees.
New York/New York III
New York/New York budget information for most agencies is not readily discernable in the final budget. We have confirmed that NYS Office of Children and Family Services (OCFS) NY/NY III funding is maintained at last year's level of $2.137 million. We expect that this will also prove true for NY/NY III funds at DOH/AIDS Institute, OMH and OASAS. We will confirm these details as soon as we have additional information.
Pay for Success/Social Impact Bonds
The final budget includes $53 million for existing "Pay for Success initiatives" in the areas of early childhood development and child welfare, health care or public safety. This is an increase from last year's $30 million appropriation. The budget does not include the Governor's proposal for a Pay for Success program related to homeless housing and preventive services programs.
Cost of Living Adjustments (COLA)
The final budget includes a partial COLA for direct care and direct support workers supported by OMH, OASAS, DOH, OCFS, OPWDD and SOFA. The COLA is a 2% increase for one quarter of the fiscal year effective January 1, 2015.
Independent Expenditure Disclosure Bill
With the leadership from Lawyers Alliance of New York, the final budget does NOT include language that would require 501c-3s to report disclosure of expenditures for nonpartisan communications.
We would like to thank all of our members for your advocacy this year. Your hard work paid off! Thanks to your efforts, and that of our allies at the Association for Community Living, Homeless Services United, the Coalition for Behavioral Health Agencies, NYAPRS and many others, your good work has been recognized by the Governor and the NYS Legislature. Congratulations!
Photo caption: Advocates meet with NYS Senator Tony Avella during an advocacy day co-hosted by the Network and Homeless Services United (HSU) on March 18. The meetings were held to impact the details of the final 2014-2015 budget, released late last month.