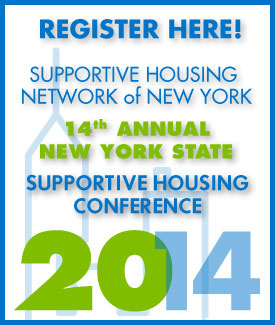 Registration is now open for the 14th Annual New York State Supportive Housing Conference!
supportive housing is the solution.
Find funding. Stay abreast on funding opportunities with the latest Requests for Proposals (RFPs) and the Funding Guide for New York, a comprehensive guide to all funding streams used in supportive housing.
Get involved. Learn about the key government programs that impact supportive housing and what the Network (and you) can do to help ensure their survival. Become an informed activist on the city, state and federal level.
Get the facts. Learn about supportive housing's effectiveness for tenants, taxpayers and neighborhoods. Peruse dozens of research articles, government reports and other studies on supportive housing.
Stay informed. Network Newsfeed offers daily updates from the world of New York supportive housing. Read our blog for news on funding sources, grand openings, events, advocacy alerts and more.
One of Us…
Good Shepherd Services' Chelsea Foyer program uses rigorous data analysis to improve the lives of 40 young adults in Manhattan. Learn More.