02.27.2017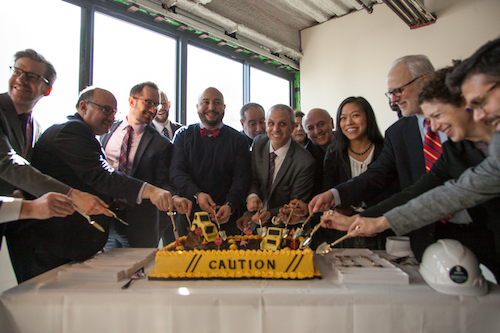 "Breaking ground" at 1880 Boston Road Senior Apartments.
On February 10th, 2017, the Hebrew Home at Riverdale, Foxy Management, and Alembic Community Development held a 'bolting up' celebration for 1880 Boston Road Senior Apartments – a project that will create supportive and affordable housing on top of the building currently in existence (hence the 'bolting up' instead of the traditional 'groundbreaking'). This project is the first of Governor Cuomo's Empire State Supportive Housing Initiative (ESSHI) awards to begin construction in New York City. Of the 168 total units, 51 units will be set aside for homeless and frail seniors.
The celebration was both star-studded and beautifully turned out, with giant black and white drawings of the future residence adorning the walls as well as a huge cake decorated with earth movers, accompanied by gold shovels with which to slice it!
NYS Senator Ruben Diaz opened the program, praising the project for filling an acute need. NYS Assembly Member Luis Sepulveda specifically commended the partners for creating housing that was "truly affordable."
Council Member Rafael Salamanca presented Jeff Fox of Foxy Management a large check for Reso A money in support of the project. Recently appointed HPD Commissioner Maria Torres-Springer was also on hand noting that, "this project helps complete part of the Mayor's plan to build and preserve affordable and senior housing."
Daniel Reingold of Hebrew Home at Riverdale spoke of how his agency created the first shelter for victims of elder abuse in the nation. He commented on the severity of the problem and said, "We are proud to be able to offer services to 51 formerly homeless seniors who may have suffered at the hands of another person. We are so happy to partner with Alembic and Foxy Management on this great project."
1880 Boston Road Senior Apartments is a collaboration between NYCHA, NYS HDC, NYC HPD, NYC Council Member Rafael Salamanca and TD bank. Services will be funded by the Department of Health through an ESSHI award. NYCHA contributed 168 Project Based Section 8 Vouchers, targeting seniors earning no more than $19,000 per year. HDC contributed $37.8 million in bond financing along with $9.2 million in subsidy. HPD's SARA program was included in the financing as well. TD Bank provided a $38 million dollar credit enhancement. Council member Salamanca gave $728,000 in Reso A money to the project. Raymond James was the tax credit syndicator, architects were SLCE. The GC was Lendlease.
|
What's New
,
New York City
,
Groundbreakings
---
02.27.2017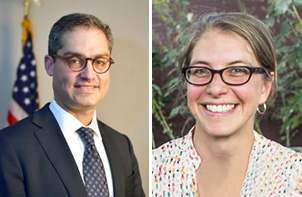 Former HCR Commissioner James S. Rubin and new HCR Commissioner RuthAnne Visnauskas.
On February 10, 2017 Governor Cuomo announced that James S. Rubin, Commissioner of New York State Homes and Community Renewal (HCR), would become the new Director of Operations for the Executive Chamber. A week later, the Governor appointed RuthAnne Visnauskas to succeed Mr. Rubin as Commissioner of HCR.
Mr. Rubin was appointed Commissioner of HCR by Governor Cuomo in May 2015, prior to which he served as Executive Director of the Governor's Office of Storm Recovery. He was also Chairman of the Board of Network member Breaking Ground.
Ms. Visnauskas previously served as Executive Deputy Commissioner for Housing Development at HCR, where she was responsible for strategic leadership and oversight of all housing and finance programs.
Before joining HCR, Ms. Visnauskas was Managing Director of the Housing Advisory Board for the Robin Hood Foundation. The Housing Advisory Board was established to fund initiatives to advance the quantity and quality of affordable housing for low-income New Yorkers. Earlier in her career, Ms.Visnauskas was Commissioner of the New York City Department of Housing Preservation and Development.
|
In the Media
,
What's New
,
New York State
---
02.24.2017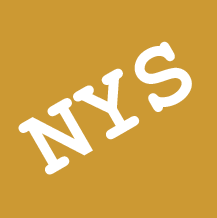 On February 1, 2017, the Homeless Housing Assistance Corporation awarded funding from the State's Office of Temporary and Disability Assistance (OTDA) Homeless Housing Assistance Program for three supportive housing projects being developed by Network members. Together these projects will provide 142 new units of supportive housing.
Project Renewal was awarded $6.2 million to create 71 units of supportive housing in a new residence in Bedford Park, Bronx. This project will be one of the final projects to be built under the expiring NY/NY 3 agreement.
New Destiny was awarded $5 million to build 23 units of supportive housing for homeless women and families in Crotona Park, Bronx.
West Side Federation for Senior and Supportive Housing (WSFSSH) was awarded $3.1 million to help build Mill Brook Terrace in Mott Haven, Bronx. The new residence will provide supportive housing for 48 homeless seniors.
In addition, both New Destiny and WSFSSH were awarded conditional awards last September for services and operating funds for these new residences in the first round of the Empire State Supportive Housing Initiative, and should be approved as permanent funding as the projects open.
Congratulations to all!
|
In the Media
,
What's New
,
Funding
,
New York State
---
02.24.2017


Executive Director Stephan Russo stepped down from his position at Goddard Riverside Community Center ("Goddard") at the end of the year, succeeded by Dr. Roderick Jones, formerly the President and CEO of Grace Hill Settlement House in St. Louis, Missouri. Prior to his eight years at Grace Hill, Dr. Jones served as President and CEO of the Community Place of Greater Rochester.
Except for a stint at the NYC Department of Homeless Services, Mr. Russo spent his entire career at Goddard Riverside, starting as a youth worker in 1976 and becoming Executive Director in 1998. Under his leadership, Goddard significantly expanded its programming to vulnerable children, youth, and adults. Mr. Russo oversaw mergers with two other settlement houses. He was also honored as one of the founders of the supportive housing movement at the Network's awards Gala last year.
The Network's Executive Director Laura Mascuch said, "Stephan has a deep connection to his community where he is loved and admired. I had the privilege of working for him at DHS and witnessed his steadfast nature when combatting the homeless crisis, never wavering in his commitment to serving those in need. While we'll miss Stephan, we are excited to work with Dr. Jones as he takes the reins at Goddard."
|
In the Media
,
What's New
,
New York City
,
Member News
---
02.23.2017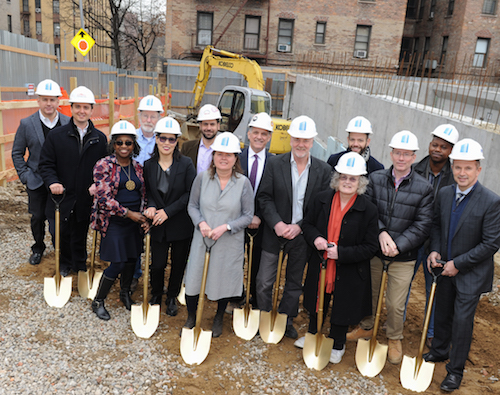 Breaking ground at 111 East 172nd Street.
On February 22, 2017, Community Access held a glorious groundbreaking ceremony for their new 126-unit building at 111 East 172nd Street. Upon completion, the building will include 57 affordable two-bedroom apartments, 8 affordable studio apartments and 60 studio apartments for tenants referred by the New York State Office of Mental Health. Community Access' long-time Director of Real Estate Maggi Knox attended the festivities with a heavy heart – this will be her last groundbreaking before retirement.
Boasting a wide range of health-focused amenities, the residence will provide on-site social services by Community Access staff with OMH funding. Free Wi-Fi, two large community rooms, a collaborative kitchen for integrative cooking and nutrition, 24-hour front-desk security and a large backyard with Community Access' first urban farm will offer residents many ways to cultivate a strong community, centered on holistic health and recovery. The backyard will host a hoop house and raised planting beds, as well as a playground and outdoor exercise area for children and adults.
Community Access' CEO Steve Coe welcomed the crowd, thanking Deputy Chief Executive Director Cal Hedigan, Director of Housing Mark Jennings, and the project's architect Peter Woll, who also designed Community Access' first building in 1984. Mr. Woll noted the positive health impact of the residence evident throughout…from Community Access' pet adoption program, to the presence of a bicycle-powered smoothie-machine, pumping out healthy delicious smoothies for guests!
Board Member Diane Louard-Michel stated that East 172nd Street is "taking supportive housing to a whole new level, bringing low-income New Yorkers home, hope and futures."
Newly-appointed NYS Homes and Community Renewal Commissioner RuthAnne Visnauskas spent her second day on the job at the groundbreaking, citing the supportive housing model as "an investment that grows and strengthens communities."
Molly Park, Deputy Commissioner for Development at NYC Department of Housing Preservation & Development, warmly congratulated the entire team, remarking that the unique residence is "both housing and a farm."
Brett Hebner of the NYS Office of Temporary and Disability Assistance praised the dedication of Community Access - from concept to closing - in all of their projects, as well as the high level of investment from the City and State—an investment "unmatched anywhere in the country."
Kristin Miller, Director of the NYC Metro Region Office of CSH, reminded the crowd of the importance of site acquisition, which is the first step in a supportive housing financing deal. She applauded the MRT units as "housing as healthcare."
Director of Citi Community Capital Bill Yates thanked all development partners for their amazing teamwork, particularly Mr. Coe and Ms. Knox.
The program closed with remarks from Community Access tenant Roshelle Rosa. Surviving a car accident sixty years ago, Rosa lost her ability to work, lived through domestic violence and eventually ended up on the streets. She thanked Community Access for lifting her up and providing her with a space to thrive. She has greatly benefited from their Pet Access Program, and now spends her days with the love of her life, a four-year-old Shih Tzu named Elvira.

The $52 million project is funded by New York State Homes and Community Renewal, the New York State Office of Mental Health and the New York City Department of Housing Preservation & Development. Major funding was also provided by a grant from Citi Community Capital, and tax credit financing syndicated by Richman Housing Resources, LLC, with Citi Community Capital as the sole investor. The New York State Energy Research & Development Authority also provided funding for the project. The general contractor is Mega Contracting Group.
|
In the Media
,
What's New
,
New York City
,
Groundbreakings
---
01.31.2017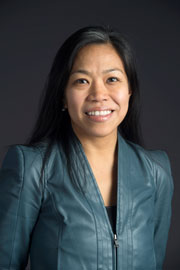 Maria Torres-Springer has been appointed by Mayor de Blasio to serve as the new HPD Commissioner. Ms. Torres-Springer comes to HPD after working on neighborhood planning and the development of public sites as President and CEO of the NYC Economic Development Corporation (NYCEDC) since June 2015, and prior to that, leading the NYC Department of Small Business Services (SBS) as Commissioner.
In a statement, Ms. Torres-Springer said, "Having grown up in Section 8 housing, I know first-hand that the work we do is a lifeline to hundreds of thousands of families. Housing is the top expense for New Yorkers, and for far too many rising rents threaten their ability to stay in the city they love. I've spent my career helping people secure better jobs with better wages, and developing neighborhood projects that provide affordable homes and economic opportunity. Vicki leaves big shoes to fill, but I'm honored to have a chance to keep up the record-breaking progress she's achieved."

As head of NYCEDC, Ms. Torres-Springer was responsible for transforming Spofford, a former juvenile detention center in the Bronx, into a hub for the arts and affordable housing, and has been the de Blasio administration's lead in developing the Downtown Far Rockaway Neighborhood Plan, which included more than $90 million in neighborhood investments and affordable housing to serve both the lowest-income New Yorkers and the middle class. At SBS, Ms. Torres-Springer spearheaded initiatives to raise wages and expand skill-building in workforce placement programs, and streamline the regulatory environment for small businesses. Ms. Torres-Springer began her career working in affordable housing with the Local Initiatives Support Corporation, where she was involved in re-zoning and housing projects.
The Network welcomes Ms. Torres-Springer to her new position and looks forward to working together.
|
In the Media
,
What's New
,
New York City
---
01.27.2017
On December 20, 2016, HUD announced the 2016 Continuum of Care (CoC) awards, both renewals and new awards. This returns the program to a regular grant cycle that allows projects that need to be renewed annually to have confidence that they will be funded before the calendar turns.
New York State was awarded a total of $196 million, more than 10% of the national total of $1.95 billion, for 421 projects in 26 Continuua of Care. The overall dollar value of New York State awards is 7% below last year's total of $209 million. The primary reason for this net loss is related to a larger amount of new bonus projects being funded: the past two rounds were multiple year awards, which are not yet up for renewal.
74 new programs were funded in NYS, including 20 new supportive housing projects. Other awards went to: rapid rehousing projects (a program to reduce shelter stays by providing short-term assistance to regain permanent housing); coordinated entry (to design and build intake and admissions processes for the Continuum); and planning (for operations of the Continuum).
All of the currently funded programs, including permanent supportive housing that makes up most of them, will be renewed based on performance rankings established by HUD and implemented by the CoC.
|
What's New
,
Funding
,
Federal
---
01.26.2017

New York City Council Member, and Chair of the General Welfare Committee, Stephen Levin at the hearing.
"This doesn't just happen to those people," said Jennifer Garris. "Anyone can become homeless."
Ms. Garris has a Masters degree and was a special education teacher for 24 years. But after her husband passed away, she struggled with depression and alcohol use. Soon, she became homeless.
This is a familiar story across the country. No one wakes up and decides "today is the day I become homeless." People lose stability to the unexpected—medical emergencies, sudden layoffs, or an untreated mental health condition. Yes, access to housing is essential to address our homelessness crisis. But housing alone cannot get everyone back on their feet. Some individuals need support to move forward.
Today, Ms. Garris is no longer homeless. She lives at The Schermerhorn, a supportive housing residence in Downtown Brooklyn. The Schermerhorn provides more than affordable housing. It also offers case management, and substance abuse and mental health counseling. Other programs taught Ms. Garris about money management, community building, and self empowerment. "They teach you how to live again," she said.
As a New York City Council Member, and Chair of the General Welfare Committee, I am a fierce advocate of supportive housing. At its core, supportive housing is affordable housing combined with on-site resources. These supportive services help individuals overcome the challenges that left them chronically homeless. Experts agree that supportive housing is an effective way to address homelessness. This is especially true for those with mental health and substance use issues.
More than just a place to live, supportive housing is about community. In Fort Greene, Brooklyn Community Housing and Services provides community space for residents. Neighbors organize baby showers, quinceañeras, neighborhood meetings, and even weddings and funerals. Executive Director Jeff Nemetsky said "The tight-knit community of supportive housing residences cannot be underestimated."
Supportive housing is the way forward. However, the need far exceeds the supply. In New York City, for every person placed into supportive housing there are four more people waiting. The statistics are sobering. There are over 60,000 homeless individuals in the Department of Homeless Services shelter system. Thousands more are in specialized shelters for youth, survivors of domestic violence, and those with HIV/AIDS. These figures do not include individuals living on the streets. If we are to make progress reducing homelessness, we must be aggressive.
That's why I co-chaired a joint hearing on supportive housing on January 19th with Council Member Jumaane Williams of the Housing and Buildings Committee. Participants included a wide range of stakeholders including the City agencies connected to supportive housing -- HRA, HPD, and DOHMH, supportive housing tenants, advocacy organizations, community board chairs and supportive housing providers. Ten Council Members also took part in the half-day hearing.
"We truly appreciate the Councilmembers' decision to hold the hearing in a supportive housing residence—because quite frankly, seeing is believing," said Laura Mascuch, Executive Director of the Supportive Housing Network of New York. "Our hope is that Council Members came away with a clear idea of the enormously successful model of housing-plus-services and its transformative impact both on the lives of the formerly homeless people who live there as well as the neighborhoods in which it's built."
Housing experts came together to share plans on expanding supportive housing. Through the NYC 15/15 Initiative, New York City has committed to build 15,000 units of supportive housing in 15 years. Additionally, the City will put in place 23 recommendations from Mayor de Blasio's Supportive Housing Task Force.
Much of the supportive housing in New York City has been developed through joint collaborations between the City and State. These are known as the NY/NY agreements. New York City has committed to invest in new units. The State has yet to fully deliver on a year-old promise to invest $2 billion in supportive housing. The failure to establish a new NY/NY agreement is a casualty of the politics between New York City and the State. In the meantime, tens of thousands of individuals and families are waiting for shelter.
Enough waiting. We know what works. The evidence shows that supportive housing is one of the best tools we have to address the crisis of homelessness. Let's provide for our most vulnerable neighbors and set them on a path to long-term stability.
|
What's New
,
New York City
---
01.25.2017

Laura Mascuch, Marian Zucker, Moira Tashjian, Rick Umholtz, Bret Garwood at the Network panel discussion.
On Tuesday, January 24th the Network hosted a panel discussion with our state government partners about the new ways New York State is implementing its supportive housing program through the Empire State Supportive Housing Initiative (ESSHI) and coordinating capital programs: NYS Homes & Community Renewal's Supportive Housing Opportunity Program (SHOP) and the Office of Temporary Disability & Assistance Homeless Housing Assistance Program (HHAP). The event was held at JP Morgan Chase Bank in NYC and had over 100 Network members attend.
Panelists included: Bret Garwood, Senior Vice President, Multifamily, NYS Homes & Community Renewal; Moira Tashjian, Associate Commissioner, NYS Office of Mental Health, and Chair of the ESSHI Interagency Workgroup; Rick Umholtz, Director for the Bureau of Housing and Support Services, NYS Office of Temporary & Disability Assistance and Marian Zucker, President, Finance & Development, NYS Homes & Community Renewal. The Network's Executive Director, Laura Mascuch, moderated.
Panelists covered details about ESSHI, SHOP and HHAP including how these programs all intersect with one another, how to decide what capital resources to apply for, ESSHI timeframes, etc. Panelists also discussed what's next for 2017 and answered questions about how to best access and use this new program.
In 2016, Governor Cuomo announced a commitment to fund 20,000 units of supportive housing over the next 15 years. As part of this commitment, NYS is rolling out the development of 1,200 units a year across the state. To do this, they created a brand new services and operating program called the Empire State Supportive Housing Initiative (ESSHI) intended to be coordinated with various state and local capital resources. The Network is working with our members, government partners and stakeholders in the private sector to help build capacity in the supportive housing community to ensure we can meet the state's goal to develop and fund 1,200 units a year over the next 5 years and a total of 20,000 units over the next 15.
Special thank you to JPMorgan Chase Bank for graciously hosting and sponsoring the event.
|
What's New
,
Funding
,
New York State
,
Network Events
---
01.25.2017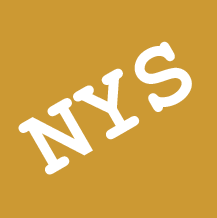 Governor Cuomo released his SFY 2018 executive budget on January 17th which starts the clock ticking for budget season in Albany! Here is our first analysis of the SFY 2017-2018 budget areas important to the supportive housing community.
5 YEAR HOUSING & HOMELESSNESS PLAN
The executive budget includes a re-appropriation of last year's $1.97 billion five year housing and homelessness plan with funding for 6,000 units of supportive housing and 50,000 units of affordable housing over five years. We will be entering year two of this commitment on April 1st. The language adds an additional $526 million bringing the total five year budget to $2.5 billion. It also removes the requirement included in last year's budget that the executive and legislative leaders negotiate a Memorandum of Understanding (MOU) in order to spend the money. The programs listed in the budget as part of this $2.5 billion appropriation include:
Supportive Housing. $950 million for the construction of 6,000 supportive housing units throughout the State;
New Construction. $601 million for new construction or adaptive reuse of rental housing affordable to households that earn up to 60 percent of area median income (AMI);
Senior Housing. $125 million for developing or rehabilitating affordable housing targeted to low-income seniors, aged 55 and above;
Rural and Urban Community Investment Fund (CIF). $45 million for mixed-use affordable housing developments that may include retail, commercial or community development components;
Middle Income Housing. $150 million for new construction, adaptive reuse, or reconstruction of rental housing affordable to households that earn up to 130 percent of AMI;
Affordable Housing Preservation. $177 million for substantial or moderate rehabilitation of affordable multi-family rental housing currently under a regulatory agreement;
Mitchell-Lama Rehabilitation. $100 million to preserve and improve Mitchell-Lama properties throughout the State;
Public Housing. $125 million for substantial or moderate rehabilitation and/or the demolition and replacement through new construction of public housing authority developments outside of New York City;
Small Building Construction. $62.5 million for rehabilitation and/or the demolition and replacement through new construction of buildings of 5 to 40 units;
Home Ownership. $41.5 million for promoting home ownership among families of low and moderate income and stimulating the development, stabilization, and preservation of New York communities;
Mobile and Manufactured Homes. $13 million for mobile and manufactured home programs;
Main Street Programs. $10 million for stimulating reinvestment in properties located within mixed-use commercial districts located in urban, small town, and rural areas of the state;
New York City Housing Authority (NYCHA). $100 million for projects and improvements at housing developments owned or operated by NYCHA.
In addition to the capital funding, $124.5 million for service and operating expenses for the first 6,000 units over the next five years was also re-appropriated from last year's budget. This includes $74.5 million from JPMorgan settlement funds and an additional $50 million from last year's budget. There is no new funding committed for services and operating in this year's budget.
As a reminder: at the end of the 2017 session in June, the Governor and legislative leaders only signed off on a $150 million MOU for 1,200 units of supportive housing (the first year of the 15 year, 20,000 unit commitment). The rest of the $1.82 billion is still subject to a still-to-be negotiated MOU. Even though the Governor's new budget removes the MOU language, there is nothing preventing this MOU from being signed now or any time before a new budget is enacted on April 1st.
OFFICE OF TEMPORARY & DISABILITY ASSISTANCE
Homeless Housing Assistance Program (HHAP) - $64 million - $500,000 INCREASE
The executive budget funds the HHAP capital development program at $64 million which is a $500,000 INCREASE from last year. A new provision added to this year's budget allows up to $1 million of HHAP funding to be used for emergency shelter repairs in local social services districts with a population of less than five million. Also, while not part of this appropriation line, it should be noted that HHAP did not receive any additional MRT funding. Until last year, $10 million in MRT capital had been added to HHAP in each of the previous 3 years.
Homeless Housing Prevention Services Program - $35.38 million - $600,000 INCREASE
The executive budget increased the Homeless Housing Prevention Services (HHPS) Program by $600,000 from last year's final budget. HHPS funds the New York State Supportive Housing Program (NYSSHP), the Solutions to End Homelessness Program (STEHP) and the Operational Support for AIDS Housing (OSAH) Program.
HOMES & COMMUNITY RENEWAL
Housing Trust Fund - $65.2 million - $11 million INCREASE
The executive budget proposes INCREASING the Housing Trust Fund by $11 million, up from $54.2 million last year. These funds can be used for capital construction of both supportive and affordable housing.
DEPARTMENT OF HEALTH/MEDICAID REDESIGN TEAM
MRT Supportive Housing Fund - $63 million - $20 million DECREASE
The MRT Supportive Housing Fund has been cut by $20 million this year. This cut will not impact any existing programs. It will impact programs outlined in the allocation plan that have not yet begun and will put a moratorium on programs that were not fully implemented. It's important to note that no existing programs will be impacted by this and therefore no housing units currently funded with MRT will be lost or cut. We will follow up as more information becomes available.
OFFICE OF MENTAL HEALTH
Provides $10 million to enhance support for existing residential programs. The budget increases funds for supported housing and single residence occupancy programs. This investment will help preserve access and maintain existing housing capacity as the State brings new housing units on line through the Empire State Supported Housing Initiative. It is anticipated that the State will follow past practices for rate increases based on greatest need. We will update our members as more information becomes available.
Invests $11 million in community reinvestment dollars based on the elimination of State psychiatric beds that have been unused for over 90 days.
Supports 280 additional community beds. OMH will develop 280 community-based, scattered site supported housing units in the same geographic area by reconfiguring 140 State-operated residential beds.
Minimum Wage Increases for Direct Care Workers
The executive budget invests $17 million to support the direct cost of FY 2018 minimum wage increases for direct care, direct support, and other workers at nonprofits that provide services on behalf of OPWDD, OMH, and OASAS.
Delays Cost of Living Increases for Staff
The budget defers the COLA increase for 2017 until 2018.
The budget now must be passed by the legislature and signed by the Governor no later than March 31st. In the next few weeks, the Senate and the Assembly will hold budget hearings and negotiate with the Governor.
The Network's advocacy in the upcoming weeks will focus on the proposed initiatives outlined above. We are currently planning a March 1st Advocacy Day. We encourage all Network members to participate. Please email Steve Piasecki to register.
|
In the Media
,
What's New
,
Funding
,
New York State
---