Upcoming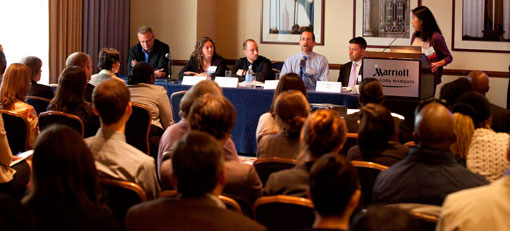 The Network organizes and/or sponsors dozens of events and workshops every year across New York State. Below, you'll find our current list of events. Many of the workshops we list on this page are collaborations with the Center for Urban Community Services. We update this page very regularly, so check back soon for more workshops, conferences and other events
CUCS/Network Trainings
Stages of Change: Helping People Change Behavior
Date: November 4, 2014
Time: 9:30am-3:30pm
Registration Begins at 9:00 a.m.
Location: CUCS, 198 East 121 Street, 5th Floor, NYC 10035
Cost for Network Members: $55
Cost for Non-Members: $75
Statistics indicate that illegal substance use complicates adherence to treatment for both physical and mental health disorders and puts persons at risk for involvement with the criminal justice system. Despite this, substance use remains high. This training offers an overview of the Stages of Change model, developed by Prochaska, DeClemente and Norcross. This model explores the modification of addictive behavior involving the progression through five defined states including pre-contemplation, contemplation, preparation, action, and maintenance. Attendees receive a detailed explanation of each stage, interventions that best match where the person is at in the recovery process, and strategies to effectively respond to relapse. Techniques for working with resistance and denial, resolving ambivalence, building motivation for change, and preventing and managing relapse are presented. Attendees will leave this workshop with a better understanding of how to match their interventions to the level of awareness and motivation to change of the substance-using person.
Members Register here
Non-members Register here
Understanding Special Needs Populations for Non-Clinical Staff
Date: Wednesday, November 12, 2014
Time: 9:30am-3:30pm
Registration Begins at 9:00 a.m.
Location: CUCS, 198 East 121 Street, 5th Floor, NYC 10035
Cost for Network Members: $55
Cost for Non-Members: $75
Most programs have non-clinical staff providing front desk service, maintenance, security, food preparation, rent collection, recreational activities, or other forms of support to the organization. Often, persons in these positions have a keen sense of what is happening in a program or residence but limited training on the special needs that service recipients may have. This training, targeted to non-clinical staff, provides an overview of the experiences of people living with special needs including mental illness, substance abuse, and HIV Disease. Special emphasis is placed on understanding the value of sharing information with clinical staff, maintaining professional boundaries, their roles relative to service recipients, and managing everyday problem situations that arise. Well-trained clinical staff matched with well-trained non-clinical staff make for an ideal team that work collaboratively to provide optimal services.
Members Register here
Non-members Register here
Providing Effective Supervision
Date: December 9, 2014
Critical Time Intervention
Date: January 14, 2015
Bedbugs
Date: February 10, 2015