Upcoming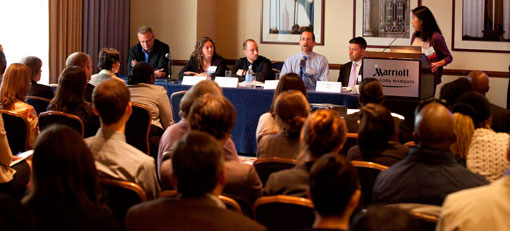 The Network organizes and/or sponsors dozens of events and workshops every year across New York State. Below, you'll find our current list of events. Many of the workshops we list on this page are collaborations with the Center for Urban Community Services. We update this page very regularly, so check back soon for more workshops, conferences and other events
Training to Green Supportive Housing
Thanks to a generously funded NYSERDA grant and in partnership with Solar One, the Network is happy to offer discounted technical training for supportive housing building staff and property managers, superintendents, property managers or building maintainers. Please see this flyer for more details. This training will take place over a two-day period and will culminate with a half-day review and exam.
Training will be held at Solar One's training lab in Long Island City (one quick stop into Queens from the E, M, F trains). The G and 7 trains also go there. 11-17 43rd Avenue, entrance is on 12th Street, down the driveway. To register, contact Gary Smith at Solar One at gary@solar1.org or 646-576-5663.
Dates: September 17, September 25 and 26
Times: 9:00am on each day
Location: Solar One
Address: 11-17 43rd Ave.
CUCS/Network Trainings
Time: 9:30am-3:30pm
Registration Begins at 9:00 a.m.
Location: CUCS, 198 East 121 Street, 5th Floor, NYC 10035
Cost for Network Members: $55
Cost for Non-Members: $75
Working with Young Adults: Hope, Housing and Opportunity
Date: September 16, 2014
Work with young adults is both rewarding and challenging. While providers offer a wide range of residential services to young adults, there are some important common themes that help maximize services to this unique population. Whether your program is designed specifically for youth or you happen to provide to mixed tenants with a handful of young tenants, this training offers practical guidance on how to effectively engage and work with young adults. This full day presentation focuses on understanding young adults and their needs with special attention on recovery, wellness, employment and Motivational Interviewing techniques. In addition, participant will explore issues of mentoring, supports, career planning and the impact of trauma.

Members Register here
Non-members Register here
Case Management 2.0 (DOHMH Title: Fundamental Counseling Skills)
Date: October 7, 2014
This full day of training will hone and expand your skills in assessment, engagement and active listening. Topics covered will include the role of the case manager, how to build effective helping relationships while maintaining boundaries, models of human service care and the principles of recovery. Participants will be introduced to a variety of clinical techniques and have the opportunity to utilize new skills in examples from their own work. This training is useful for new staff as well as experienced staff looking to expand and improve engagement strategies. In addition, the training is useful for non-clinical management staff of supportive housing programs who interact regularly with clients living with mental illness or special needs.
Members Register here
Non-members Register here
Upcoming CUCS Trainings (details and registration links to come soon):
Stages of Change: Helping People Change Behavior
Date: November 4, 2014
Understanding Special Needs Populations for Non-Clinical Staff
Date: November 12, 2014
Providing Effective Supervision
Date: December 9, 2014
Join Our Email List


for News and Updates
Did you know…
A program for formerly incarcerated individuals with mental illness found that those receiving supportive housing were 61% less likely to be re-incarcerated.