Upcoming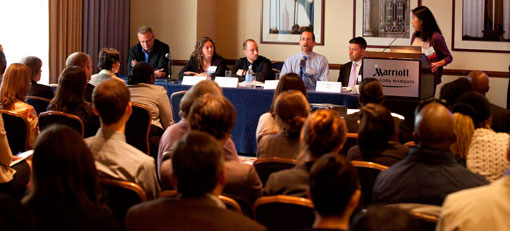 The Network organizes and/or sponsors dozens of events and workshops every year across New York State. Below, you'll find our current list of events. Many of the workshops we list on this page are collaborations with the Center for Urban Community Services. We update this page very regularly, so check back soon for more workshops, conferences and other events.
Save the Date
15th Annual New York State Supportive Housing Conference
Date: Thursday, June 4th, 2015
Location: New York Marriott Marquis, 1535 Broadway, New York City
CUCS/Network Trainings
Managing a Progressive Disciplinary Process
Date: Wednesday, March 25, 2015
Time: 9:30am-3:30pm; Registration begins at 9:00am
Location: CUCS, 198 East 121 Street, 5th Floor, NYC 10035
Cost is $55 for members
Cost is $75 for non-members
The progressive disciplinary process provides a structure of corrective action to improve and prevent recurrent performance or behavioral issues. This process is governed by both best practices and employment laws. This training teaches supervisors how to use a corrective action and a progressive disciplinary process to address staff performance issues. Attendees are guided through key regulations that govern or inform the disciplinary processes, and are provided with clarity on the role and responsibility of the supervisor throughout the process. Role-playing and other interactive exercises provide attendees with opportunities to practice the skills necessary to facilitate disciplinary meetings and develop proper documentation to support the process. Attendees will leave better equipped to follow their programs' progressive disciplinary processes. (Note: This training does not provide legal advice, and programs should supplement this training with specific legal consultation.)

Members register here
Non-members register here
Bedbugs: Problems and Solutions
Date: Tuesday, April 7, 2015
Time: 9:30am-12:00pm; Registration begins at 9:00am
Location: CUCS, 198 East 121 Street, 5th Floor, NYC 10035
Cost is $25 for members
Cost is $45 for non-members
The resurgence of bed bugs in the last decade has posed serious challenges for supportive housing providers. This moderated panel discussion will focus on how to be successful at controlling the 'bed bug problem' at your sites by hearing from those who have years of experience dealing with the issue as support services staff, building operators, and pest control companies. The cost of eradicating and preventing these seemingly invincible bugs increases concerns for both property managers and case managers around tenants with hoarding tendencies and poor ADLs, while also raising broader concerns around program budgets and physical plant maintenance. Providers who focus on preventative measures and who attend diligently and consistently to infestations will save money, decrease the likelihood of re-infestation and spread, and experience greater tenant satisfaction in the long term. However these ends cannot be achieved unless all supportive housing stakeholders are involved and vigilant, including (and most notably) the tenants, as the comments and techniques shared in this discussion will reveal.