Upcoming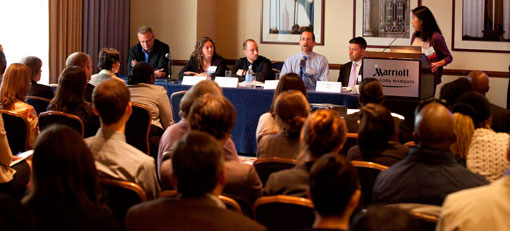 The Network organizes and/or sponsors dozens of events and workshops every year across New York State. Below, you'll find our current list of events. Many of the workshops we list on this page are collaborations with the Center for Urban Community Services. We update this page very regularly, so check back soon for more workshops, conferences and other events.
Save the Date
15th Annual New York State Supportive Housing Conference
Date: Thursday, June 4th, 2015
Location: New York Marriott Marquis, 1535 Broadway, New York City
CUCS/Network Trainings
Coordinating Property Management and Social Services
Date: Wednesday, March 4, 2015
Time: 9:30am-3:30pm
Registration Begins at 9:00 a.m.
Location: CUCS
Address: 198 East 121 Street, 5th Floor, NYC 10035
Cost for Network Members: $55
Cost for Non-Members: $75
This full day training is targeted to social service and property management staff working in housing settings. The training examines the discrete roles of social service and property management as well as areas of overlap between the two functions. In addition, the training offers information regarding the legal guidelines affecting roles and how to maximize the collective work experience for best outcomes. Strategies are presented to develop and maintain clear lines of communication and establish forums for identifying and solving common problems.
Members Register here
Non-Members Register here
Non-coercive Approaches to Conflict Management
Date: Tuesday, March 10, 2015
Time: 9:30-3:30 pm; Registration begins at 9 am
Location: CUCS, 198 East 121 Street, 5th Floor, NYC 10035
Cost is $55 for members
Cost is $75 for non-members
Conflicts are an unavoidable aspect of life. In some programs, conflicts can rise to the level of crisis or violence, leaving staff feeling ill-equipped to respond meaningfully. Appropriately-trained staff, however, can anticipate and be prepared to use effective strategies to de-escalate situations. If recognized and dealt with effectively, differences have the potential to inspire, promote positive change, and encourage growth and understanding. This training offers participants the skills to intervene in the early stages of conflict as a way to prevent violence, and looks at person-centered approaches to establish relationships that help prevent tense situations from getting worse. This training also describes the different stages of conflict escalation and ways to respond to each stage. Case studies are used to practice and reinforce the skills presented. At the end of the training, attendees will have a better understanding of conflict and leave with greater confidence in responding to conflicts.

Members Register here
Non-Members Register here
Managing a Progressive Disciplinary Process
Date: Wednesday, March 25, 2015
Time: 9:30am-3:30pm; Registration begins at 9:00am
Location: CUCS, 198 East 121 Street, 5th Floor, NYC 10035
Cost is $55 for members
Cost is $75 for non-members
The progressive disciplinary process provides a structure of corrective action to improve and prevent
recurrent performance or behavioral issues. This process is governed by both best practices and
employment laws. This training teaches supervisors how to use a corrective action and a progressive
disciplinary process to address staff performance issues. Attendees are guided through key regulations
that govern or inform the disciplinary processes, and are provided with clarity on the role and
responsibility of the supervisor throughout the process. Role-playing and other interactive exercises
provide attendees with opportunities to practice the skills necessary to facilitate disciplinary meetings
and develop proper documentation to support the process. Attendees will leave better equipped to
follow their programs' progressive disciplinary processes. (Note: This training does not provide legal
advice, and programs should supplement this training with specific legal consultation.)

Members register here
Non-members register here

Social Security Retirement: Understanding the Benefits
Join the Network and the Social Security Administration for an in-depth presentation, for supportive housing employees, about Social Security retirement benefits. The training is geared toward the person on staff most interested in benefits, such as: Executive Directors, Human Resources Professionals, Employee Compensation and Benefits Staff, Office Managers. This free presentation will last approximately one hour, followed by questions and answers.
Date: Thursday, February 26, 2015
Time: 10:15 a.m. to Noon
Location: Science, Industry and Business Library, 188 Madison Avenue, New York, NY 10016
Please RSVP to wlongno@shnny.org no later than close of business Thursday, February 12, 2015
At the end of the presentation, participants will understand: basic requirements to be eligible for Social Security retirement benefits as a retiree or current, former or surviving spouse, including same-sex couples, how and when to apply for Social Security retirement benefits and traditional Medicare, Parts A and B retirement strategies for nonprofit employees, including delayed retirement credits, filing and suspending and restricting the scope of an application online resources to help workers understand what Social Security means to them, including the Online Retirement Estimator and My Social Security.