Upcoming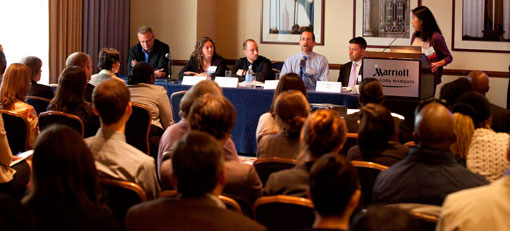 The Network organizes and/or sponsors dozens of events and workshops every year across New York State. Below, you'll find our current list of events. Many of the workshops we list on this page are collaborations with the Center for Urban Community Services. We update this page very regularly, so check back soon for more workshops, conferences and other events.
CUCS/Network Trainings
This is an exciting new opportunity to participate in CUCS' Case Management Certificate Program, earning CE hours!
You can now register for the last four trainings of the series:
The Art of Person-Centered Documentation
Understanding Special Needs
Decompensation and Relapse
Non-Coercive Approaches to Conflict Management
You can also register individually for each training.
Note that you must attend all six CMCP classes in order to receive certification. (They will be recording attendance, as well as arrival and departure times.)
Links for these programs for members are here.
Links for these programs for non-members are here.
All trainings will take place at Center for Urban Community Services, 198 East 121st Street, 5th Floor
Understanding Special Needs (CMCP) Manhattan
Date & Time: Friday, January 27, 2017 at 9:30 AM
Case Managers, non-clinical and other frontline staff (ie: those that provide front desk services, maintenance, security, food preparation, rent collection, and recreational activities) are consistently in contact with service recipients who have a range of behavioral health needs. This training provides an overview of the experiences of people living with special needs, including mental illness, substance abuse, and HIV/AIDS. It also offers information on how co-occurring disorders interact with one another and impact how persons respond to services. Special emphasis is placed on understanding staff roles in supporting persons with special needs and managing everyday problematic situations. Well-trained clinical staff matched with well-trained non-clinical staff makes for an ideal team that work collaboratively to provide optimal services.

Decompensation and Relapse (5 SW CE Hrs/CMCP Series) Manhattan
Date & Time: Friday, February 17, 2017 at 9:30 AM
The philosophy and practice of recovery is transforming the way we look at mental health services, as well as how programs respond to persons who decompensate or relapse. Utilizing the least restrictive intervention while ensuring that the client is both safe and having his or her mental health needs addressed can be complicated. This training offers skills and strategies on responding to psychiatric crises, including assessing, engaging, and assisting persons at the earlier stage of decompensation to adhere to treatment. In cases where the crisis has escalated, the workshop reviews strategies for voluntary and involuntary hospitalizations and for assisting persons returning from the hospital. In addition, the workshop explores how to support persons recovering from substance abuse and to promote relapse prevention. In cases where relapse does occur, the training offers strategies to maximize the learning experience and help persons gain motivation to re-engage in sobriety.

Non-Coercive Approach to Conf Mngt (5 SW CE Hrs/CMCP) Manhattan
Date & Time: Friday, March 10, 2017 at 9:30 AM
Conflicts are an unavoidable aspect of life. Periodically, conflicts can rise to the level of crisis or violence, leaving staff feeling ill-equipped to respond meaningfully. Appropriately-trained staff, however, can anticipate and be prepared to use effective strategies to de-escalate situations. If recognized and dealt with effectively, differences have the potential to inspire, promote positive change, and encourage growth and understanding. This training offers participants the skills to intervene in the early stages of conflict as a way to prevent violence, and looks at person-centered approaches to establish relationships that help prevent tense situations from intensifying. This training also describes the different stages of conflict escalation and ways to respond to each stage. At the end of the training, attendees will have a better understanding of conflict and greater confidence in responding to conflicts.

Links to the following trainings will be posted as soon as available (typically, closer to the date of the event):
March 29, 2017
Understanding Compulsive Hoarding
This training is targeted to both support services and property management staff working with persons who are compulsive hoarders. The training focuses on how these teams can work collaboratively with a tenant to help him/her stay housed. Techniques and strategies from Buried in Treasures: Address Hoarding Disorder are shared. Accredited as New York State Social Work Continuing Education Course & OASAS Certified.
April 11, 2017
Wellness & Aging in Supportive Housing
This training explores the specific needs and challenges of working with persons as they age and offers skills and strategies to assist persons to maximize independence and continue to work towards full and healthy living. At the end of this training, participants will have a better understanding of how Supportive Housing can offer specialized services and modifications to allow healthy aging in place. Accredited as New York State Social Work Continuing Education Course & OASAS Certified.
May 3, 2017
Trauma & Its Aftermath: Module 1 - New Thinking About Trauma-Informed Care
Trauma Informed Care is an engagement technique that recognizes the presence of trauma histories and acknowledges the role of trauma in the lives of survivors. This training offers an overview of the new diagnostic criteria from the DSM-5 of Post-Traumatic Stress Disorder and other trauma related disorders, as well as other symptoms and behaviors that can result from trauma. Assessment, safety issues, medication and symptom management are explored. Accredited as New York State Social Work Continuing Education Course & OASAS Certified.
May 10, 2017
Trauma & Its Aftermath: Module 2 - Supporting Persons With Trauma Histories
An understanding of support strategies that offer safety and grounding to persons with trauma histories are covered in this full day training. Aside from the effects of trauma on individuals, trainees will gain a better understanding of the healing process including providing safety, mindfulness and grounding techniques. Accredited as New York State Social Work Continuing Education Course & OASAS Certified.
June 6, 2017
Coordinating Property Management and Social Services
This training is targeted to social service and property management staff working together in supportive housing settings. It examines the discrete roles of each of their two functions, as well as where the roles overlap. Strategies are presented to develop and maintain clear lines of communication and establish forums for identifying and solving common problems. OASAS Certified.
For more information on registering or training content, please contact CUCS Institute at institute@cucs.org.