Upcoming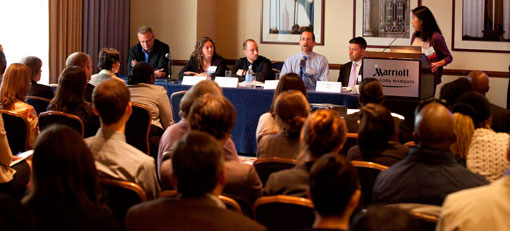 The Network organizes and/or sponsors dozens of events and workshops every year across New York State. Below, you'll find our current list of events. Many of the workshops we list on this page are collaborations with the Center for Urban Community Services. We update this page very regularly, so check back soon for more workshops, conferences and other events.
CUCS/Network Trainings
Critical Time Intervention
Date: January 14, 2015
Time: 9:30am-3:30pm
Registration Begins at 9:00 a.m.
Location: CUCS, 198 East 121 Street, 5th Floor, NYC 10035
Cost for Network Members: $55
Cost for Non-Members: $75
Critical Time Intervention is a cost effective evidence-based practice (EBP) designed to prevent recurrent homelessness, recidivism and other adverse outcomes during the period following placement into the community from shelters, hospitals, and other institutions. This-time limited intervention is delivered in three phases, each usually lasting 3 months. Each phase decreases in service intensity and results with the intervention ensuring the participant is linked to the appropriate community services to ensure housing and life stability. The trainings include an overview of CTI and review the specific treatment areas supported by this intervention. Attendees will leave with a renewed confidence in supporting persons in transition using the basic principles of CTI.
Members Register here
Non-members Register here
Bedbugs: Problems and Solutions
Date: February 10, 2015
Time: 9:30am-12:00pm
Registration Begins at 9:00 a.m.
Location: CUCS, 198 East 121 Street, 5th Floor, NYC 10035
Cost for Network Members: $25
Cost for Non-Members: $45
The resurgence of bed bugs in the last decade has posed serious challenges for supportive housing providers. This moderated panel discussion will focus on how to be successful at controlling the 'bed bug problem' at your sites by hearing from those who have years of experience dealing with the issue as support services staff, building operators, and pest control companies. The cost of eradicating and preventing these seemingly invincible bugs increases concerns for both property managers and case managers around tenants with hoarding tendencies and poor ADLs, while also raising broader concerns around program budgets and physical plant maintenance. Providers who focus on preventative measures and who attend diligently and consistently to infestations will save money, decrease the likelihood of re-infestation and spread, and experience greater tenant satisfaction in the long term. However these ends cannot be achieved unless all supportive housing stakeholders are involved and vigilant, including (and most notably) the tenants, as the comments and techniques shared in this discussion will reveal.
Members Register here
Non-members Register here
NYSERDA / Solar One Trainings
Thanks to a generously funded NYSERDA grant and in partnership with Solar One, the Network links providers to discounted green building operations and maintenance technical training for supportive housing building staff and property managers, superintendents, property managers or building maintainers. Please see the flier and below for more details.

2-Day Training: February 4 and 11 - 9am–4pm
1/2 Day Review and Exam: February 12 - 9am–1pm
Network Member Discount $200 per person (full-price $525)
To register: please contact Gary Smith at gary@solar1.org or 646-576-5663
Training will be held at Solar One's training lab in Long Island City (one quick stop into Queens from the E, M, F trains). The G and 7 trains also go there. 11-17 43rd Avenue, entrance is on 12th Street, down the driveway.