Upcoming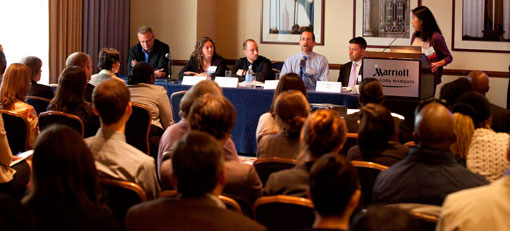 The Network organizes and/or sponsors dozens of events and workshops every year across New York State. Below, you'll find our current list of events. Many of the workshops we list on this page are collaborations with the Center for Urban Community Services. We update this page very regularly, so check back soon for more workshops, conferences and other events.
Creating Resilient Organizations in the Face of Emergencies
The Supportive Housing Network of New York is thrilled to continue our 3-part series of training in emergency planning to help supportive housing providers prepare their buildings, tenants and organizations for a range of potential disasters. This 1-hour Webinar will address Communications Planning for Supportive Housing Organizations - as it is one of the most critical planning areas to face our tenants and staff. The training is aimed toward director-level staff: CEOs, CFOs, COOs, directors of programs, and facility managers/directors. We will refer to the Communications Sections of the SHNNY Emergency Plan templates and discuss the following:
Emergency Communications Planning for Supportive Housing Providers Webinar
Date: December 10, 2014
Time: 1:00 pm
Tools and guidance for how to plan around communications issues
Working with internal and external stakeholders around communications
Policy-related communications issues
Modalities and redundancies
Short and long term operations
Please register by clicking here. If you encounter any problems or have questions, please contact Wren Longno.
To access the SHNNY Planning Templates, other training materials, resources, and the Emergency Preparedness Forum please go here, put in your username/password, or click on the link to fill out the quick application to get a username/password. Once in the members only section you will see Plan Templates and Training; then to join the Forum scroll down and click "Network forums" and then click "emergency preparedness".
This training culminates a year-long effort to help our community better prepare for disasters, an initiative funded by the New York City Housing and Neighborhood Recovery Donor's Collaborative and through a partnership between the Network and EAD Associates, an emergency prep consultancy firm that specializes in assisting people with special needs.
CUCS/Network Trainings
Providing Effective Staff Supervision
This training is FULL
Date: Tuesday, December 9, 2014
Time: 9:30am-3:30pm
Registration Begins at 9:00 a.m.
Location: CUCS, 198 East 121 Street, 5th Floor, NYC 10035
Cost for Network Members: $55
Cost for Non-Members: $75
Effective human service work hinges upon competent supervision. Supervisors often drive the mission of the organization and reinforce good practice standards. This training is geared to clinical and non-clinical supervisory staff, and addresses the skills necessary to effectively supervise, manage and support staff. Topics include the purpose of supervision, qualities of effective supervision, supporting and mentoring staff, identifying one's supervisory styles, delegating, and scheduling. Participants will have the chance to practice, via case studies, providing staff feedback and addressing performance and conduct issues. Attendees will leave the training with better supervisory tools. New supervisors are welcome!
Members Register here
Non-members Register here
Critical Time Intervention
Date: January 14, 2015
Time: 9:30am-3:30pm
Registration Begins at 9:00 a.m.
Location: CUCS, 198 East 121 Street, 5th Floor, NYC 10035
Cost for Network Members: $55
Cost for Non-Members: $75
Critical Time Intervention is a cost effective evidence-based practice (EBP) designed to prevent recurrent homelessness, recidivism and other adverse outcomes during the period following placement into the community from shelters, hospitals, and other institutions. This-time limited intervention is delivered in three phases, each usually lasting 3 months. Each phase decreases in service intensity and results with the intervention ensuring the participant is linked to the appropriate community services to ensure housing and life stability. The trainings include an overview of CTI and review the specific treatment areas supported by this intervention. Attendees will leave with a renewed confidence in supporting persons in transition using the basic principles of CTI.
Members Register here
Non-members Register here
Bedbugs
Date: February 10, 2015
NYSERDA / Solar One Trainings
Thanks to a generously funded NYSERDA grant and in partnership with Solar One, the Network links providers to discounted green building operations and maintenance technical training for supportive housing building staff and property managers, superintendents, property managers or building maintainers. Please see the flier and below for more details.

2-Day Training: February 4 and 11 - 9am–4pm
1/2 Day Review and Exam: February 12 - 9am–1pm
Network Member Discount $200 per person (full-price $525)
To register: please contact Gary Smith at gary@solar1.org or 646-576-5663
Training will be held at Solar One's training lab in Long Island City (one quick stop into Queens from the E, M, F trains). The G and 7 trains also go there. 11-17 43rd Avenue, entrance is on 12th Street, down the driveway.