Showing Posts by Category: New York State
02.27.2017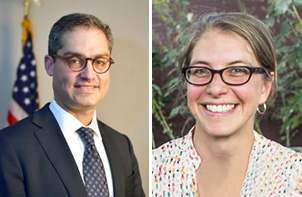 Former HCR Commissioner James S. Rubin and new HCR Commissioner RuthAnne Visnauskas.
On February 10, 2017 Governor Cuomo announced that James S. Rubin, Commissioner of New York State Homes and Community Renewal (HCR), would become the new Director of Operations for the Executive Chamber. A week later, the Governor appointed RuthAnne Visnauskas to succeed Mr. Rubin as Commissioner of HCR.
Mr. Rubin was appointed Commissioner of HCR by Governor Cuomo in May 2015, prior to which he served as Executive Director of the Governor's Office of Storm Recovery. He was also Chairman of the Board of Network member Breaking Ground.
Ms. Visnauskas previously served as Executive Deputy Commissioner for Housing Development at HCR, where she was responsible for strategic leadership and oversight of all housing and finance programs.
Before joining HCR, Ms. Visnauskas was Managing Director of the Housing Advisory Board for the Robin Hood Foundation. The Housing Advisory Board was established to fund initiatives to advance the quantity and quality of affordable housing for low-income New Yorkers. Earlier in her career, Ms.Visnauskas was Commissioner of the New York City Department of Housing Preservation and Development.
|
In the Media
,
What's New
,
New York State
---
02.24.2017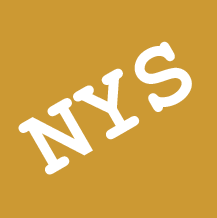 On February 1, 2017, the Homeless Housing Assistance Corporation awarded funding from the State's Office of Temporary and Disability Assistance (OTDA) Homeless Housing Assistance Program for three supportive housing projects being developed by Network members. Together these projects will provide 142 new units of supportive housing.
Project Renewal was awarded $6.2 million to create 71 units of supportive housing in a new residence in Bedford Park, Bronx. This project will be one of the final projects to be built under the expiring NY/NY 3 agreement.
New Destiny was awarded $5 million to build 23 units of supportive housing for homeless women and families in Crotona Park, Bronx.
West Side Federation for Senior and Supportive Housing (WSFSSH) was awarded $3.1 million to help build Mill Brook Terrace in Mott Haven, Bronx. The new residence will provide supportive housing for 48 homeless seniors.
In addition, both New Destiny and WSFSSH were awarded conditional awards last September for services and operating funds for these new residences in the first round of the Empire State Supportive Housing Initiative, and should be approved as permanent funding as the projects open.
Congratulations to all!
|
In the Media
,
What's New
,
Funding
,
New York State
---
01.25.2017

Laura Mascuch, Marian Zucker, Moira Tashjian, Rick Umholtz, Bret Garwood at the Network panel discussion.
On Tuesday, January 24th the Network hosted a panel discussion with our state government partners about the new ways New York State is implementing its supportive housing program through the Empire State Supportive Housing Initiative (ESSHI) and coordinating capital programs: NYS Homes & Community Renewal's Supportive Housing Opportunity Program (SHOP) and the Office of Temporary Disability & Assistance Homeless Housing Assistance Program (HHAP). The event was held at JP Morgan Chase Bank in NYC and had over 100 Network members attend.
Panelists included: Bret Garwood, Senior Vice President, Multifamily, NYS Homes & Community Renewal; Moira Tashjian, Associate Commissioner, NYS Office of Mental Health, and Chair of the ESSHI Interagency Workgroup; Rick Umholtz, Director for the Bureau of Housing and Support Services, NYS Office of Temporary & Disability Assistance and Marian Zucker, President, Finance & Development, NYS Homes & Community Renewal. The Network's Executive Director, Laura Mascuch, moderated.
Panelists covered details about ESSHI, SHOP and HHAP including how these programs all intersect with one another, how to decide what capital resources to apply for, ESSHI timeframes, etc. Panelists also discussed what's next for 2017 and answered questions about how to best access and use this new program.
In 2016, Governor Cuomo announced a commitment to fund 20,000 units of supportive housing over the next 15 years. As part of this commitment, NYS is rolling out the development of 1,200 units a year across the state. To do this, they created a brand new services and operating program called the Empire State Supportive Housing Initiative (ESSHI) intended to be coordinated with various state and local capital resources. The Network is working with our members, government partners and stakeholders in the private sector to help build capacity in the supportive housing community to ensure we can meet the state's goal to develop and fund 1,200 units a year over the next 5 years and a total of 20,000 units over the next 15.
Special thank you to JPMorgan Chase Bank for graciously hosting and sponsoring the event.
|
What's New
,
Funding
,
New York State
,
Network Events
---
01.25.2017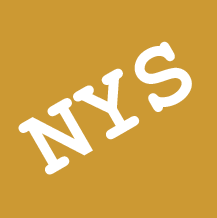 Governor Cuomo released his SFY 2018 executive budget on January 17th which starts the clock ticking for budget season in Albany! Here is our first analysis of the SFY 2017-2018 budget areas important to the supportive housing community.
5 YEAR HOUSING & HOMELESSNESS PLAN
The executive budget includes a re-appropriation of last year's $1.97 billion five year housing and homelessness plan with funding for 6,000 units of supportive housing and 50,000 units of affordable housing over five years. We will be entering year two of this commitment on April 1st. The language adds an additional $526 million bringing the total five year budget to $2.5 billion. It also removes the requirement included in last year's budget that the executive and legislative leaders negotiate a Memorandum of Understanding (MOU) in order to spend the money. The programs listed in the budget as part of this $2.5 billion appropriation include:
Supportive Housing. $950 million for the construction of 6,000 supportive housing units throughout the State;
New Construction. $601 million for new construction or adaptive reuse of rental housing affordable to households that earn up to 60 percent of area median income (AMI);
Senior Housing. $125 million for developing or rehabilitating affordable housing targeted to low-income seniors, aged 55 and above;
Rural and Urban Community Investment Fund (CIF). $45 million for mixed-use affordable housing developments that may include retail, commercial or community development components;
Middle Income Housing. $150 million for new construction, adaptive reuse, or reconstruction of rental housing affordable to households that earn up to 130 percent of AMI;
Affordable Housing Preservation. $177 million for substantial or moderate rehabilitation of affordable multi-family rental housing currently under a regulatory agreement;
Mitchell-Lama Rehabilitation. $100 million to preserve and improve Mitchell-Lama properties throughout the State;
Public Housing. $125 million for substantial or moderate rehabilitation and/or the demolition and replacement through new construction of public housing authority developments outside of New York City;
Small Building Construction. $62.5 million for rehabilitation and/or the demolition and replacement through new construction of buildings of 5 to 40 units;
Home Ownership. $41.5 million for promoting home ownership among families of low and moderate income and stimulating the development, stabilization, and preservation of New York communities;
Mobile and Manufactured Homes. $13 million for mobile and manufactured home programs;
Main Street Programs. $10 million for stimulating reinvestment in properties located within mixed-use commercial districts located in urban, small town, and rural areas of the state;
New York City Housing Authority (NYCHA). $100 million for projects and improvements at housing developments owned or operated by NYCHA.
In addition to the capital funding, $124.5 million for service and operating expenses for the first 6,000 units over the next five years was also re-appropriated from last year's budget. This includes $74.5 million from JPMorgan settlement funds and an additional $50 million from last year's budget. There is no new funding committed for services and operating in this year's budget.
As a reminder: at the end of the 2017 session in June, the Governor and legislative leaders only signed off on a $150 million MOU for 1,200 units of supportive housing (the first year of the 15 year, 20,000 unit commitment). The rest of the $1.82 billion is still subject to a still-to-be negotiated MOU. Even though the Governor's new budget removes the MOU language, there is nothing preventing this MOU from being signed now or any time before a new budget is enacted on April 1st.
OFFICE OF TEMPORARY & DISABILITY ASSISTANCE
Homeless Housing Assistance Program (HHAP) - $64 million - $500,000 INCREASE
The executive budget funds the HHAP capital development program at $64 million which is a $500,000 INCREASE from last year. A new provision added to this year's budget allows up to $1 million of HHAP funding to be used for emergency shelter repairs in local social services districts with a population of less than five million. Also, while not part of this appropriation line, it should be noted that HHAP did not receive any additional MRT funding. Until last year, $10 million in MRT capital had been added to HHAP in each of the previous 3 years.
Homeless Housing Prevention Services Program - $35.38 million - $600,000 INCREASE
The executive budget increased the Homeless Housing Prevention Services (HHPS) Program by $600,000 from last year's final budget. HHPS funds the New York State Supportive Housing Program (NYSSHP), the Solutions to End Homelessness Program (STEHP) and the Operational Support for AIDS Housing (OSAH) Program.
HOMES & COMMUNITY RENEWAL
Housing Trust Fund - $65.2 million - $11 million INCREASE
The executive budget proposes INCREASING the Housing Trust Fund by $11 million, up from $54.2 million last year. These funds can be used for capital construction of both supportive and affordable housing.
DEPARTMENT OF HEALTH/MEDICAID REDESIGN TEAM
MRT Supportive Housing Fund - $63 million - $20 million DECREASE
The MRT Supportive Housing Fund has been cut by $20 million this year. This cut will not impact any existing programs. It will impact programs outlined in the allocation plan that have not yet begun and will put a moratorium on programs that were not fully implemented. It's important to note that no existing programs will be impacted by this and therefore no housing units currently funded with MRT will be lost or cut. We will follow up as more information becomes available.
OFFICE OF MENTAL HEALTH
Provides $10 million to enhance support for existing residential programs. The budget increases funds for supported housing and single residence occupancy programs. This investment will help preserve access and maintain existing housing capacity as the State brings new housing units on line through the Empire State Supported Housing Initiative. It is anticipated that the State will follow past practices for rate increases based on greatest need. We will update our members as more information becomes available.
Invests $11 million in community reinvestment dollars based on the elimination of State psychiatric beds that have been unused for over 90 days.
Supports 280 additional community beds. OMH will develop 280 community-based, scattered site supported housing units in the same geographic area by reconfiguring 140 State-operated residential beds.
Minimum Wage Increases for Direct Care Workers
The executive budget invests $17 million to support the direct cost of FY 2018 minimum wage increases for direct care, direct support, and other workers at nonprofits that provide services on behalf of OPWDD, OMH, and OASAS.
Delays Cost of Living Increases for Staff
The budget defers the COLA increase for 2017 until 2018.
The budget now must be passed by the legislature and signed by the Governor no later than March 31st. In the next few weeks, the Senate and the Assembly will hold budget hearings and negotiate with the Governor.
The Network's advocacy in the upcoming weeks will focus on the proposed initiatives outlined above. We are currently planning a March 1st Advocacy Day. We encourage all Network members to participate. Please email Steve Piasecki to register.
|
In the Media
,
What's New
,
Funding
,
New York State
---
01.23.2017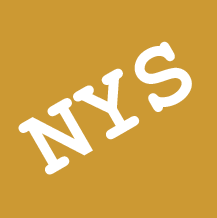 Governor Cuomo and the Office of Temporary & Disability Assistance announced $14 million in Homeless Housing Assistance Program awards for six programs, including three new supportive housing projects. Awards were made through the state's Office of Temporary & Disability Assistance's Homeless Housing Assistance Program (HHAP) to create a total of 110 supportive housing units. Of those 110 units, 62 units have service and operating funding from the first round of the Empire State Supportive Housing Initiative (ESSHI).

The three projects that received awards are:
Breaking Ground/Comunilife Bronxchester (The Bronx) $5,900,000 for 97 units.
Interfaith Partnership on Homelessness (Albany County) $2,621,867 for 5 units.
The Municipal Housing Authority of Utica (Oneida County) $770,000 for 8 units.
The remainder of the funding went to three shelter projects, including Network member Catholic Family Center of Rochester.
Please see OTDA's website for more information.
In related news, HHAP has suspended taking new applications until after the 2017 budget is passed. They are oversubscribed. The remaining $24 million (for the fiscal year ending March 31, 2017) will likely be exhausted by current applications.
|
What's New
,
Funding
,
New York State
---
12.30.2016

Peter Cook, Executive Director of the New York State Council of Churches, speaking to the press, flanked by Kevin O'Connor, Director of Joseph's House.
On December 21st, faith leaders held a prayer vigil outside the Senate chambers at the state capitol in Albany to honor the memories of homeless New Yorkers who died in 2016, part of National Homeless Persons' Memorial Day. Kevin O'Connor, Director of Joseph's House in Troy, read the names of homeless individuals who passed away over the past year. "The average life expectancy of a person who is homeless in America is 52 years of age," O'Conner said. "That's 26 years younger than those who are housed."

Faith leaders used the moment to call on Governor Cuomo to uphold his nearly year-old promise to create 20,000 homes for the most vulnerable homeless New Yorkers over the next fifteen years and release funds to pay for the first 6,000 homes. Peter Cook, Executive Director of the New York State Council of Churches, led the delegation.

There are now 88,000 homeless people in New York State.

Press coverage of the event:
Newsday
TWC News
North Country Public Radio
NYS News
Politico
State of Politics
Albany Times-Union
|
In the Media
,
What's New
,
New York State
---
12.14.2016

One of the new buildings in the Finger Lakes Rural Initiative Housing Project.
As testament to the fact that supportive housing comes in all sizes and fits into any neighborhood, the Finger Lakes Area Counselling and Recovery Agency (FLACRA) opened four residences in four counties for individuals struggling with homelessness and substance abuse. The four buildings, located across the Finger Lakes region, will provide eight permanent homes for homeless individuals with a disabling condition and 14 transitional units for people in recovery from substance use.
FLACRA's Executive Director Marty Teller said "We are proud to bring these beautiful renovated sites to these great neighborhoods for individuals so deserving in their journey through recovery to independence."
The two day travelling ribbon cutting on November 17th and 18th included Commissioner Samuel Roberts from New York State Office of Temporary and Disability Assistance; Robert Kent, from the New York State Office of Alcohol and Substance Abuse Services; Assembly Member Robert Oaks; New York State Senator-elect Pam Helming; county commissioners of social services, county directors of community services, and other municipal officials. Chief Counsel Kent said, "These are great things in the midst of an unbelievable epidemic of heroin and opiate abuse. Agencies like FLACRA are on the front lines of this fight."
The projects were built with capital from the Homeless Housing Assistance Program and the Federal Home Loan Bank, and a loan from CSH. Services for the supportive housing units are funded by OTDA's NYSSHP program.
The contractor on the project was Hamilton Stern. The architect was TAB Design. The consultant was KLR Consulting.
|
What's New
,
New York State
,
Openings
---
11.29.2016
The advent of Thanksgiving inspired faith leaders across New York State to call on the Governor to make good on his nearly year-old promise to create 20,000 homes for the most vulnerable homeless New Yorkers over the next fifteen years and release funds to pay for the first 6,000. Pastors and other religious representatives from Syracuse, Binghamton, Albany, and Long Island spoke of the crushing need in their own communities as well as the shocking number of homeless people statewide.
Father Pizarelli, founder of Hope House Ministries in Port Jefferson noted that after a particularly ugly election season, Governor Cuomo could provide much needed moral leadership by ensuring his promise of 20,000 units of supportive housing lives on through the next fifteen years (link here). Pastor John Carter at Abundant Life Christian Center in East Syracuse wrote that more than 4,600 people in Onondaga County experienced homelessness in 2015. Of those, almost 1,200 were children (link here). Pastor J.J. Hefley of First Assembly of God Church in Binghamton noted that the number of homeless New Yorkers outnumbers the combined populations of both Binghamton AND Ithaca (link here). And Peter Cook, Executive Director of the New York State Council of Churches, penned an op-ed in the Albany Times-Union, noting "Without a written agreement and a long-term funding plan, these (20,000 promised) homes won't be developed, and New Yorkers will continue to suffer more difficult winters," (link here).
The recent opinion pieces built on the faith community's unwavering support for the creation of sufficient supportive housing to meet the needs of New York's most vulnerable homeless individuals. More than 270 faith-based organizations have signed on as supporters of the Campaign 4 NY/NY Housing.
The Network joins these leaders in their insistence on immediate action and asks that you click HERE to send a message to the Governor, Senate and Assembly leaders to sign the Memorandum of Understanding now.
|
In the Media
,
What's New
,
New York State
---
11.28.2016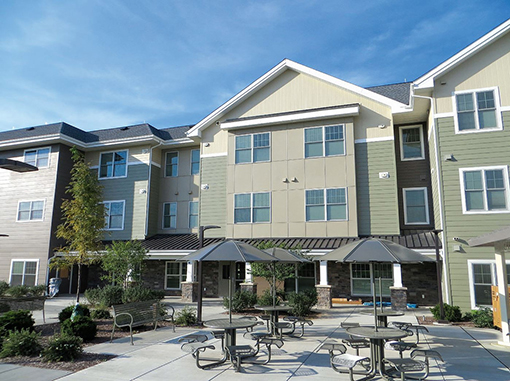 Ebenezer Square Apartments
Living Opportunities of DePaul opened a beautiful supportive housing development, Ebenezer Square Apartments, in West Seneca on November 17th. The mixed-use development rises on the site of a long-vacant big-box store and features 100 affordable apartments, 75 of which are supportive housing units for persons in recovery from mental illness. The name Ebenezer Square is a nod to the Ebenezer Colonies which consisted of settlements of Inspirationists who migrated to what is now the town of West Seneca from Germany in 1843.
Living Opportunities of DePaul's President Mark H. Fuller welcome the crowd, saying "DePaul is so proud to be part of the West Seneca community. Ebenezer Square is an example of progress and partnership in action."
Dignitaries present included NYS Office of Mental Health Commissioner Ann Sullivan; State Senator Timothy Kennedy; West Seneca Town Supervisor Sheila M. Meegan; West Seneca Town Councilman Gene Hart; OMH's Moira Tashjian; NYS HCR's Leonard Skrill; Commissioner Michael Ranney of the Erie County Mental Health Department; and State Assembly Member Michael P. Kearns.
Commissioner Sullivan said, "Residential programs such as Ebenezer have been shown to help their clients find lasting recovery and better connection with their surrounding communities. Under Governor Cuomo's leadership, New York State continues to expand the opportunities and options which enable individuals with disabilities to live fully integrated lives in their home communities."

Residents have access to lounge areas on each floor, outdoor picnic areas, a community room and off-street parking. A green building, Ebenezer Square features the latest energy-saving solar technology: a 150-kilowatt solar array will account for about 75 percent of the building's electrical usage, funded in large part by the New York State Energy Research and Development Authority and using New York State Solar Tax Credits.
Development partners included the Dormitory Authority of the State of New York, New York State Homes and Community Renewal (NYSHCR), New York State Office of Mental Health (NYSOMH), and Red Stone Equity. On-site services are funded by NYS OMH. The architect was SWBR Architects and the contractor was Calamar Construction. The syndicator was Red Stone Equity.
|
What's New
,
New York State
,
Openings
---
11.23.2016
On November 21, the Network, as part of the Campaign for NY/NY Housing, launched a new advocacy initiative to send 20,000 messages to our legislators in Albany – one for every supportive housing unit promised – to urge the Governor and Legislature to SIGN THE MOU TODAY and fulfill the supportive housing promise made last year!
If you haven't done so already, click here to tell our legislative leaders to SIGN THE MOU!
Last year we fought for a historic commitment from the State to fund 20,000 units of supportive housing over the next 15 years. As you know, last year's budget included $2 billion to fund, among other things, the first installment on that commitment -- 6,000 units of supportive housing over the next 5 years. However, the State has only released funding for the first 1,200 units. In order to release the remaining funding, a memorandum of understanding (MOU) is required to be signed by the Governor, Senate and Assembly.
The good news is our supportive housing campaign, THANKS IN LARGE PART TO YOU, was the only program that had funding released last year!!! So, thank you!!! With that in mind, we ask for you to again click the link to show the Governor and Legislature that we remain vigilant as ever in our quest to release the remaining funds for the 4,800 initial units of supportive housing both the Governor and Legislature agreed to fund. Please participate and encourage others to do so as well.
Our battle is not over. Every email counts.
The initiative was covered by:
Capital Tonight, "Housing Experts Discuss Housing MOU."
The New York Daily News, "Homeless advocates call on Gov. Cuomo to get 6,000 new supportive housing units up and running."
|
In the Media
,
What's New
,
Funding
,
New York State
---