West End Residences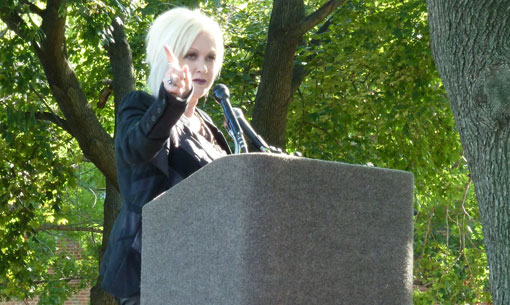 New York's only supportive housing residence for LGBT youth
In 2011, West End Residences HDFC, Inc. made history.
With the help of one high-profile advocate, West End opened the first-ever supportive housing residence for formerly homeless LGBT youth in New York State. West End's True Colors Residence offers supportive housing in Manhattan to 30 LGBT young adults aged 18-24. It does so through a unique partnership with '80s musical icon Cyndi Lauper.
"Gay, lesbian, bisexual and transgender youth living on the streets and in foster care need our support more than ever," says Lauper, whose 1986 song "True Colors" inspired the building's name. "In New York City, the True Colors Residence is going to play a big role in providing these young people with the leg up and encouragement they need."
True Colors arose from a simple question: What can we do to curb the number of LGBT homeless youth in New York City? Lauper first kicked around the question in 2007 with her manager Lisa Barbaris (a former West End volunteer) and West End Executive Director Colleen Jackson. The three were well aware of the problem. Current estimates show that up to 40% of homeless NYC youths identify as LGBT.
They arrived at a common-sense, if unconventional, solution: Supportive housing. No one in New York had ever built such a residence for LGBT youth.
"Without [Lauper], the residence definitely would not be built," Jackson said in a 2010 interview with People magazine. "Cyndi was a catalyst that made me decide we have to do this."
Jackson went to work on the nuts and bolts of supportive housing development, while Lauper founded the True Colors Fund and became a diligent advocate for the residence. Four years later, True Colors Residence opened its doors in Harlem.
The building now offers affordable housing with access to an array of on-site services. True Colors tenants can consult a life-skills coach, case manager or social worker to help with the tasks of everyday living. They can also work toward a GED, receive medical services or use the building's computer lab and library. To live in the residence, they pay rent based on their individual income.
"Even I want to take take the life classes," Lauper said during the building's grand opening ceremony. "I don't even know how to do some of those things."
For many of its tenants, True Colors represents a major turning point in their lives. Gone are their days of rejection and life on the streets.
"A lot of these kids have been thrown out of their homes," says Jackson. "Families aren't terribly understanding when it comes to LGBT issues. I've interviewed several of the applicants for True Colors, and it's the same story over and over again: They had to leave their homes when they came out to their parents."
For the first time, New York State has a home just for them.
"I'm lost for words; I'm so happy right now," said Priscilla Rumnit, one of the building's tenants. "I'm just so excited for this place. Here, I feel safe."
For photos from the True Colors Residence grand opening event, visit the Network's Facebook page.
Want to see your organization's story on our website? Contact us!