Urban Pathways, Inc.
A data-driven innovator in providing solutions to homelessness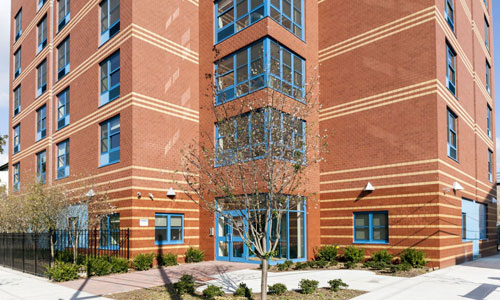 Urban Pathways Hallet's Cove supportive housing property in Astoria, Queens
Urban Pathways (UP) is dedicated to providing homeless and at-risk New Yorkers with the housing, services and support they need to be self-sufficient. UP offers outreach programs, a drop-in center, safe havens (temporary low demand housing), and supportive housing.
Fred Shack, UP's Executive Director of ten years says "the population we're most concerned with are chronically homeless people who are living with mental illness, addictions or other disabilities. If we're going to successfully engage them, we need to start by getting them off the street. Our safe havens and drop-in centers are a critical resource."
UP's six street-outreach programs serve as points-of-entry for homeless individuals to access emergency and housing services. Each program, A.D.E. outreach, Flatiron BID catchment area, Fashion Center BID catchment area, the PATH stations, Operation Alternative and the Newark Liberty International Airport, helps people leave the streets through referrals, engagement in treatment, basic services and transitional housing.
The Olivieri Drop-In Center on West 30th Street offers access to meals, clothing, and showers and provides individual counseling, entitlement assistance, banking facilities, vocational training, money management and instruction on other independent living skills. Initially a women-only center, it is now co-ed and helps clients move into a variety of different housing options.
UP's safe havens, the Travelers (West 40th Street) and the Hegeman (East New York, Brooklyn), offer temporary housing to homeless individuals who have not successfully engaged in conventional housing. The primary goal is to promote stability by providing rehabilitative services and ultimately housing placement services.
UP operates a permanent housing residence, Clinton Avenue Apartments in the Bronx. UP also operates six supportive housing residences: newly opened Cluster House, Ivan Shapiro House and The 53rd Street Apartments in Manhattan, Hughes House and Crotona Community Residence in the Bronx, and The Residence at Hallet's Cove in Astoria, Queens.
UP also has four new buildings in construction in three boroughs, as well as a scattered site project at 100th Street. The four new buildings, Boston Road, 162nd Street, New Roads Plaza, and Park Avenue Residence, are all supportive housing residences. Under Mr. Shack's leadership, Urban Pathways will have 1,000 units of supportive housing in operation by 2017. As Mr. Shack said, "we were a social service agency, now we're a housing developer and a social service agency."
Want to see your organization's story on our website? Contact us!