Green Housing: Member Profiles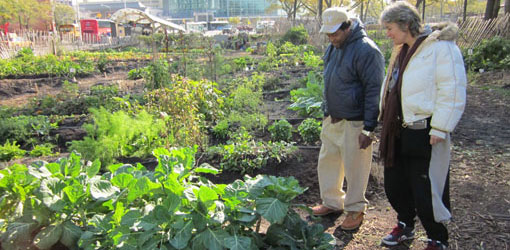 The Bridge clients Tara McDonald and Johnny Blackmon inspect the plants at Battery Urban Farm. The Bridge has grown a number of residence gardens as part of its Horticulture and Urban Farm Program.
All across New York, supportive housing providers are taking steps to reduce energy and water consumption, create healthier and more efficient buildings and bring sustainable activities into their programs. Below are a few examples of their efforts to increase energy efficiency, reduce consumption and improve the quality of life for supportive housing tenants. Email the Network if you'd like to see your agency on this page!
---
Project FIND
"We are completely happy and appreciative to the Network and AEA, not just for the reduced utility costs through weatherization but for the satisfaction of operating a greener building in the heart of Times Square. Our next goal: A green roof!"
Jon Calvert, Section Head of Housing Services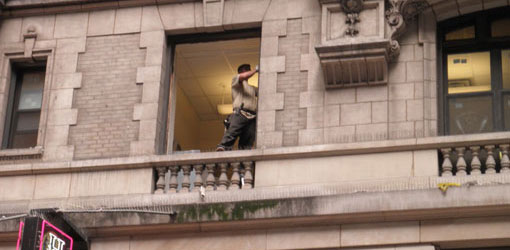 A worker installs new windows at the Woodstock Hotel as part of Project FIND's weatherization upgrades.
Project FIND's Woodstock Hotel on West 43rd Street in Manhattan is home to senior citizen supportive housing residents. In 2010-2011, the building received a full energy audit as part of the ARRA-funded Weatherization Assistance Program (WAP) through the Network/AEA partnership. Project FIND used $850,000 in WAP funding for window replacement throughout (including in all 286 SRO units), new common area lighting in the hallways and the senior center and a new heating plant. Beyond physical improvements to the building, the WAP process engaged Woodstock's staff and residents and provided comprehensive training and awareness about energy efficiency upgrades. The completed work is expected to reduce energy use by 20.4%.
---
Central New York Services, Inc.
"Central New York Services, Inc. is committed to green business practices because of their proven cost savings and their benefits to the environment"
Christopher Munn, Director of Residential Operations

Central New York Services (CNYS) and the Wescott Neighborhood Bulb Association have teamed up to plant 1,500 tulip bulbs and daffodils at CNYS residences.
Central New York Services, Inc. (CNYS) has launched a number of initiatives to reduce energy, save water and engage tenants. In July 2010, the organization used a NYSERDA grant to install over $60,000-worth of energy-saving devices and materials at its Genesee Street residence in Syracuse, including new boilers, hot water heaters, water-saving shower heads, energy-saving light bulbs and insulation. During 2010–2011, grad students from the SUNY College of Environmental Design and Forestry worked with Genesee Street consumers to design an environmentally friendly landscape providing activities for both mental and physical health. In June 2012, CNYS received a grant from the local Welch Allyn Foundation to build the garden. This one-of-a-kind project will be a beautiful space of great therapeutic value for the residents. To learn more about the garden, see this article in the Syracuse Post-Standard. CNYS also partners with the Westcott Neighborhood Bulb Association and has planted 1,500 daffodil and tulip bulbs at its Syracuse residences over the past two years.
---
West Side Federation for Senior and Supportive Housing
"WSFSSH's goal is to reduce energy and water usage and waste production by 20% across our portfolio over the next two years through the Living Green Challenge." Laura Tavormina, Deputy Director, CFO.

Through the U.S. Department of Housing and Urban Development (HUD) Green Retrofit Program, WSFSSH has installed green and solar roofs at Kurt and Leah Schneider Apartments in Manhattan.
The WSFSSH Living Green Challenge began in 2012 as an agency-wide initiative to reduce energy and water consumption and the amount of waste produced across all of WSFSSH's 24 buildings. To achieve this ambitious goal, a Living Green Challenge Team was created to investigate, pilot and implement program measures. The Team includes staff from development, management, social services, facilities and IT. Since 2003, the agency has undertaken $3.9 million in energy retrofit measures. The Team's initial focus will be to utilize the extensive energy consumption data that WSFSSH has collected to track and evaluate building performance in all of its buildings. WSFSSH will then use this data to assess the cost-effectiveness of recent upgrades, determine where new retrofit measures are needed and what pilot projects should be targeted. Other initiatives include training staff and tenants and identifying areas for increased recycling and waste reduction.
---
Catholic Charities of the Diocese of Albany
"When we researched all the issues for and against taking our properties smoke free, we really could not find a good reason not to. Ultimately, everyone benefits."
Tom Coates, Director of Operations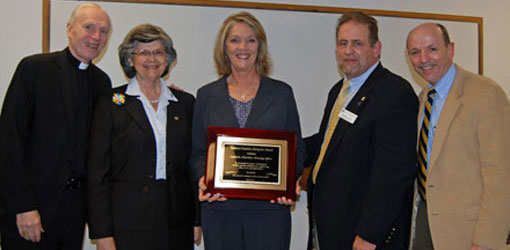 Catholic Charities staff pose with a Tobacco Cessation Champion Award, an honor it received from the Center for Smoking Cessation at Seton Hill.
In August of 2011, the Catholic Charities Housing Office implemented a smoke-free policy in all of its single-occupancy residences and family apartments. This initiative will ensure healthier environments for all who live and work in these housing programs. To implement the measure, Catholic Charities trained its staff as smoking cessation coaches and carried out hundreds of lease addendums. Smoke-free housing eliminates second-hand smoke and has particular relevance to supportive housing, given that individuals with mental illness are more likely to smoke, according to studies from the New York State Department of Health and elsewhere.
---
The Bridge
"Growing fresh produce on our own property has enabled us to engage our clients in a hands-on approach to learning about the nutrition benefits of cooking with fresh vegetables and herbs. The result has been a very positive impact on their eating habits!"
Pat Callahan, Director of Vocational Services

Gardening and landscaping projects at The Bridge have helped tenants eat better, live healthier and fight illness.
The Bridge has created a series of gardens through its Horticulture and Urban Farm Program. These gardens provide tenants with vocational training and healthy eating options. Thanks to vegetable and herb farming, tenants now have access to fresh, environmentally friendly and healthy foods. Through its collaboration with the Horticultural Society of New York, The Bridge has also found that the physical act of caring for a garden can help illness prevention and generate healing responses among tenants.