Concern for Independent Living
Leading the way on modular construction

Based in Long Island, Concern for Independent Living has a long, distinguished history of innovation including turning two decrepit adult homes into high-quality supportive housing. In 2011, the organization continued its pioneering tradition with MacDougal Street Apartments: the first New York supportive housing residence built using modular construction.
Located in Brooklyn, MacDougal Street Apartments offers 65 units of supportive housing for formerly homeless New Yorkers, many of whom suffer from mental illness. Its unique construction method, though still in its infancy, may soon allow housing providers to build residences both faster and cheaper.
MacDougal Street Apartments was built by two different contractors at two different sites. The process required intense coordination between P&P Contractors, which constructed the building's foundation and assembled its myriad parts, and Capsys, which built the individual modules some four miles away at the Brooklyn Navy Yard.
With modular construction, the two contractors simultaneously construct both the building's foundation and its individual rooms, or modules. These modules, which weigh about 27,000 pounds apiece, are then driven to the actual construction site, where they're attached to the building's foundation. (see below for a series of construction photos of MacDougal Street Apartments).
Modular construction often requires lengthy planning, because the two contractors must work in tandem to ensure consistency. This additional work, however, can pay off with a significantly shorter construction period.
"The major noticeable difference with modular construction is that a one-floor platform can turn into a six-floor building in two weeks," says Ralph Fasano, executive director of Concern for Independent Living. "But the foundation of the first floor has to match the modules by a fraction of an inch; otherwise the whole building will be off."
Fasano struggled to think of a single drawback to modular construction.
"We had some concerns about the contractors working together, but othey worked very well together." Fasano hopes to employ the modular construction method for future supportive housing residences from Concern for Independent Living.
Modular Construction: A Photo Diagram
First, the frames for individual modules are built indoors at the Brooklyn Navy Yard.
This is what a nearly completed module looks like. Along with shortening construction times, modular construction can also ensure quality assurance, because the individual parts are built in an indoor factory setting.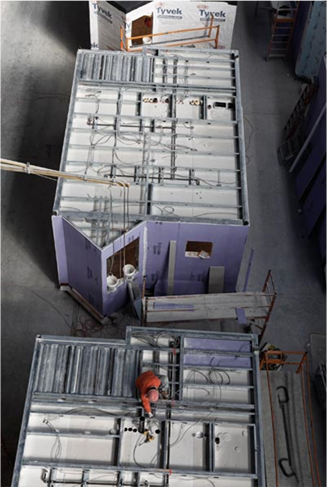 The modules are then driven to the construction site, where the building's foundation has already been built. Below, a crane lifts a module into place at the MacDougal Street Apartments.
Workers then put the building's modules into place, with next to no room for error.
The modules are stacked atop one another on the building's foundation.
Finally, with all the modules in place, construction workers complete the building's exterior. The finished product, seen at the top of this page, appears no different than an ordinary building.
Want to see your organization's story on our website? Contact us!

Join Our Email List


for News and Updates
Did you know…
A program for formerly incarcerated individuals with mental illness found that those receiving supportive housing were 61% less likely to be re-incarcerated.