Breaking Ground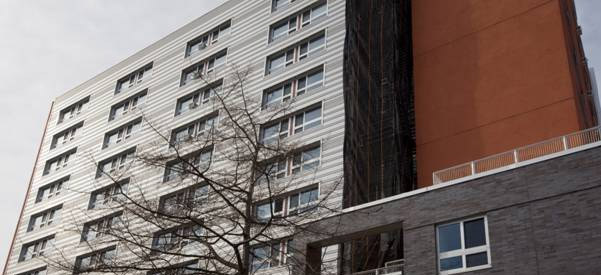 America's preeminent supportive housing provider
Breaking Ground is the biggest supportive housing provider in the nation. Founded in 1990, the organization operates more than 2,700 units of permanent supportive housing across New York. It also runs the single largest supportive housing residence in the country -- The Times Square -- with 652 tenants. The building was featured in "Miracle on 43rd Street," a 1997 segment of "60 Minutes" that put supportive housing in the national spotlight.
In 2011, the organization unveiled The Lee, its third-largest building. The residence sits in the Lower East Side of Manhattan and provides housing and services for 263 of New York's most vulnerable citizens. The project cost $59 million to come to fruition.
"Like all of our housing, The Lee will act as a catalyst for community revitalization while also supporting our mission to end homelessness," says Brenda Rosen, Executive Director of Breaking Ground.
The building houses 104 formerly homeless adults, 103 low-income adults from the Lower East Side and 55 young adults who have aged out of foster care. Breaking Ground's long-time partner the Center for Urban Community Services (CUCS) is providing services to the adults; The Door is providing services to the young adult tenants. Both organizations work in the building to help tenants with education, job training, recovery, life skills and whatever support they need to thrive.
"We are excited to partner with Breaking Ground on this initiative, especially now at a time when homelessness is on the rise for youth in New York City and services are decreasing," says The Door CEO Michael Zisser. "Providing a stable home and comprehensive support for young people at-risk ensures a brighter future for the entire city."
The Lee also offers a large garden, community event space and computer lab for its tenants. The 105,000 square-foot building opened its doors not long after the opening of The Brook, a residence for 190 low income and formerly homeless individuals in the South Bronx.
With no signs of slowing down, Breaking Ground remains the nation's most prolific supportive housing provider.
Want to see your organization's story on our website? Contact us!