Bowery Residents' Committee
A data-driven culture of excellence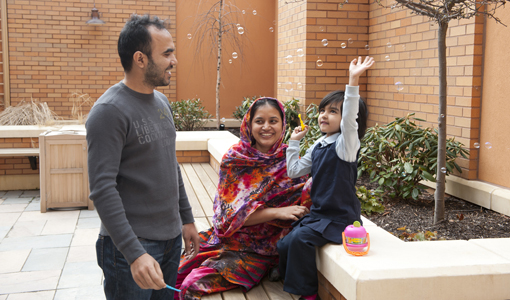 A family plays outside Liberty Homes. Photo courtesy of the Bowery Residents' Committee. Photo courtesy of BRC.
For 40 years, the Bowery Residents' Committee (BRC) has empowered New York City's less fortunate to fight homelessness, mental illness and other life barriers. It's done so with the help of a little secret: numbers. Like few organizations of its kind, BRC uses data to shape how it serves homeless and disabled people. Its data-driven culture has made it an innovator in the supportive housing community.
BRC began its "Program Management" effort in 2001. Designed through a process involving the whole staff, the process looks to evaluate the organization's service programs' effectiveness as measured by a wide range of markers, including participation in services, housing stability, sobriety, as well as use of other systems including the. number of hospital visits and length of stay. Basic demographic information is collected as well. BRC staffers then gather four times a year to examine the numbers, analyze trends and discuss how programs should be improved.
"This information isn't just collected," says Robyn Gundy, director of research and evaluation at BRC. "It's actively used to help us better our programs."
Gundy cites an early epiphany by way of explanation. Years ago, when analyzing numbers with a program manager, she noticed, for the first time, that everyone in a particular program was over the age of 50.
"Of course I knew that already," she says, "but seeing it on the page made me realize that I needed to provide services for these people. I needed to get AARP in there. Looking at data regularly can help you discover things like that."
Both BRC's most recent residence and pilot project speak to the organization's numbers-based approach to supportive housing. In late 2010, the organization opened Liberty Homes, a supportive housing residence complete with 46 apartments for individuals and families. In 2011, BRC also launched a year-long study to quantify the effects of permanent supportive housing on tenants. The investigation focuses on the tenants living in all 370 BRC tenants living in the nonprofit's HomePlus units.
Using the Multnomah Community Ability Scale (MCAS), the project measures tenant health, social skills and behavior, among other variables. Its ultimate aim is to illustrate -- with clinical precision -- the long-term outcomes of supportive housing for its tenants.
"The data is a living, breathing thing," Gundy says. "First you get it, and then you ask yourself, 'What am I going to do with it?'"
Want to see your organization's story on our website? Contact us!