Newsletter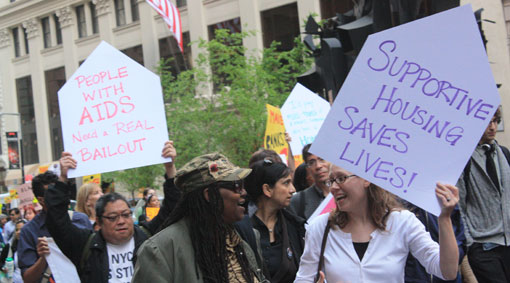 The Network publishes Network News, its monthly e-newsletter, as a chronicle of all things related to New York supportive housing. A typical issue features stories on new residence openings, budget updates, advocacy alerts, photos from recent events, Request for Proposal (RFP) information and summaries of new research. Read our past issues below, and click here to subscribe to our mailing list.
May 2019
The Network testifies to NYCC on DOHMH budget, to NYS Legislature about rent regulation, and to NYCC Charter Revision Commission about ULURP; NYS HCR announces 2018 Unified Funding Awards, including Network members; members S:US and WSFSSH celebrate apartment openings.
April 2019
The Network analyzes the NYS Budget for 2019-2020; Comunilife, DePaul, S:US, and Catholic Charities of New York celebrate the opening of new supportive housing; the Network gathers members for the 2019 Annual Meeting; Network hosts siting workshop.
March 2019
The Network and members lobby ahead of the NYS budget deadlines; Down Payment Assistance Fund launches; Network testifes to NYCC; Hebrew Home breaks ground in the Bronx.
February 2019
2019 Federal budget is signed into law. Guest blog about the Bring it Home Campaign from Toni Lasicki.
January 2019
Governor Cuomo releases SFY 2020 budget and the Network analyzes for its impact on supportive housing; The Network testifies at a Joint Senate/Assembly hearing on human services; HPD announces $18 million in LIHTC awards.