Newsletter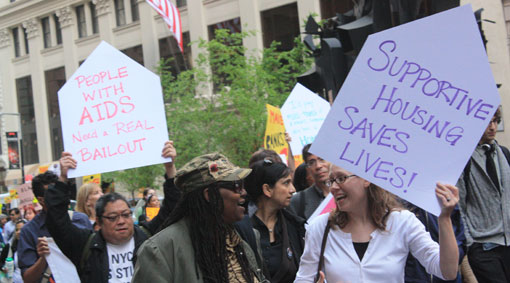 The Network publishes Network News, its monthly e-newsletter, as a chronicle of all things related to New York supportive housing. A typical issue features stories on new residence openings, budget updates, advocacy alerts, photos from recent events, Request for Proposal (RFP) information and summaries of new research. Read our past issues below, and click here to subscribe to our mailing list.
March 2019
The Network and members lobby ahead of the NYS budget deadlines; Down Payment Assistance Fund launches; Network testifes to NYCC; Hebrew Home breaks ground in the Bronx.
February 2019
2019 Federal budget is signed into law. Guest blog about the Bring it Home Campaign from Toni Lasicki.
January 2019
Governor Cuomo releases SFY 2020 budget and the Network analyzes for its impact on supportive housing; The Network testifies at a Joint Senate/Assembly hearing on human services; HPD announces $18 million in LIHTC awards.
December 2018
The Network holds a hands-on Joint Venture workshop; NYC HPD releases a new construction Down Payment Assistance Fund RFQ; The Bridge opens Maple Residence.
November 2018
The Network testifies at a hearing of the City Council Committee on Contracts; Opportunities for Broome brings more supportive housing to Downtown Binghamton; the Network joins coalition to urge lawmakers to reform State Rent Laws and HHAP Approves Funding for 11 supportive housing projects.
October 2018
Roundup and Photos from 2018 Awards Gala, The Bridge cuts ribbon on Melrose Commons, the Network hosts a panel discussion on the progress of NYC 15/15 Supportive Housing Initiative.
September 2018
ESSHI conditional awards announced, OTDA restores NYSSHP funding cuts and stories from our 30 years of innovation series.
August 2018
Information on tickets and sponsorships for our 2018 Gala; news on two new supportive housing projects and videos from our 2018 conference are now live on our website.
June 2018
Photos for the 2018 Annual Supportive Housing releases; Council Members voice their support on supportive housing; State releases two capital funding RFPs; City approves $100 million to accelerate supportive housing production; Win opens Stone House and Breaking Ground cuts ribbon on Webster Residence.
May 2018
Jacqueline Woodson to keynote 2018 Annual Supportive Housing Conference; ESSHI RFP released; Camba Gardens II opens; HUD rent hike proposal explained; Committee on General Welfare Examines NYC 15/15 Progress in City Council Hearing; Guest blog from the Federal Home Loan Bank of New York on its Affordable Housing Program.
March 2018
The Supportive Housing Network of New York and Enterprise Community Partners Inc. released a Joint Venture Guidebook; Win Opens West 118th Street Residence; The Network goes to Albany for lobby Day; Dan Berstein details some excellent tools and techniques to help housing providers manage conflict in our latest blog post.
January 2018
HPD Commissioner Maria Torres-Springer writes a guest blog on NYC 15/15; Governor Cuomo releases his 2019 Executive Budget; Tax Reform preserves Private Activity Bonds; ACMH and Thorobird Companies break ground on The Grand; the Network holds workshop on developing with tax credits; New York philanthropies convene a panel on issues faced by foster youth aging out as they seek permanent housing.
Bedford Green House breaks ground in the Bronx; Joseph L. Allen Apartments opens in Schenectady; House tax reform update; partnering with churches to develop supportive and affordable housing; CUCS training roster for 2017-18.
Gala 2017; joint venture and ESSHI panels in Rochester; NYC 15/15 panel in NYC; new residences open in Middle Island and Staten Island; staff updates.
The 2017 Annual Awards Gala coming up; the Network's Capacity Building Initiative; Medicaid Redesign Team Supportive Housing Program at Robin Hood; Comunilife and NYC Health + Hospitals Break Ground on Comunilife Woodhull.
The 2017 Annual Awards Gala coming up; Year One Evaluations of the Medicaid Redesign Team (MRT) Supportive Housing Initiative; an opening in Brooklyn and a ground breaking in the Bronx; federal budget update; an homage to Kenyon Craig.
The 2017 Annual Supportive Housing Conference; faster DOB review for NYC supportive housing projects; a new residence opens in Troy; RFPs released in June.
Governor Signs Legislation for $1 Billion to Build 6,000 Units of Supportive Housing; Executive Budget Proposes Devastating 15% Cuts to HUD; Network Names Breaking Ground CEO Brenda Rosen New Chair of the Board of Directors; Supportive Housing & Faith-Based Organizations: Shared Mission to Care for New Yorkers in Need; two new residence openings in New York City.
NYS budget funding for five years of supportive and affordable housing; an event to thank our government partners; HUD Secretary Ben Carson at NLIHC; two new residence openings in New York City.
Network's lobby day; new HPD Commissioner Maria Torres-Springer addresses Network's annual meeting; NYS budget update; federal budget update.
Leadership changes at HCR and at Goddard Riverside Community Center; a new residence breaking ground and a bolting up ceremony for another.
The executive budget for SFY 2018; the outgoing and incoming HPD Commissioners; a Q & A with New York state government partners on the State's new supportive housing program.