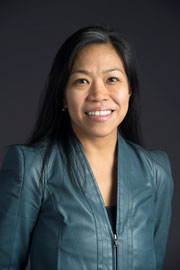 Maria Torres Springer has hit the ground running since being named HPD Commissioner in January 2017. Just a few months earlier, the Mayor had announced the acceleration of his already ambitious 10 year housing plan Housing New York 2.0 which is now slated to create and preserve 300,000 affordable homes by 2026. And even more recently, the administration and City Council agreed to accelerate the new development portion of the City's supportive housing commitment NYC 15/15, by developing 700 units a year instead of 500.
Already, Maria has made her mark: with her sterling record for building relationships among nonprofits, community leaders, private businesses and government, Maria has also overseen the launch of the Neighborhood Pillars program which provides financing to nonprofits to purchase older rent-regulated buildings and protect them from predatory investors.
And she almost singlehandedly helped accelerate NYC 15/15 with HPD's support of Breaking Ground's bid to turn a former Jehovah's Witnesses' hotel into 500 units of supportive and affordable housing. Breaking Ground CEO Brenda Rosen enthused: "Creative, bold, determined – Maria Torres-Springer embodies leadership. We are proud to work side-by-side with her and HPD to create the next generation of supportive housing."
Deputy Mayor Alicia Glen says:"It is an understatement to say that developing permanently affordable supportive housing in the NYC market is tough – but Maria gets it done and does it by providing the leadership, strategy and sense of purpose and joy that is necessary to do this critically important work."
HDC President Eric Enderlin adds "Maria is an inspiring leader who brings a powerful voice and a clear vision to her work tackling all sides of the affordability crisis and effecting the kind of positive change that will shape our city for generations to come."
Before joining HPD, Maria had been the first female CEO of the City's Economic Development Corporation where she had -- among many transformational projects -- overseen the re-imagining of Spofford, a former juvenile detention center in the Bronx as a hub for the arts and affordable housing. And prior to her time at EDC, Maria served as Commissioner of the New York City Department of Small Business Services (SBS) where she spearheaded the administration's efforts to raise wages and expand skill-building in workforce placement programs, as well as support women-owned and immigrant-owned businesses.
For her tireless commitment to improving the lives of New York's disadvantaged, the Network is thrilled to honor Maria Torres-Springer as the 2018 Government Partner of the Year.