East 144th Street Affordable Housing of ACMH, Inc.

Laura Mascuch and Daniel K. Johannson
East 144th Street Affordable Housing is a handsome six story, support-ive/afford-able housing residence in the heart of the lively Mott Haven section of the South Bronx. This lovely new apartment building provides 42 apartments to both adults and young adults eligible under the NY/NY III program, as well as18 low-income fam-ilies from the surrounding community. The rents on the low-income units are worth special mention, because ACMH wanted to ensure that these apartments really were affordable to people with low incomes: a studio rents for $372/month, a one bedroom for $556/month, and a two bedroom for $676/month.
"We set out to create, not just a build-ing, but a community among the rich diversity of the South Bronx: children, youth, adults, and seniors, people from diverse backgrounds, with diverse life experiences, talents and abilities," says Executive Director Daniel K. Johansson. And they have. The residence is appoint-ed with wood, stone, and tile corridors, a spacious community room, and a verdant landscaped courtyard in the rear. In the front lobby there is an eye-catch-ing living green wall with communal space and seating, and fabulous mosaics created by youth from two local high schools in collaboration with the Bronx nonprofit DreamYard.
A comprehensive range of services are offered on-site and can be accessed in tenants' apartments or in the private staff offices located in the cellar level. The innovative programming for young adults includes age-specific services supporting young adults cultivating independence as well as nutritional counseling and a popular arts program. ACMH has also partnered with a number of organizations specializing in helping at-risk youth into jobs and higher academic achievement.
ACMH's gorgeous new residence was designed to be a warm and welcoming place to live by Harden & Van Arnam Architects, and was built by Mega Contracting. Capital funding for the project came from the NYS Office of Mental Health, NYS Homes and Community Renewal, Bank of America, Community Preservation Corporation, NYSERDA, CSH, Deutsche Bank, Betty Wold Johnson, and the Estate of Rita Markus. Services are funded by NYS OMH. The Richman Group acted as syndicator. Amy Larovere acted as project consultant. Hirschen Singer and Epstein acted as attorney.
For creating this nurturing and empow-ering environment for all its varied resi-dents, the Network is delighted to honor ACMH's East 144th Street Affordable Housing as a 2016 Outstanding Residence of the Year.
Hope Gardens of the Lt. Colonel Matt Urban Human Services Center of Western New York

Laura Mascuch and Marlies Wesolowski
Hope Gardens graces East Buffalo with its elegant white-pillared façade, meticulous exterior detailing, a broad grassy lawn, and many windows that invite the sunlight into this new supportive housing residence serving 20 chronically homeless women.
The project's developer, the Lt. Colonel Matt Urban Human Services Center of Western New York sought to create homes for the most vulnerable women. They used a vulnerability index to measure which individuals were at the greatest risk of dying from living on the streets; women who were coping with complex medical, physical, and mental health challenges.
Hope Gardens lives up to its name in ev-ery sense. The residence surrounds a fully enclosed interior courtyard and offers residents all the comforts of a well-appointed home: a community kitchen and dining room with a stone hearth fireplace, art therapy room, computer lab, on-site laundry facilities, and a library.
On-site services are provided by the Lt. Colonel Matt Urban Human Services Center of Western New York and residents may take part in their inno-vative Therapeutic Interactive Program or "TIP", that uses physical movement and cognitive engagement to build coping skills on the road to recovery. TIP includes yoga, poetry, art therapy, music/aroma therapy, exercise, dance, and, surely the pinnacle of winter fun, snow-woman building. Through the "Sistering Program" residents spend time together working on crafts, watching movies, playing cards, and doing puzzles, to build community bonding and en-hance feelings of self-worth.
Hope Gardens was created with the therapeutic well-being of its residents informing all stages of the process, from building conception through construc-tion, to supporting residents in recovery from the effects of homelessness, which they call "trauma informed building design." Service funding comes from the NYS Office of Temporary and Disability Assistance (OTDA), U.S. Department of Housing and Urban Development (HUD), and private fundraising. Capital funding comes from Federal Home Loan Bank with M&T Bank as bank sponsor; Medicaid Redesign Capital funding from OTDA; and HUD. Hope Gardens was designed by L. A. Hauer-LaDuca Architect, the construction manager was Savarino Companies, and the project consultant was Oxford Consulting.
As a beacon of hope and empowering environment for women, the Network is delighted to honor the Lt. Colonel Matt Urban Human Services Center of Western New York's Hope Gardens as a 2016 Outstanding Residence of the Year.
Capitol Hall of Goddard Riverside Community Center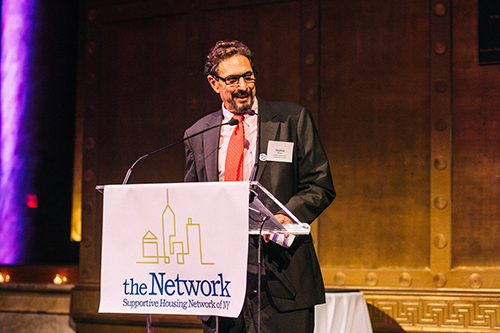 Stephan Russo
Goddard Riverside Community Center, along with the other remarkable or-ganizations we are honoring tonight, helped found the support-ive housing movement. The story of Goddard Riverside's Capitol Hall is emblematic: over thirty years ago, a group of Upper West Siders joined together with Goddard Riverside to block the conversion of a derelict Single Room Occupancy (SRO) hotel into luxury housing. They bought the building and restored it in order to permit the long-time, low income tenants to remain and, with on-site support services, to thrive in what would turn out to be one of NYC's first supportive housing residences.
Flash forward to 2013: Capitol Hall was the beneficiary of an ambitious two year renovation project, collabo-rating with OCV Architects, Notias Construction, and owner's represen-tative Georges Piette, to restore the building to its former glory. One particularly noteworthy aspect of the renovation: while modernizing the building, tenants were able to remain in place. The recent upgrades give each tenant a private kitchenette and bath-room. The project also restored the beauty of the building's marble lobby, and added community space for social and educational activities.
All 201 supportive housing apartments for formerly homeless individuals are now ADA-accessible. Goddard Riverside's model offers opportunities for tenants to participate in the gover-nance of the residence and an on-site work readiness program, and to engage in a variety of social activities and groups. On-site services, also provid-ed by Goddard Riverside, are funded through Department of Homeless Services, Robin Hood Foundation, Jon Bon Jovi Soul Foundation, and Van Ameringen Foundation. Capitol Hall also houses the Senior Supportive Housing Pilot Program funded by the New York State Department of Health which provides intensive case manage-ment to 25 residents who are over the age of 65.
Enterprise Community Partners acted as syndicator and assisted Goddard Riverside in financing the renovation through an innovative combination of Low-Income Housing Tax Credits, New York City bond financing via HDC, and subsidies from NYC's Department of Housing Preservation and Devel-opment. Rockabill Advisors provided financial advice and Hirschen Singer and Epstein acted as attorney.
For its historic past and bright future, the Network would like to honor Capitol Hall as a 2016 Outstanding Residence of the Year, as a shining example of what can be achieved when communities unite to provide housing for everyone.