The Affordable Housing Group at Nixon Peabody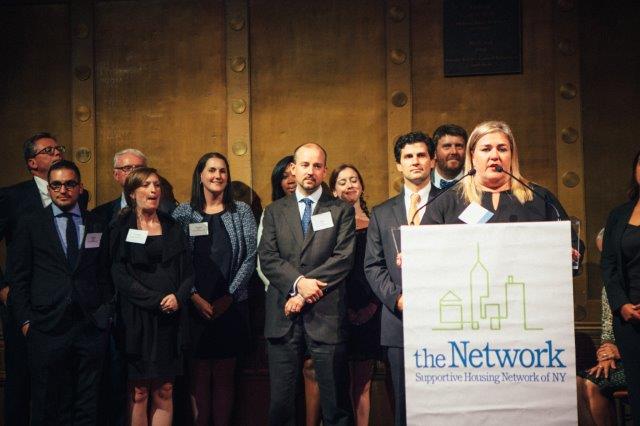 Finding new and creative ways to develop beautiful new supportive housing around the state is a guiding vision of The Affordable Housing Group at Nixon Peabody, including Strategic Policy Advisor Deborah VanAmerongen, who is also a Network Board member. Nixon Peabody has partnered with over a dozen Network members to achieve this goal.
Adept with using all manner of tax credits as well as state funding streams new and old, Nixon Peabody was the first organization to use project-based VASH vouchers in New York City and has worked on a number of similar deals since, substantially enlarging that funding source's capacity to create new housing.
DePaul's Mark Fuller worked with the Group on a number of supportive housing deals including Rochester View and the highly complex Carriage Factory development, and says, "Nixon Peabody and their Affordable Housing Group are true partners in the development of our supportive housing. In addition to being knowledgeable and enthusiastic, they are committed to delivering what is needed, displaying leadership, flexibility, enthusiasm and an unparalleled commitment to excellence. Nixon Peabody has a team of professionals dedicated to every aspect of customer service and has always delivered quality for DePaul."
Ralph Fasano of Concern for Independent Living is similarly enthusiastic. Nixon Peabody helped his organization through a particularly complicated deal to create Concern's Amity Village. First, the U.S. Army, under the Defense Base Closure and Realignment Commission process, transferred the site to the Town of Babylon, which then transferred the site to Concern for Independent Living, a complex red-tape ridden process. Nixon Peabody then helped Concern develop 60 supportive housing units for homeless veterans, using at least six different funding sources including project-based VASH vouchers.
"Everyone expects top notch legal work from Nixon Peabody and they get it," says Mr. Fasano "What's really special is the amount of pro bono work they do to help a wide range of nonprofits achieve their missions. It is a part of their culture and we are lucky to have them in New York."
For their work assisting in the creation of high-quality supportive housing statewide, the Network is proud to honor the Affordable Housing Group at Nixon Peabody as the 2015 Private Sector Partner of the Year.