Government Partner of the Year
NYS Assembly Speaker Carl Heastie and New York State Assembly Social Services Committee Chair, Andrew Hevesi, and the New York State Assembly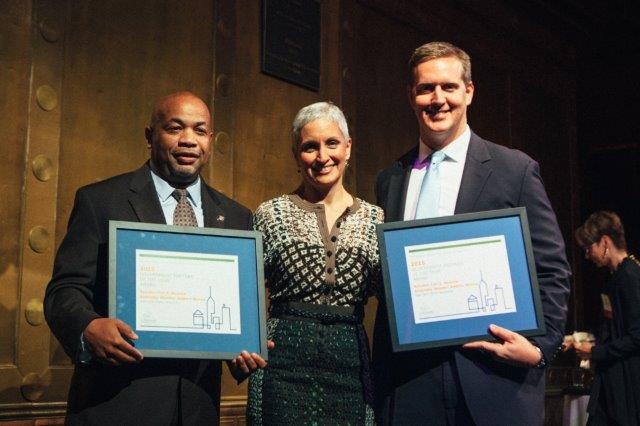 NYS Assembly Speaker Carl Heastie and New York State Assembly Social Services Committee Chair, Andrew Hevesi wasted no time connecting powerfully and positively with the supportive housing community. Just six months into their current positions, a bi- partisan letter from 133 Assembly members calling for the creation of 35,000 units of supportive housing statewide was delivered to Governor Cuomo. The achievement is nothing short of amazing: nearly 90% of the Assembly joined together to advocate for a statewide NY/NY agreement.
This type of unprecedented leadership is rarely experienced in state government, especially in the homeless advocacy world and shows a strong commitment to the cause, a nuanced understanding of the issue and a steadfast vision about how to get it done.
With the leadership of Assemblymember Hevesi, Assembly members educated themselves about the critical role supportive housing plays in ending homelessness, improving neighborhoods and saving tax dollars. They held weekly meetings with supportive housing advocates and providers to better understand why it works and its local role in ending homelessness.
Earlier in the year, the Assembly played a crucial role during budget negotiations – led by Speaker Heastie – championing the needs of homeless people in New York. These efforts not only protected funding for supportive housing but in some cases resulted in increased funding for essential programs including the New York State Supportive Housing Program (NYSSHP), the Medicaid Redesign Team Supportive Housing program and traditional capital funding programs at both the Office of Temporary and Disability Assistance (OTDA) and Homes and Community Renewal (HCR).
The Assembly also took time out of busy budget negotiations this year to honor supportive housing providers on the Assembly floor and to bring attention to the powerful work our community does without fanfare, every day.
The Network would like to thank Speaker Heastie, Assemblymember Hevesi and the entire Assembly body for standing up for our most vulnerable fellow New Yorkers and creating a bridge back to a better life through supportive housing.
For their steadfast leadership and unwavering commitment to supportive housing, the Network honors Speaker Heastie, Assemblymember Hevesi and the entire New York State Assembly with its 2015 Government Partner of the Year award.

Join Our Email List


for News and Updates
Did you know…
Children with reports of maltreatment declined dramatically in supportive housing, while the number of similar reports among homeless children increased.