Tenant of the Year Awards
Sha'Tavia Presley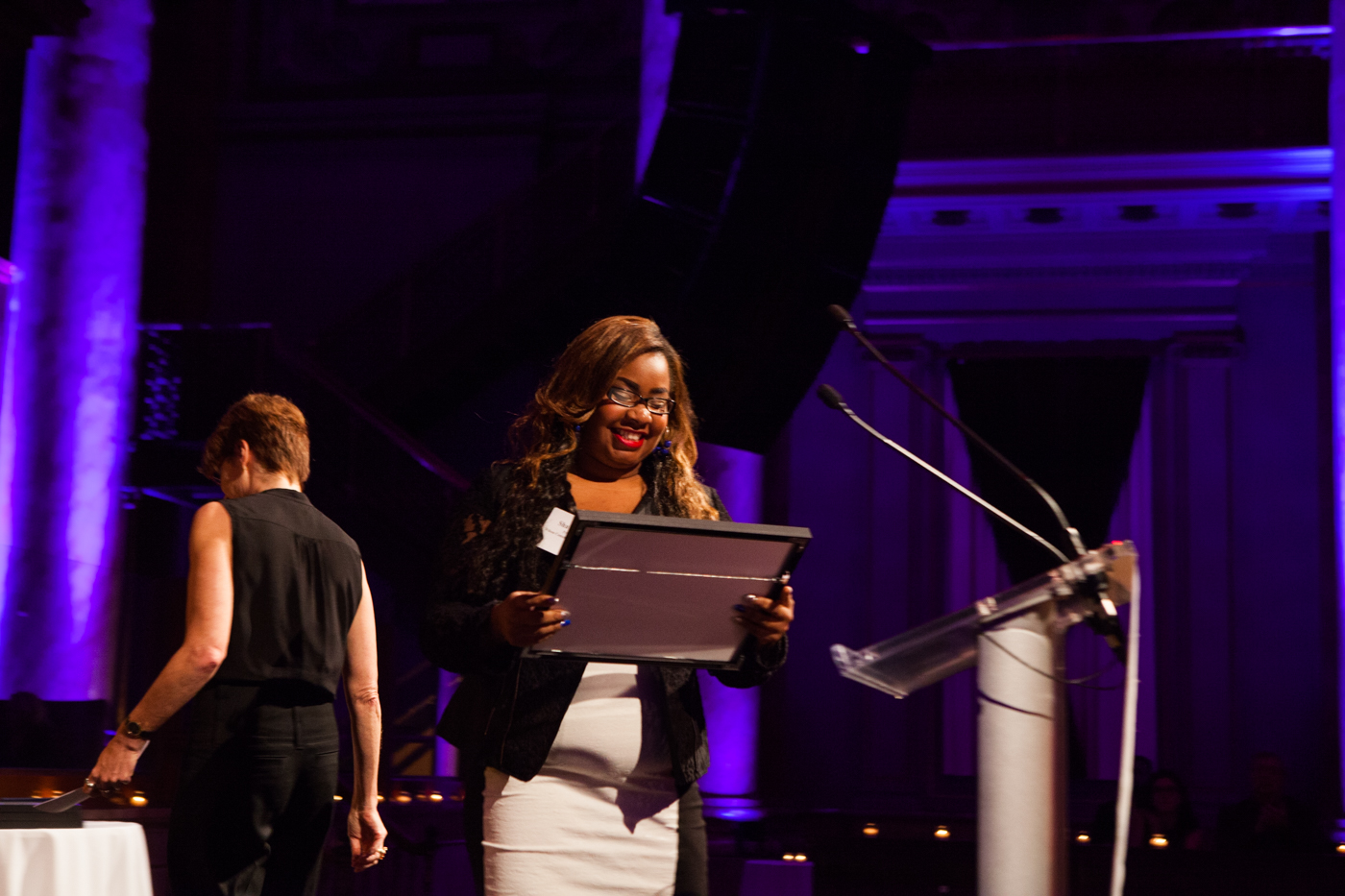 Sha'Tavia Presley accepts her 2014 Tenant of the Year Award.
By the time they arrived in Rochester a little over two years ago with two trash bags of belongings, Sha'Tavia Presley and her kids had survived a harrowing array of disasters at their home in Georgia - domestic violence as well as the destruction of her bakery business and home by fire.
Wanting to be near family relations, but not be a burden on them, Ms. Presley moved her family – including Sincere (then 10) and Justice (9) into a shelter in Rochester. "That was my motivation to get my life together, getting us out of that shelter," says Ms. Presley. Luckily, the family found Wilson Commencement Park, a nonprofit dedicated to improving the lives of homeless single parents and their children.
Ms. Presley was the ideal WCP tenant from the start and took advantage of every offer of help: she took classes, she got a job, she secured good educational programs for her children, became President of the WCP Residents Council. After only a year there, her life was back on track.
Then, in August of last year, Ms. Presley was diagnosed with multiple sclerosis. The close-knit WCP community kept her going. "Being diagnosed hasn't stopped me, but it has slowed me down," she says, "the physical and emotional supports here have made all the difference."
In spite of her illness, Ms. Presley continued her studies at the Rochester Educational Opportunity Center, and graduated this May with her degree as a medical secretary. Now, she works part-time, and also leads monthly workshops for WCP - the only resident to do so - including 'Caring for Kids,' collaborating with a University of Rochester pediatrician.
WCP's Senior Family Life Coach Sheila Fair describes Ms. Presley in glowing terms: "Sha'Tavia is an exceptional individual who lives perseverance every day. She has definitely been a role model to all our residents and has a motherly way, especially with our younger single moms. She came here broken, but accomplished everything she set out to accomplish: getting settled in housing, getting her degree, stabilizing her family, her kids are happy and healthy."
In fact, Sincere and Justice are both Star Students (read: straight A's). And Sincere won a Martin Luther King Award for compassionate concern for others.
For her part, Ms. Presley won WCP's Gregory Jefferson award (given to exemplary graduates of their program) and was also chosen, with her expenses covered in full, to attend the annual conference of the NYS Black and Puerto Rican Hispanic Legislative Caucus.
For being a role model for her perseverance in the face of life's challenges for herself and her family, the Network is delighted to honor Ms. Sha'Tavia Presley as a 2014 Outstanding Tenant of the Year.

Johnny Blackmon

Johnny Blackmon accepts his 2014 Tenant of the Year Award from the Network's Cynthia Stuart.
Since living at the Bridge's Morris Avenue Residence, Johnny Blackmon has clearly come into his own. He came to the Residence after a lifetime of institutionalization and instability, starting at the age of sixteen.
It's almost impossible to square that history with the man Mr. Blackmon is today. By his own admission, he "loves to help" his fellow residents – a statement bolstered by the fact that one of the recommendation letters for this nomination came from neighbor Gwendolyn Brown. She wrote "Johnny looks out for me – he takes me to the check cashing place; he makes sure no one takes anything from my purse when we are walking together; he cooks me dinner when I don't have any food left…he is like a brother to me."
Assistant Manager Tracy Harris adds "Johnny makes everyone smile, he's the residence's social butterfly."
A part of Mr. Blackmon's "blossoming" can be traced to his involvement with the Bridge's Horticulture and Urban Farms program, which he's been a part of almost from day one. The program, which originated as a result of collaboration with the New York Horticultural Society and today encompasses two urban farms, has consistently been a passion for Mr. Blackmon. Originally a participant in the program, Mr. Blackmon showed such enthusiasm and aptitude that today he works as a paid employee for the Horticultural Program Director supervising two of the Bridge's urban farms and training other participants. His employer enthuses: "Johnny's exceptional work ethic, zest for life and team leadership make him an unforgettable person to know and work with."
Mr. Blackmon breaks into a huge smile when talking about gardening: "I get out there and water the plants every other day. I show people what to do, how to cut the big trees, if a limb's going to smash the window, cut that down. We got collard greens, tomatoes, broccoli…"
Staff report that Mr. Blackmon is deeply involved with his treatment – that he needs no prompting to attend his various appointments, is respectful to staff and peers and seeks staff support whenever things get rough. Another resident in recovery states "Johnny and I talk about recovery all the time…we both never want to go that way again."
So well has Mr. Blackmon prospered, in fact, that he is currently waiting for a supported housing apartment to open up in the Bridge's Bronx program.
"We will all miss his smiling face," says Ms. Harris.
For his accomplishments as a peer mentor and role model, and, for, as Ms. Harris reports, "spreading joy throughout the building," the Network is proud to honor Mr. Blackmon as a 2014 Outstanding Tenant of the Year.

Join Our Email List


for News and Updates
Did you know…
Supportive housing for youth aging out of foster care can generate a lifetime net savings of $90,000 in public sector money for every young adult.