Residence of the Year Award for Innovation in the Field
The Anderson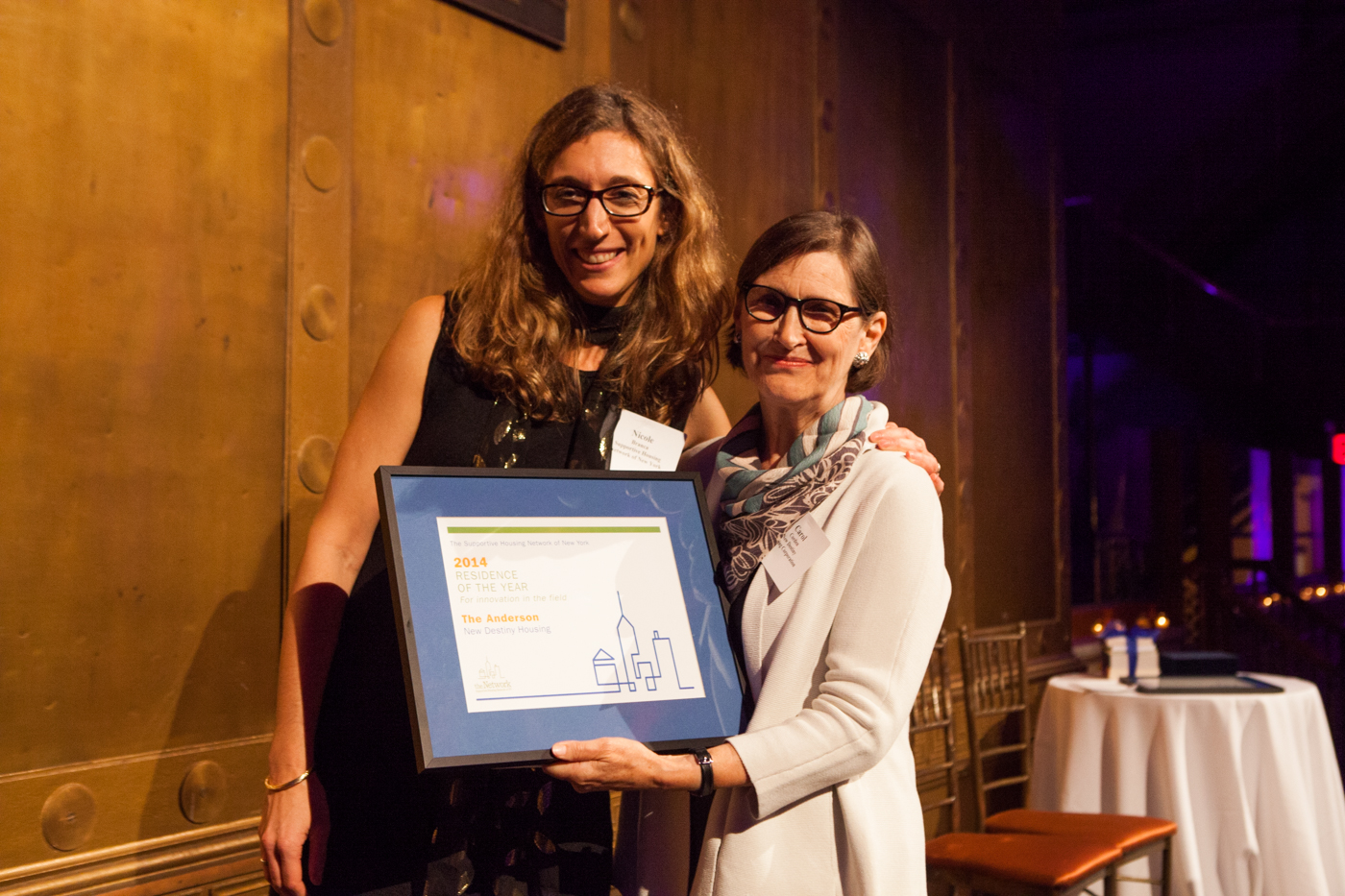 Carol Cordon accepts the 2014 Residence of the Year Award from Nicole Branca.
The Anderson is "outstanding" in any number of ways. It is one of the few residences created expressly to meet the needs of domestic violence (DV) survivors, despite the fact that nationally, half of homeless families are fleeing abuse. And, as important, everything about the Anderson -- from the architecture, to the décor to the dedication of the staff – combines to make the families who live there feel outstanding.
"When I came here, it's like God was telling me: 'you're going to be ok,'" confides one tenant.
The Anderson also stands out because the critical on-site services aren't funded through state or city contracts. Thanks to Carol Cordon, Executive Director of New Destiny and her exceptionally talented staff, they have been able to string together the funding to provide homes for a population falling through the cracks.
The 41 apartment complex in the Highbridge section of the Bronx provides homes to 20 homeless DV families and 20 low-income families from the community, in a conscious effort to de-stigmatize tenancy. Key to the Anderson's success is the Family Support Program, tailored to the needs of DV survivors but available to all tenants.
Survivors develop safety plans, combat social isolation and address the long-term effects of abuse, in addition to having access to the classic array of case management services. A recreational specialist and volunteers provide children's programming: arts projects, weekly afternoon movies, trips to the library, the Bronx Zoo….
The architecture and interior design of the Anderson artfully project the building's purpose: to create a welcoming, empowering space where families can rebuild their lives. The nonprofit DesigNYC paired New Destiny with Robin Osler of Elmslie Osler Architect to design the community room and the children's playroom. The results -- cozy, inviting and chic -- make the rooms look like they belong in New York Magazine, where they actually appeared.
The stunning "green" building was designed by Magnusson Architecture and Planning and constructed by Sisca Northeast. Funding for the project came from the NYS Housing Trust Fund, the NYS Homeless Housing Assistance Corporation, the Federal Home Loan Bank of New York, and the Bronx Borough President's Office -- who declares "partnering with a renowned firm like MAP Architects only furthers the case for honoring this beautiful building. MAP has devoted its creativity to our borough for decades." Boston Capital was the tax credit syndicator.
While supportive housing shouldn't depend upon private fundraising to make the model work, it is nevertheless the case that many of the founders of the movement did rely on private money back in the beginning.
For their perseverance and vision, New Destiny Housing's The Anderson is the winner of our 2014 Residence of the Year Award for Innovation in the Field.