Policy Priorities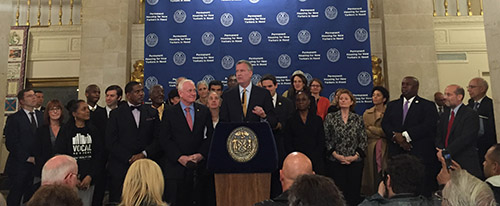 The Network focuses on four major policy concerns in New York City. Through its Manhattan office, the Network strives to:
Preserve and protect supportive housing operations and service funds
In order to ensure tenants continue to receive the services they need to remain stably housed, the Network works with agency staff and elected officials to maintain operation and service funding levels.
Lead the New York City Coalition on the Continuum of Care (NYCCCoC) and represent the supportive housing community
The NYCCCoC works to evaluate, manage and direct U.S. Department of Housing Preservation and Development (HUD) McKinney Vento Homeless Assistance Grants throughout the city. The Network plays an active role to ensure that NYC is competitive in obtaining renewal and new federal funding for permanent supportive housing.
Reduce barriers to supportive housing development
Supportive housing developers face significant obstacles to development through the process: acquiring land, obtaining community support, securing financing, constructing buildings and negotiating the required inspections and approval process. The Network is engaged in a host of efforts to address each of these barriers to development.
Encourage the development of family supportive housing
The Network is working to bring government and private funders together with providers to jumpstart development of desperately-needed supportive housing for families.