Categories: New York City, Openings
04.28.2017
Westhab's first residence in New York City.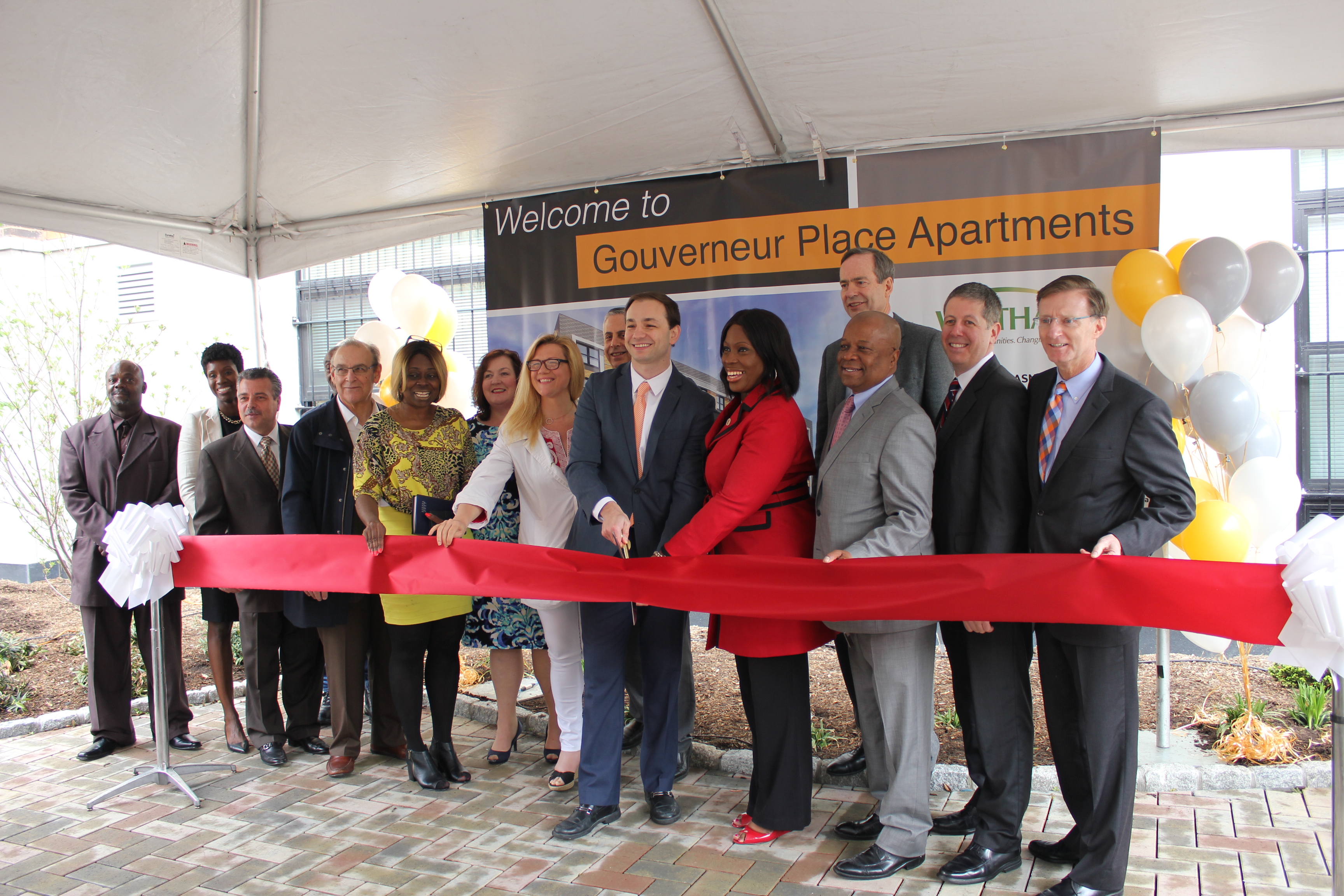 Cutting the ribbon at Gourverneur Place Apartments.
On a blustery April morning, Westhab opened a gracious new supportive housing residence, Gouverneur Place Apartments, in the Bronx. The residence features 68 units: 50 efficiency apartments for people with mental health challenges and 17 one, two, and three bedroom apartments for low-income individuals and families. Westhab is based in Westchester and has many supportive housing residences in that area – this is their first residence in New York City.
Westhab's President & CEO Richard Nightingale welcomed the enthusiastic crowd and referred back to the blazing day in August two years earlier when Westhab had hosted the groundbreaking for this same property, "hopefully, our first of many in New York City!" NYS Office of Mental Health's Moira Tashjian told attendees that actually, the genesis of the project could be traced back eight years, and that its successful completion is a testament to the powerful working relationships that have developed between City, State, and nonprofit partners.
The building features spacious apartments, a lovely outdoor courtyard, and many other on-site amenities including a computer lounge. On-site services are funded by the NYS Office of Mental Health.
Four of the building's tenants spoke movingly about how this beautiful building has transformed their lives. Jeffrey Dantzler said "a year and a half ago, I was sleeping in chairs... it's amazing that now I can put a key in my own door thanks to Westhab!"
UnitedHealthcare employees created move-in baskets for residents filled with household supplies and gift cards. UnitedHealthcare was also the tax credit investor.
Funding for the project was provided by NYS Office of Mental Health, NYS Homes & Community Renewal, the NYC Office of Environmental Remediation, and UnitedHealthcare through a partnership with Enterprise Community Partners, who was the tax syndicator. The residence's architect was SLCE Architects and the contractor was Rende Contracting Corp.