Categories: New York City, Member News, Openings
11.06.2015
The residence provides 30 studio apartments for LGBTQ young adults.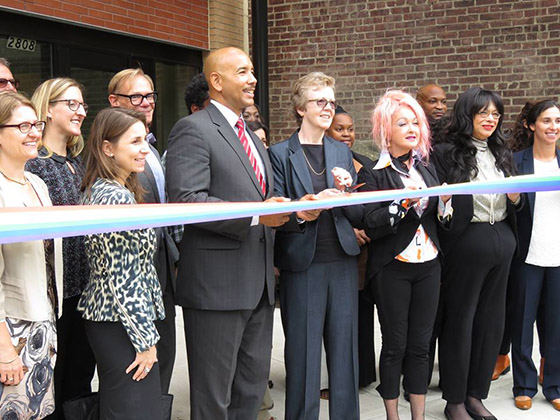 Cutting the ribbon at True Colors Bronx.

On a beautiful, sunny September 22, West End Residences held a ribbon-cutting ceremony for their newest permanent, supportive housing project, True Colors Bronx. The residence is modelled after the thriving True Colors Residence in Harlem, New York City's first permanent, affordable housing residence with on-site support services for homeless lesbian, gay, bisexual, and transgender youth. The residence provides 30 studio apartments for LGBTQ young adults. This new Bronx residence continues the partnership between West End Residences and Grammy award-winning artist Cyndi Lauper, and her manager, Lisa Barbaris.

At the ribbon-cutting ceremony, Lauper powerfully reminded guests that LGBTQ youth make up nearly 40% of homeless youth in New York City, and she expressed a deeply personal commitment to ending this crisis. Borough President Ruben Diaz explicitly voiced his commitment to housing LGBTQ youth in the Bronx as a social justice issue central to ending homelessness in his borough. In addition, West End Residences' Executive Director Colleen Jackson, West End Board Chair Lauren Moskowitz, CSH's Kristin Miller, Richman Housing Resource's William Traylor, and Wells Fargo's Brandon Weber all emphatically advocated for the supportive housing community to come together to address homelessness for this particularly vulnerable community through the development of comprehensive supportive housing.

The building was designed by Edelman, Sultan, Knox and Wood, constructed with an expressionistic patterned brick exterior. The residence is conveniently adjacent to the 4 train and Lehman College, a proximity which can be especially useful for young people who are often supporting themselves and accessing supportive services for the first time in their lives.

There is a bright welcoming indoor and outdoor community space, a computer lounge, laundry facilities, and a library. Support services are offered through funding from the New York City Department of Health and Mental Hygiene, and include therapeutic counseling, identity affirmation, HIV/AIDS counseling, medication management, job readiness and placement, money management, as well as linkages to other organizations. Young people are referred to True Colors Bronx by the New York City Department of Homeless Services, Department of Youth and Community Development, and local community-based organizations.

General contractors of True Colors Bronx were DP Group General Contractors/Developers Inc. Low-income housing tax credit equity for the project was syndicated by Richman Housing Resources LLC. Pre-development financing was provided by the Corporation for Supportive Housing. Hirschen, Singer & Epstein LLP provided legal consulting. The project was funded by a variety of sources including: Wells Fargo; New York City's Department of Housing Preservation and Development's Supportive Housing Loan Program; the New York State Energy Research and Development Authority; and a charitable grant from Bronx Borough President Ruben Diaz Jr., and former New York City Councilmember Joel Rivera.

LGBTQ youth homelessness is often rooted in family rejection, bias, and violence. Executive Director Colleen Jackson and the staff at West End Residences deserve special recognition for creating a residence that provides safety, support, community, and a true sense of home for these young adults.