The Network Celebrated its 30 Year Anniversary at the 2018 Awards Gala
10.23.2018
A big thank you to the New York's supportive housing community.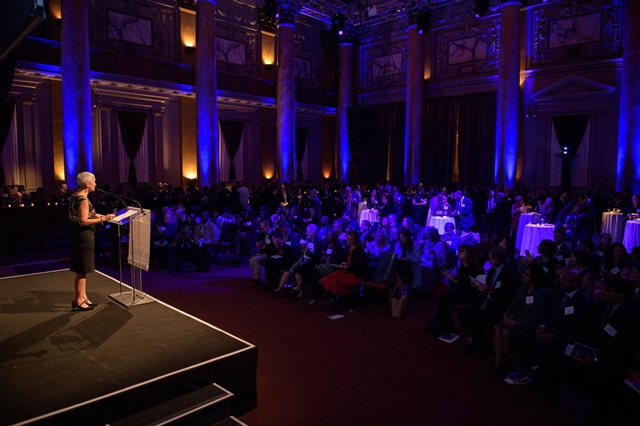 We are so proud of all that we have accomplished together and hope you enjoyed looking back at all our collective successes and stories of innovation in these last 30 years.
The mood was festive as 600 friends and colleagues came together to revive old friendships and forge new ones at Capitale. The night was also dedicated to a few outstanding individuals who have been advocates and change agents for the supportive housing community.
Network Board Chair and Breaking Ground President & CEO Brenda Rosen welcomed the crowd, and introduced the Network's Executive Director, Laura Mascuch, who expressed her heartfelt thanks to the Network's Board, staff and the community for all their support.
The night's festivities continued with our awards ceremony. Deputy Mayor Alicia Glen presented the Government Partner of the Year to Maria Torres-Springer, congratulating the Network for its 30 years of advocacy and praising Maria for her commitment and dedication to supportive housing and ending homelessness in New York City.
We also celebrated the legacy of Bill Traylor, our longtime board member and a fierce advocate for supportive housing, with the Network Legacy Award. The former Executive Director of the Network, Ted Houghton, presented this award, introducing Bill as, "an artist who has helped shaped supportive housing."
As always, we presented two outstanding tenants with Tenants of the Year Award. Stephen Bates from Soundview Apartments and Buddy Jones from the Prince George were honored this year for their tenacity and strength to overcome tremendous hardships and rebuild their lives in supportive housing.
Last but not the least, we honored Raj Hosein, the Network's Director of Finance and Administration with the Distinguished Service Award for her 17 years of service to the organization.
"She's not just the backbone of the organization but she is the heart and soul of it," said Laura Mascuch while presenting the award to Raj.
The night ended with some more networking and cocktails. We would again like to thank all our sponsors for their continued support of the Network.
View photos from the event here!
| More Posts about:
What's New