Norwood Terrace Opens
05.23.2017
The Bronx welcomes a beautiful new supportive housing residence.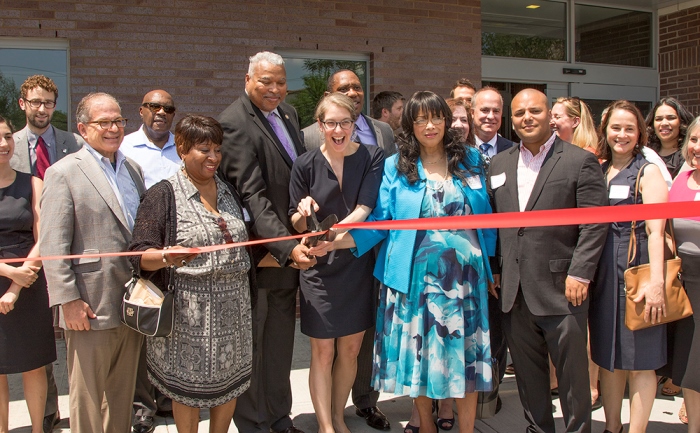 Cutting the ribbon at Norwood Terrace.
More than 80 partners, staff, tenants and well-wishers gathered May 19th to celebrate the opening of Norwood Terrace, a new affordable/supportive residence developed by B&B Urban and Concern for Independent Living in the Norwood section of the Bronx. The 115-unit residence features a library, a computer lab, and a roof garden in addition to its mix of efficiency, one, two and three bedroom apartments; the building is now home to formerly homeless individuals as well as families and individuals from the community.
Concern's Executive Director Ralph Fasano welcomed guests and marveled at the number of people and agencies whose commitment and passion had resulted in Norwood Terrace. He noted the complexity of the project and thanked the agencies, investors, syndicator, lawyer, architect and builders. He even gave the Network a shout-out for its work leading to the creation of the Medicaid Redesign Team Supportive Housing Program, which invested capital in the building to house homeless high cost Medicaid recipients. Mr. Fasano lavished special praise on co-developer Alan Bell of B&B Urban whose "genius" made the project – which knit together eleven sources of funding – work.
Mr. Bell for his part returned the compliment, noting that Norwood Terrace was his first full 50/50 partnership with a nonprofit developer: "Little did I know that I was starting with the best."
HCR Commissioner RuthAnne Visnauskas congratulated the many partners and pointed out that the Governor had just the day before signed legislation authorizing $1 billion for 6,000 units of supportive housing.
Other speakers included OTDA's Samuel Roberts, OMH's Moira Tashjian, Bank of America/Merrill Lynch's Todd Gomez, Richman Housing Resources' Moshe McKie-Krisberg and CSH's Jennifer Trepinski. Brian Loeb of the Federal Home Loan Bank noted that Norwood Terrace was the bank's 13th collaboration with Concern. He encouraged more nonprofit supportive housing developers to "come find us." HPD's Emily Lehman pointed out that the project used $2 million in HUD HOME funding – which, in turn, leveraged tens of millions in state and private financing. She encouraged the crowd to continue to advocate for the HOME program which is currently threatened with devastating cuts.
As always, the highlight of the event came from the new tenants. Victor Rosado brought up Concern staffer Ruth Mercadoto translate his speech from the Spanish. Mr. Rosado told guests he had been homeless and had struggled with a number of issues, including diabetes for years before he came to Norwood Terrace. He said that thanks to his new home and his new Concern family "I am a new man."
Resident Diane Silver also spoke glowingly of her new home and the spectacular staff at Norwood Terrace. She called Ralph her "fairy godfather".
Funding for the project came from NYS Homes and Community Renewal, NYS Office of Temporary and Disability Assistance, NYC Department of Housing Preservation and Development, Federal Home Loan Bank, and CSH. Bank of America Merrill Lynch invested in tax credits which were syndicated by Richman Housing Resources. On-site services are funded by the Office of Mental Health. Hirschen Singer & Epstein were the project's attorneys. HLS Builders Corp. was the general contractor, MHG Architects PC the project architect and Betts Housing Consultants the project consultant.
| More Posts about:
What's New
,
New York City
,
Openings