Categories: Funding, New York State

04.01.2019
The final NYS budget was passed and largely reflected what was proposed by the Governor in January for the areas of housing and human services. The Network offered a budget analysis for its members.
The final $175 billion NYS budget passed early on April 1, 2019 and included big-ticket items including bail reform, congestion pricing, a permanent property tax cap, and a ban on single use plastic bags. In the areas of housing and human services, the final budget reflected largely what was proposed by the Governor in January.
Below is the Network's summary and comparison chart of the budget areas important to supportive housing.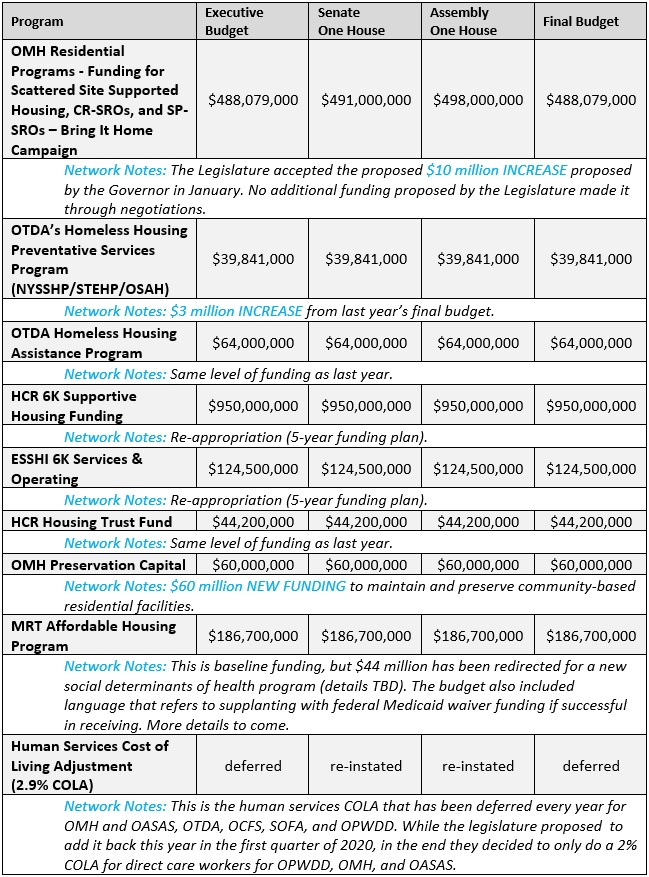 PREVAILING WAGE PROPOSALS UPDATE
While both houses included language on requiring prevailing wage for both construction projects and building service workers, neither proposals made it into the final budget. While this is good news, both proposals are now stand-alone bills in both the Senate and the Assembly, so we will need to continue to advocate for an affordable and supportive housing carve out.
Prevailing Wage for Construction Projects
A1261/S1947 (Bronson/Ramos) propose prevailing wage requirements for public works. Public works is defined broadly and includes affordable housing, exempting construction performed on a multiple dwelling where at least 75% of the residential units are affordable for households earning up to 60% AMI.
Prevailing Wage for Building Service Workers
A6964/S4630 (Crespo/Ramos) proposes language that would require all projects that utilize $1M or more of financial assistance to pay building service workers a prevailing wage. It closely mirrors the proposed NYC legislation, Intro 1321, but is statewide and specifies projects must have over 30 units to trigger the requirement. The state language also applies the requirement to property management staff, and the definition of building service worker is broader than the city's. See the Network's financial impact analysis HERE.
The Network continues to work with members to understand the financial impact of the state's prevailing wage for Building Service Workers and expresses gratitude for everyone who helped educate the legislature in a very short time frame about its impact on supportive housing.
OTHER BUDGET HIGHLIGHTS
Home Stability Support (HSS) Program – HSS is a statewide rent supplement for families and individuals who are eligible for public assistance benefits and who are facing eviction, homelessness, or loss of housing. The Assembly proposed $100 million and the Senate proposed $20 million. The final budget didn't include additional funding outside the initial pilot program.
#BanIncomeBias – The final budget included lawful source of income (LSOI) protections, which will bar landlords from discriminating against tenants based on source of income, statewide. The measure will prevent property owners from discriminating against renters who use Section 8 Housing Choice vouchers, veterans' benefits, or other nonwage income sources as their means to pay rent.
JCOPE $500 Threshold – While the Executive Budget included language that would require organizations and people that spend just $500 in a calendar year on lobbying to register with the Joint Commission on Public Ethics, both houses rejected it, and it didn't make it into the final budget.
Bfair Direct Workers COLA – As stated above, this is a COLA for only OMH, OASAS and OPWDD direct care workers. There will be a 2% increase starting January 1, 2020 for 100 and 200 lines. There will be a subsequent 2% increase for 100, 200 and 300s starting April 1st.
The Network continues to work to bring the latest updates on the budget and legislation news that affect supporting housing to our members. You can also find the above analysis on our VoterVoice tool, where our latest advocacy alerts are housed, here. To stay updated on all our future advocacy alerts, we encourage you to sign up here.