Categories: Funding, New York State, New York City
01.06.2015
In 1990, Governor Mario Cuomo signed The New York/New York Agreement to House Homeless Mentally Ill Individuals.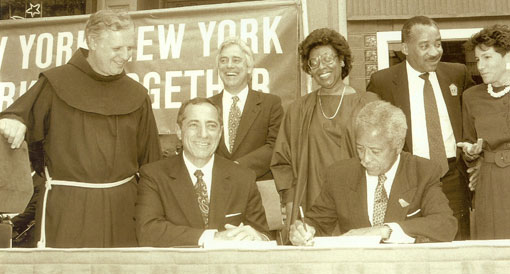 Father John Felice, Governor Mario Cuomo, Richard Searls, Barbara Sabol, Mayor David Dinkins, Bill Jones, and Nancy Wackstein at the Historic Signing of the First NY/NY Agreement
Millions of New Yorkers are deeply saddened by the passing of the great Mario Cuomo, but we in the supportive housing community need to draw attention to one of his very greatest achievements as Governor: The New York/New York Agreement to House Homeless Mentally Ill Individuals.
As most of our community knows, NY/NY was an historic joint commitment by the State and City to create 3,615 units of supportive housing for homeless mentally ill people in New York City. It was the largest housing initiative for homeless mentally ill people in history and, at its peak, significantly lowered the shelter census.
But it did so much more.
NY/NY was the largest investment in supportive housing in the nation by far, and it was made when supportive housing was in its infancy. A decade earlier, pioneering nonprofit organizations (like St. Francis Friends of the Poor, Committee for the Heights Inwood, Brooklyn Queens Catholic Charities, Goddard Riverside Community, Community Access, Project FIND) had realized that in order to end homelessness for those with psychiatric disabilities, decent, affordable housing and on-site services were the key. Only 1000 units of supportive housing were up and running in NYC in 1989, and the funding for that housing – to rehab decrepit SROs, to subsidize rent for the poorest people and to pay for on-site services – had been cobbled together from a plethora of disparate funding streams.
That changed on August 22, 1990 When Governor Mario Cuomo and the newly-elected Mayor David Dinkins signed NY/NY in front of one of the first supportive housing residences (and alongside the 'fathers' of supportive housing, Father John McVean and Father John Felice). NY/NY gave nonprofit providers a one-stop shop for creating supportive housing, gave private investors confidence that the City and State were committed to this intervention far into the future, and signaled a brave new world for addressing homelessness.
Governor Cuomo was taking a very large gamble, but it paid off. Not only did the Agreement indeed create all 3,615 units of housing, it laid the groundwork for two additional NY/NY Agreements which, in total created 15,000 units of supportive housing serving a range of populations including families, veterans, and youth aging out of foster care. Today, thanks in no small part to the Governor's vision, there are 48,000 units of supportive housing statewide.
The gamble paid off for taxpayers as well. A landmark study in 2001 looked at the costs of NY/NY tenants before and after placement in housing and found that not only did NY/NY supportive housing practically pay for itself in savings in other emergency systems – like psychiatric centers, hospitals, shelters and jails – but for the first time, it put a dollar amount on the cost of homelessness for this population. That cost was $40,500 per person per year. So the cost of 'doing nothing' turned out to be astronomical.
Another unlooked for benefit of the new support for supportive housing was neighborhood improvement. Although it may seem counterintuitive that homeless housing would improve neighborhoods, a 2008 study found that property values nearest supportive housing actually rose compared to similar properties.
But on that hot day in 1990, Governor Cuomo was only concerned with doing what was right. He famously mused:
"Will it be expensive? It will cost a fortune. (But) if government can't take care of the homeless, the mentally ill, and the people who are addicted, what is government for?"
Thank you, Governor Cuomo, and the tens of thousands of the most vulnerable New Yorkers, who, thanks to your commitment, have a place to call home.