DePaul Celebrates Opening of Packet Boat Landing Apartments in Lockport
05.11.2018
The building offers 60 one-bedroom units, 21 of which are reserved for supportive housing tenants.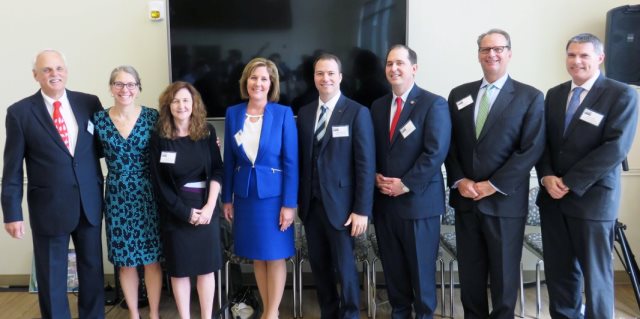 DePaul celebrated the opening of its brand new affordable/supportive housing development, Packet Boat Landing Apartments on Thursday, May 3, 2018 in Lockport, New York.
The three-story, 21,500 square-foot apartment building is named after a type of small cargo and passenger ship called 'packet boats' that were used on the Erie and Barge Canals during the 18th and 19th centuries. The building offers 60 one-bedroom units, 21 of which are reserved for supportive housing tenants.
DePaul President Mark Fuller was joined by NYS Senator Robert Ortt, NYS Assembly Member Michael Norris, NYS Home and Community Renewal (HCR) Commissioner and CEO RuthAnne Visnauskas; Lockport Mayor Anne McCaffrey; as well as dignitaries representing NYS Office of Mental Health (OMH), Niagara County's Department of Mental Health and Substance Abuse Services, and Region's Bank.
"Packet Boat Landing delivers the mix of affordability and supportive services that are essential in our fight against homelessness, and our ability to ensure that all New Yorkers can access the opportunity created by our growing economy. Under Governor Cuomo's leadership, we are creating and preserving integrated, safe and affordable homes in communities just like Lockport that help strengthen local economies," said New York State Homes and Community Renewal Commissioner RuthAnne Visnauskas at the opening ceremony.
DePaul President Mark Fuller thanked all the partners that helped fund and support this project, and expressed his love for the building.
"We've built about 60 different buildings and this is one of my all- time favorites," he said.
Senator Ortt noted the importance of supportive housing for helping veterans and others coping with disabilities while Mayor McCaffrey commended DePaul for providing new low-income housing in the city.
Packet Boat Apartments features a spacious community room, lounges throughout the complex and a computer lab. It also offers exercise equipment as well as outdoor seating. Comprehensive on-site tenant support services are funded by the Office of Mental Health.
The Packet Boat Landing Apartments received funding through NYS Housing Financing Agency tax-exempt bonds. Subsidies were provided by NYS HCR in addition to Low Income Housing Tax Credits, OMH loans and grants, and a grant from New York State Energy Research and Development Agency (NYSERDA). The building was designed by SWBR Architects and Calamar was the contractor for the project.
| More Posts about:
Openings