Concern Bergen Opens in Brooklyn
07.10.2017
90-unit residence stands on what was formerly a blighted lot.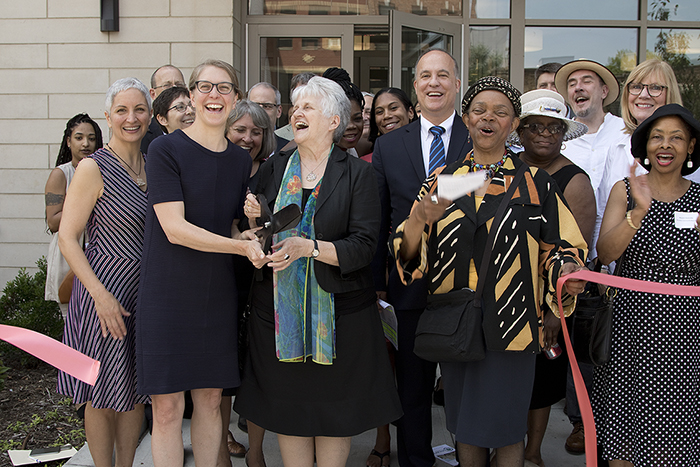 Cutting the Ribbon at Concern Bergen.
On June 30th, a beautiful Friday before the Fourth of July holiday weekend, Concern for Independent Living celebrated the opening of a new residence in the Crown Heights neighborhood of Brooklyn. The newly constructed 90-unit residence stands on what was formerly a blighted lot. Concern Bergen includes 55 supportive housing units for people living with mental illness, including those who spent time in state psychiatric centers, and 35 low-income, affordable units for both individuals and families.
Following the ceremonial ribbon cutting, Concern Executive Director Ralph Fasano, welcomed the 70+ partners, staff, tenants and well-wishers thanking all for their part in making Concern Bergen a reality.
OMH Commissioner Dr. Ann Marie Sullivan, spoke next remarking on the important role that buildings like Concern Bergen play in integrating supportive housing residents into the community. She called the development effort "a true labor of love."
Next, Concern introduced a new element: a video in which a number of new tenants described their lives before and after moving in to their new homes.
NYS HCR Commissioner & CEO RuthAnne Visnauskas, spoke next congratulating the residents on their new home and remarking that she always tears up at supportive housing openings. To which Mr. Fasano quipped, "That's the goal: make the commissioners cry."
New York State Senator Velmanette Montgomery exclaimed, "This is a great day for all of us!" She thanked the commissioners for bringing to fruition what she and other legislators had long advocated for. New York State Assembly Member Tremaine Wright called the residence an "asset to the community" and said it would enhance neighborhood vibrancy.
Additional speakers included spokeswoman for Congresswoman Yvette Clarke, Anita Taylor; Brooklyn Community Board 8 Chair Nizjoni Granville; Community Preservation Corporation's Michael Skrebutenas; and National Equity Fund's Emily Chen.
The light-filled building was designed by Dattner Architects and features solar panels, a green roof with a view of the Manhattan skyline, a computer room/library, and a back yard complete with a vegetable garden. The contractor was HLS Builders Corporation and the attorney was Nixon Peabody. NEF was the syndicator and Betts Housing Consultants provided additional development expertise.
The residence was financed by 9% Low Income Housing Tax Credits from HCR, a construction loan from OMH, and construction and permanent loans from CPC. OMH provided a pre-development grant and is funding supportive services.
| More Posts about:
What's New
,
New York City
,
Openings