Categories:
05.03.2018
NYS released its third-round Empire State Supportive Housing Initiative (ESSHI) Request for Proposals (RFP) May 1st.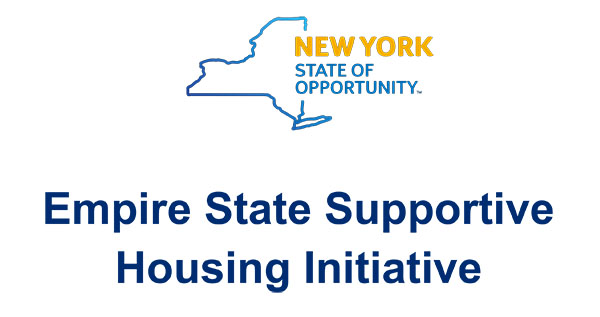 New York State has released the third-round Empire State Supportive Housing Initiative (ESSHI) Request for Proposals (RFP), due June 19th. The State is issuing this RFP to advance the five-year goal of developing more than 6,000 units of supportive housing over five years (5,000 units in NYC and 1,000 units in the rest of the state). Funding for at least 1,200 qualifying individuals will be awarded through this third-round RFP.
The eligible target populations to be served under this program are families with a qualifying individual, individuals and/or young adults who are both homeless and who are identified as having an unmet housing need as determined by the CoC or local planning entity or through other supplemental local, state and federal data, AND have one or more disabling conditions or other life challenges.
New York State will award up to $25,000 in services and operating funding annually for each qualifying individual. The support services provided should be tailored and appropriate to the specific population served. ESSHI projects are expected to follow a Housing First model.
What's New?
MRT Qualifications. MRT is no longer a separate potential target population but rather a new requirement for projects serving SMI, SUD, HIV/AIDS, Chronic Homelessness, Frail Elderly/Seniors or I/DD. Projects that have 30 or more dwelling units of which at least 15 units serve ESSHI-qualifying individuals, will be required to set aside 25% of designated ESSHI units for high-cost, high-need Medicaid users (MRT eligible individuals).

MRT Eligible Individuals Definition. The new definition for MRT eligible individuals is:

Individuals enrolled in Medicaid, or have used Medicaid in the last 12 months and are Medicaid eligible, and meet one of the following in the past 12 months:
Eligible for, or enrolled in, a Health Home;
State hospital, and/or state/voluntary Community Residence (CR), and/or Community Residence-Single Room Occupancy (CR-SRO) resident;
Skilled Nursing Facility (SNF) resident;
Enrolled in Health and Recovery Plan (HARP for behavioral health) or Special Needs Plan (HIV/AIDS);
Qualify as a high Medicaid utilizer by being within the top 20% of Medicaid recipients' spending relative to the county of fiscal responsibility and target population parameters (e.g. an SMI recipient in Westchester would have to have base period spending in excess of 80% of the SMI Medicaid population in that county);
Qualify as a high Medicaid utilizer by meeting one of the following:
Have two or more inpatient stays;
Have five or more emergency department visits; or
Have four or more emergency department visits, and one or more inpatient stay.

Frail Elderly/Senior Definition. Any person who is age 55 and older, who is enrolled in Medicaid, and requires assistance with one or more actives of daily living or instrumental activities of daily living. Eligible persons are referred from a Skilled Nursing Facility, or identified as homeless by a health home, hospital, managed care organization, medical respite, managed long term care, performing provider system or shelter.

Olmstead Requirements. Integrated settings are required for any homeless population that falls under the ADA including SMI, SUD, I/DD or persons living with HIV/AIDS. Generally, mixed use projects that integrate affordable housing with supportive housing are considered integrated, provided that no more than 50% of the total units are reserved for individuals with disabilities (60% in NYC). For projects assigned to OASAS, projects that have 30 or less dwelling units do not need to comply with the above stated Olmstead requirements.
To view the RFP click here.To view the entry for ESSHI in our Funding Guide, please click here.
IMPORTANT DATES:
RFP Released: May 1, 2018
Webinar: May 15, 2018
Questions Due: May 22, 2018
Questions Posted on website (tentatively): June 5, 2018
Proposals Due: June 19, 2018
Conditional award notifications (tentatively) August 7, 2018

Questions may be submitted via mail or email to:
Carol Swiderski
Contract Management Specialist 2
ESSHI Questions
NYS Office of Mental Health
Contract and Claim Unit
44 Holland Ave, 7th floor
Albany, NY 12229
Email: Carol.swiderski@omh.ny.gov