17th Annual Supportive Housing Conference
06.19.2017
Our community celebrates a year of historic achievement.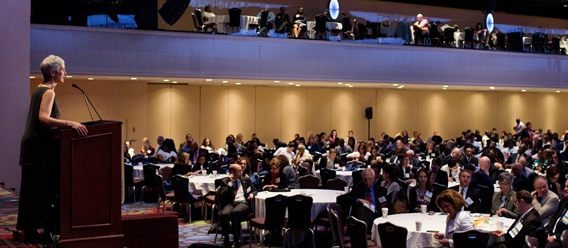 Network Executive Director Laura Mascuch addressing the crowd at the 17th annual New York State Supportive Housing Conference.
The 17th Annual Supportive Housing Conference was a celebration of our community's remarkable achievement in winning historic state and city commitments to create 35,000 supportive housing units over the next fifteen years. The Network's new Board Chair Brenda Rosen welcomed the crowd. Network Executive Director Laura Mascuch introduced Assembly Member and key legislative ally Andrew Hevesi who reminded us of how much we've achieved, and of what challenges remain in the coming years. The National Executive Director of the Children's Defense Fund Richard A. Hooks Wayman delivered a stirring keynote speech on the particular challenges facing homeless families and children in our country.
The conference took off with eight simultaneous workshops to follow the morning session including a discussion with key city and state policy makers, "NYC & NYS: Addressing the Homelessness & Affordable Housing Crisis" with NYC Department of Housing Preservation and Development (HPD) Commissioner Maria Torres-Springer, NYC Department of Social Services Commissioner Steven Banks, NYS Homes and Community Renewal (HCR) Commissioner and CEO RuthAnne Visnauskas, NYS Office of Temporary and Disability Assistance (OTDA)'s Executive Deputy Commissioner Barbara Guinn, and NYS Office of Mental Health (OMH) Commissioner Dr. Ann Marie T. Sullivan, and moderated by the Network's Laura Mascuch.
Jonathan Soto of the NYC Center for Faith and Community Partnerships moderated our workshop on creating partnerships with faith-based organizations to develop supportive housing, and featured Greg Maher of The Leviticus Fund, Sam Marks of Local Initiatives Support Corporation NYC, Richard Nightingale of Westhab, and Pastor Kermitt Williams of Kingdom Faith Developers.
Another morning panel focused on promoting people of color in leadership roles, and featured Elizabeth Garcia of Good Shepherd Services, Dr. Rosa Gil of Comunilife, Kelsey Louie of GMHC, and Frederick Shack of Urban Pathways, and was moderated by the Network's Edline Jacquet.
Another popular session, "Innovating with ESSHI," featured David Condliffe of Center for Community Alternatives, Lee Dillon of Tompkins Community Action, Paul Freitag of West Side Federation for Senior and Supportive Housing, Jennica Petrik-Huff of The Community Builders, William J. Simmons of Syracuse Housing Authority and Martin Teller of Finger Lakes Area Counseling & Recovery Agency, and was moderated by the Network's Stephen Piasecki.
Attendees enjoyed a networking luncheon and then returned for two rounds of afternoon workshops.
Some highlights from the afternoon workshops included a thought-provoking conversation about how the City's commitment to creating 15,000 new units of supportive housing is going to be realized with HRA's Patricia Dawson, HPD's Emily Lehman, and Katherine O'Sullivan of the NYC Department of Health and Mental Hygiene, and moderated by HRA's Michael Bosket.
A standing-room-only discussion on best practices for intervention and a safety planning framework to prevent the escalation of violence within the specific context of supportive housing featured Maureen Curtis of Safe Horizon, Lisa Rachmuth of HRA, and Joscelyn Truitt of Brooklyn Family Justice Center/Mayor's Office to Combat Domestic Violence, and was moderated by HRA's Daniel Tietz.
Dan Berstein of MH Mediate, and Maria R. Volpe of the John Jay College of Criminal Justice discussed different approaches to conflict resolution, in our first-ever workshop offering on this subject, and were introduced by Community Access' Steve Coe.
Nixon Peabody's Deborah VanAmerongen moderated a panel on how our community can work together to protect the programs vital to the creation of supportive housing under the Trump administration, that featured Steve Berg of National Alliance to End Homelessness, Emily Cadik of Enterprise Community Partners and Sarah Mickelson of National Low Income Housing Coalition.
Another afternoon workshop "Addressing Youth Homeless in New York City," moderated by City Council person Ritchie Torres, featured David Hansell of NYC Administration for Children's Services, Susan Haskell of NYC Department of Youth & Community Development and Maryanne Schretzman of NYC Center for Innovation through Data Intelligence.
Rachael Pine of the Altman Foundation moderated a popular workshop on Urban Pathways' program for integrating healthcare in housing that featured Kishea Paulemont, Ariana Saunders, and Irene Treadwell of Urban Pathways, and Freddy Fortoso of EssenMed Health Care.
Following a brief coffee break sponsored by Capital One, participants reconvened for a final round of workshops, including an intensive analysis of the first year of the Empire State Supportive Housing Initiative (ESSHI) with HCR's Sean Fitzgerald, Kerri Neifeld of the NYS Governor's Office, OMH's Moira Tashjian, and OTDA's Richard Umholtz, and moderated by DePaul's Mark Fuller.
A discussion on financing development in uncertain times featuring HCR's Leora Jontef, Paula Roy Carethers of NYC Housing Development Corporation, Ralph Fasano of Concern for Independent Living, and Martin Dunn of Dunn Development Corporation, moderated by Richard Roberts of Red Stone Equity Partners, was a hit with attendees.
Mount Sinai-Beth Israel Hospital's Chauntel Gerdes moderated a standing-room-only panel that offered tools to help agencies work through secondary stress with staff, and featured Mary Adams of University Settlement/The Door, Shaun Adams of Center for Urban Community Services, and Celso Batista of Breaking Ground.
This year's workshops reflected the incredible diversity of our community. Check out workshop PowerPoints, watch videos, and listen to audio files of our workshops here.
Lamb Financial Group sponsored our ever-popular cocktail reception in the Marriott Marquis' spectacular lounge overlooking Broadway.
We'd like to express our enormous gratitude to everyone who attended, spoke at, and volunteered for the conference. We salute you, and we thank you for working together to win the largest commitment to supportive housing in history. Hope to see you again at next year's conference!
Watch our conference slideshow here.
| More Posts about:
What's New
,
Network Events