Showing Posts by Date: 08/2017
08.03.2017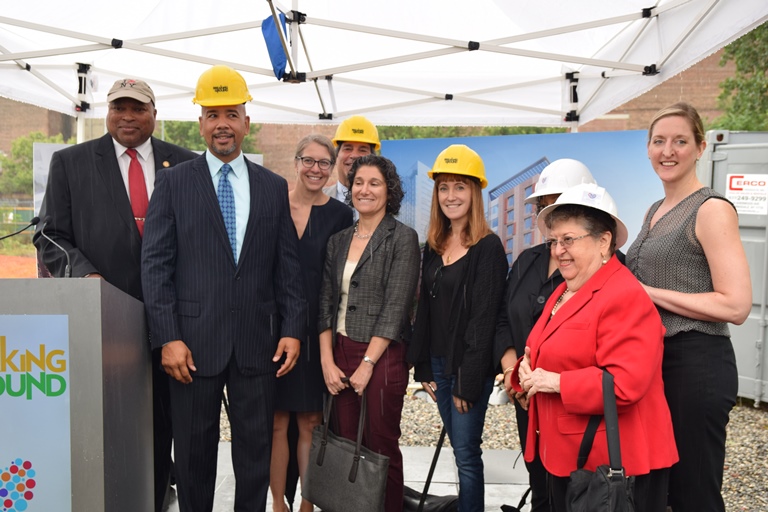 Breaking ground at La Central.
On July 24, Breaking Ground hosted state, city, and local government luminaries to break ground on the first building of what will eventually be a five-building, 1.1 million square foot development in the South Bronx with 992 units of mixed-income housing, a new 50,000 square foot YMCA, a television studio and a skate park! This first building in the La Central project will provide 160 units of supportive/affordable housing for a mix of formerly homeless individuals with special needs and low-income people from the area. As Bronx Borough President Ruben Diaz Jr. remarked: "La Central will go a long way towards showing the rest of the world that we are back: we are no longer the Bronx of the seventies and eighties."
The first La Central building is also notable for its funding: onsite services will be partially funded by the NYS's new Empire State Supportive Housing Initiative (ESSHI) in addition to service funding from HRA-HASA, making La Central among the first supportive housing buildings with ESSHI funding to break ground in the City.
Unfortunately, the groundbreaking took place amid torrential rains. Breaking Ground CEO Brenda Rosen, however, took the opportunity to remind attendees that, as uncomfortable as the speakers were huddled under the only available tent, "Imagine what it would be like to be homeless in the midst of this and what an opportunity this building represents."
Other dignitaries who spoke at the event included Commissioner RuthAnne Visnauskas of NYS Homes and Community Renewal (HCR); Commissioner Samuel Roberts of NYS Office of Temporary and Disability Assistance (OTDA); Deputy Commissioner Molly Park of NYC Department of Housing Preservation and Development (HPD); and CSH's Jennifer Trepinski.
Comunilife CEO Dr. Rosa Gil echoed the Borough President's remarks about the project saying, "La Central marks a new era for this neighborhood." Comunilife will be providing onsite services in the building.
In addition to 160 units of supportive and affordable housing, the La Central supportive housing residence will also include a 4,500 square foot community facility space.
La Central has received capital funding from NYS Housing Finance Agency, NYS HCR, NYC HPD, NYS OTDA, Wells Fargo, and CSH. Wells Fargo is the syndicator. The building was designed by FXFOWLE Architects and MHG Architects. The general contractor is Monadnock Construction, Inc.
|
What's New
,
New York City
,
Groundbreakings
---
08.03.2017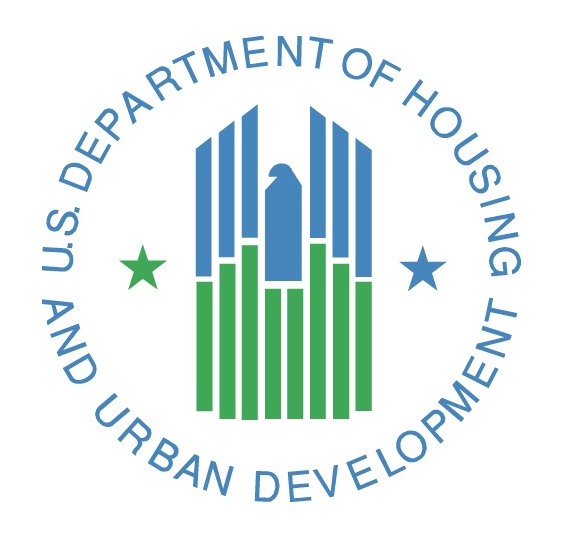 Within the past month, the House appropriations committee proposed flat-funding Department of Housing and Urban Development ("HUD") programs for Fiscal Year 2018, while the Senate committee modestly increased HUD funding levels. These two proposals serve as starting points for budget negotiations between the two houses of Congress. Since none of the other budget committees have put forth proposals, it is unlikely that there will be further action on the Federal budget before the end of the fiscal year.
On July 17-19, one week after the House released their budget proposal, the Network joined forces with the National Alliance to End Homelessness to make 25 lobby visits with 40 advocates from across New York State. These meetings covered a variety of budget concerns as well as legislative issues. Members of the New York delegation were particularly supportive of the Tiberi-Neal Affordable Housing Credit Improvement Act. (The program is also referred to as the Low Income Housing Tax Credit ("LIHTC") program). One of the many provisions of the legislation would allow for income averaging in LIHTC developments to help reach lower income tenants.
Thanks to all who participated and special thanks to our talented Princeton intern, Marcia Brown, who organized a special meeting, attended by both New Yorkers and Ohioans, with the Senate Banking Committee.
|
What's New
,
Federal
---
08.02.2017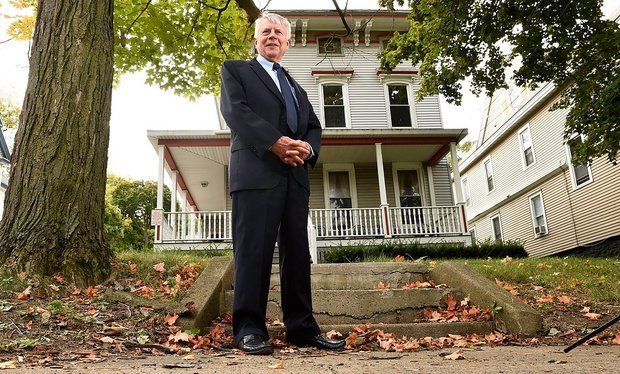 Kenyon Craig.
In 1994, I returned to my home town of Syracuse to help Central New York Services open the first upstate supportive housing residence. I was fortunate to have Housing Visions (HV) as a next door neighbor. HV had been buying and rehabbing multiple properties in the area, using the fairly new Low Income Housing Tax Credit to create neighborhood change. That's how I came to know the brilliant work of Kenyon Craig, HV's founder. I was fortunate to see our neighborhood change around us as these investments helped make run-down Greek Revival, Queen Anne and Arts and Crafts homes new again. Over time, the boarded-up, dilapidated and often vacant homes of East Genesee Street have been replaced by well-maintained homes and rising property values: so much so that HV can no longer afford to develop there (not that they need to)!has been transformed.
Housing Visions has continued to grow and innovate since those days, creating extraordinary residences like VanKeuren Square for homeless veterans or replacing an old public housing tower with beautiful garden apartments in another supportive housing development, Maple Heights.
After 27 years of success that began in a church basement in that same neighborhood Ken recently announced his retirement. Over the years, Ken and HV developed about 1,600 units of affordable and supportive housing across New York, from Niagara Falls to Albany, from Oswego to the Pennsylvania border. He showed me the amazing way affordable housing development can lead to community renewal.
I wish you well in retirement, Ken!
|
What's New
,
New York State
,
Member News
---
08.01.2017
Please plan to attend the 2017 Network Gala on Wednesday, October 18th at Capitale. We have much to celebrate this year, so please save the date for this wonderful event!
We'll be honoring RuthAnne Visnauskas Commissioner & CEO of NYS Homes & Community Renewal as Government Partner of the Year, for her pivotal role in securing the state's landmark Empire State Supportive Housing Initiative as well as her part in ensuring its swift implementation. We are also delighted to honor the decades-long contributions of Deutsche Bank as Private Sector Partner of the Year, including Deutsche's creation of the innovative DB Share program and the bank's longstanding support of both the Network and our nonprofit providers.
Our 2017 Gala Committee will be co-chaired by Hercules Argyriou of Mega Contracting and Ralph Fasano of Concern for Independent Living. This year's Gala Committee includes Oliver Chase of Hirschen, Singer & Epstein, Mark Fuller of DePaul, Brenda Rosen of Breaking Ground, and William Traylor of Richman Housing Resources.
As usual, we will once again be honoring outstanding supportive housing tenants and residences and have just extended the nomination deadline for both to August 15th. Click here to nominate a residence, and here to nominate a tenant.
We look forward to seeing you and celebrating your achievements this October!
Hope you can join us!
|
What's New
,
Network Events
---