Newsletter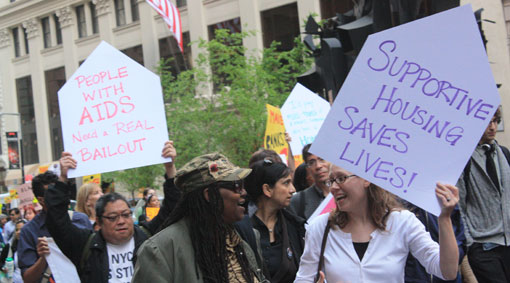 The Network publishes Network News, its monthly e-newsletter, as a chronicle of all things related to New York supportive housing. A typical issue features stories on new residence openings, budget updates, advocacy alerts, photos from recent events, Request for Proposal (RFP) information and summaries of new research. Read our past issues below, and click here to subscribe to our mailing list.
NYS budget funding for five years of supportive and affordable housing; an event to thank our government partners; HUD Secretary Ben Carson at NLIHC; two new residence openings in New York City.
Network's lobby day; new HPD Commissioner Maria Torres-Springer addresses Network's annual meeting; NYS budget update; federal budget update.
Leadership changes at HCR and at Goddard Riverside Community Center; a new residence breaking ground and a bolting up ceremony for another.
The executive budget for SFY 2018; the outgoing and incoming HPD Commissioners; a Q & A with New York state government partners on the State's new supportive housing program.
The post-election landscape for our supportive housing community; the Mayor's supportive housing task force recommendations and first awards for NYC 15/15; Campaign 4 NY/NY Housing 20k letter campaign; Gary Hattem retires; a conference on housing for people involved with the criminal justice system; residence openings upstate, on Long Island, and in Syracuse.
Our annual Awards Gala, two openings of new supportive housing residences, and new HHAP awards.
Governor Cuomo advancing the memorandum of understanding (MOU) to release $2 billion in affordable and supportive housing funding; announcement of the first Empire State Supportive Housing Initiative awards; our new Director of Policy and Planning Rebecca Sauer; our upcoming gala.
Update on the end of the legislative session, an amended RFP from NYS HCR, an opening and a ground breaking in NYC, green building opportunities.
Our upcoming annual supportive housing conference, the new state Supportive Housing Opportunity Program (SHOP) RFP, an update on HUD's CoC awards, Senators Schumer and Cantwell urging Congress to expand the Low Income Housing Tax Credit.
State budget update, the Mayor's 90 Day Review of Homeless Services, a guest post on protecting your agency and tenants against source of income discrimination, the HUD Summit in Saratoga, the NLIHC conference in Washington.
The Network's lobby day in Albany, a guest post from Allison Sesso on HSC's recent report, a legislative breakfast in Staten Island; New York Members of Congress support funding increases to end homelessness, and a tribute to Bill Hobson.
HSC's new report on the crisis within the social service sector, our upcoming annual conference, ribbon cuttings at Herkimer Street residence and Alan Epstein Apartments, and a national award for Community Access' Steve Coe.
Governor's announcement of 20,000 new units of supportive housing in his State of the State address, Mayor Bill de Blasio's announcement of a new supportive housing task force co-chaired by the Network's Laura Mascuch, and an article on the dozens of media stories from across the state in support of creating 35,000 supportive housing units that are now promised for New York State.
Mayor Bill de Blasio made the largest commitment in history in mid November; 26 Senators, Albany leaders and Long Island legislators all urged the Governor to match and extend that historic commitment, promising to create 35,000 units of supportive housing statewide; Cadillac Man's journey to housing.
Legislators across the state call for a robust NY/NY4; the Network's Awards Gala; the NYC Housing Forum; the CSH report on homelessness in NYS.
Buffalo legislators and community leaders support the Campaign 4 NY/NY Housing, the Network brings Richard Gere and Oren Moverman to visit supportive housing, the honorees for the upcoming annual awards gala, and Governor Cuomo accepts recommendations aimed at easing re-entry for formerly incarcerated individuals.
A bipartisan group urges Governor Cuomo to create more supportive housing, Nicole Branca moves to MOVA, a groundbreaking in the Bronx and an invitation to our annual awards gala on October 14th.
The 15th annual NYS Supportive Housing Conference, a residence opening in the Bronx and a ground breaking in Mt. Vernon, and the HUD Summit in Utica.
The Mayor's FY2016 Executive Budget, residence openings in Poughkeepsie and East Harlem, and the Governor's Blueprint to End AIDS.
The New York State budget and supportive housing, the Network's annual meeting, the Network's Funding Guide relaunches, and a recent tour of a new supportive housing residence with Senator Jesse Hamilton.
The Network and HSU lobby in Albany in February and March with a record number of providers and tenants joining our efforts, and the NY State Assembly honors supportive housing providers.
The NY/NY 4 agreement and the Governor's proposed 2015 budget, and a story on a new residence opening in Schenectady.
The legacy of Governor Mario Cuomo, a story about the British royal family's visit to The Door, and the SUS/Palladia merger.
Three new residences open in New York City, Emergency Preparedness Trainings and Templates Update, Binghamton honored for housing homeless veterans.
Laura Mascuch appointed as the Network's new Executive Director, 2014 gala recap, NYC Continuum of Care honored in Washington D.C., and more.
2014 Network gala, openings of gorgeous new supportive housing residences in Long Island and NYC, and more.
Ted Houghton departs, 2014 Network gala, HCR releases UFR RFP and more.
Conference recap, Campaign 4 NY/NY Housing, Phipps Houses and more.
NYC housing plan, conference preview, Hour Children, Odyssey House and more.
State budget, Diane Sonde, Charlotte study, RFAs and more.
Federal budget, Albany advocacy day, Alan Epstein internship and more.
State budget, NYC commissioners, Housing Is Healthcare Coalition and more.
NYC appointees, State of the State, NY/NY III report, homeless youth and more.
HASA restorations, youth homelessness survey, RFPs, NOFAs and more.
Awards Gala, 97 Crooke Ave. and Navy Green grand openings and more.
Mosholu Gardens and Vyse Ave. grand openings, Gala preview and more.
Alan Epstein, Mathew Wambua, HHAP awards, Pop G RFP and more.
Federal advocacy, Sequestration Stories, adult homes, Youth Count and more.
Conference wrap-up, HPD RFQ, NYC budget, Bronx groundbreaking and more.
D'Addario grand opening, Unified Funding Round and more.
Conference preview, NYC Advocacy, Eastman Commons and more.
State budget wrap-up, HASA rally, United to End Homelessness and more.
State budget advocacy, Lockport grand opening, sequestration and more.
New York City/State budgets, Youth Count recap, groundbreakings and more.
State of the State, NYC Youth Count, HPD Assistant Commissioner and more.
Fiscal cliff, Kingsbridge Terrace, Cadence Square, Jon Kest and more.
Hurricane Sandy, Commissioner Hogan, groundbreakings and more.
Tim O'Hanlon retirement, grand openings, family paper, Gala preview and more.
Green initiatives, federal benefits and more.
Medicaid waiver, Utica grand opening, Harlem groundbreaking, RFPs and more.
Medicaid RFP, HEARTH, NYC budget, Building Brooklyn Awards and more.
Conference recap, historic City/State supportive housing expansions and more.
Conference preview, NYC budget, Lenniger opening, Huyler Held and more.
Advocacy Day, HASA protest, Cedar Ave. opening, film festival and more.
State budget advocacy, HASA Work Group, HPD Design Guidelines and more.
City and State budgets, HOPE count, family NY/NY III awards and more.
Medicaid redesign, NY/NY III update, The Bridge groundbreaking and more.
Family supportive housing, Geel opening, CAMBA groundbreaking and more.
Awards Gala recap, HUD cuts, upstate trainings, The Schermerhorn and more.
Three residence openings, Medicaid redesign forum, HUD advocacy and more.
Medicaid redesign, family supportive housing roundtable and more.
City and State budget victories, grand openings, a job vacancy and more.
Annual conference recap, Cornel West and more.
Family supportive housing roundtable, rally against budget cuts and more.
New York City rally, new HPD commissioner, federal budget activity and more.
Annual Lobby Day recap, Medicaid Redesign Team and more.
DOH AIDS Institute, Keeping Families Together, SHFYA news coverage and more.
State of the State recap, HUD reforms, Governor Cuomo and more.