Social Purpose Ventures
Social purpose ventures represent a win-win-win for supportive housing providers, communities and tenants. As revenue-generating businesses operated by nonprofits, these programs create income for nonprofit organizations, offer work experience for our most vulnerable citizens and foster small businesses within the community. Common examples of social purpose ventures include thrift stores, bookstores and catering companies. Below, you'll find information on social purpose ventures operated by the Network's members from across New York State. Ventures are listed under two categories: Retail stores and services.
---
Retailers: Thrift stores, candy shops, bookstores and more
These social purpose ventures provide affordable retail options for the community and much-needed job experience for formerly homeless individuals.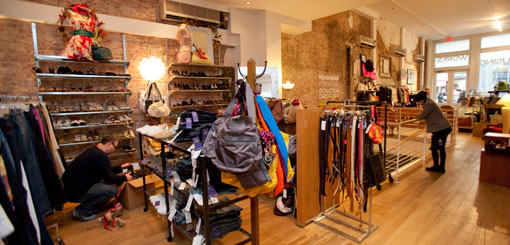 Housing Works' Tribeca Thrift Shop. Photo courtesy of Housing Works.
DePaul
DePaul's T-Shirt Factory employs individuals with a mental health diagnosis who reside in Monroe County. A textile silk screening and embroidery, the T-Shirt Factory produces shirts, jackets, hats, tote bags, mugs and other promotional products.
Goodwill Industries
Goodwill operates more than 2,600 second-hand retail stores across the continent. To operate its stores, the organization employs thousands of low-income individuals and persons with disabilities, among others. New York City alone is home to more than a dozen Goodwill stores.
Greyston Foundation
This Yonkers-based foundation runs Greyston Bakery, a renowned dessert purveyor whose brownies are mixed into Ben & Jerry's ice cream. The bakery also offers a line of gourmet brownies for sale.
Hour Children
Hour Children runs three thrift stores in Queens: Changes, The Attic and Fancy Thrift. Stores offer tenants job training experience, a convenient source for affordable clothing and are open to the public.
Housing Works
Housing Works operates Bookstore Cafe, a SoHo institution regarded as one of the finest bookstores in New York City. The organization also runs 12 thrift stores across Manhattan and Brooklyn.
Lantern Group
Lantern Group runs Little Things, a Brooklyn candy store that employs people with mental illness. The store boasts a retro vibe and a diverse collection of candy. It was the subject of a 2011 article in the New York Daily News.
Neighborhood Coalition for Shelter
NCS runs Emporium Online, an Amazon.com virtual store that sells new and used donated items. The store is operated as a job-training program for homeless and formerly homeless individuals. Emporium Online currently has over 2,500 CDs, DVDs, video games, software and books for sale.
---
Services: Catering, horticulture, temp agencies and more
These social purpose ventures provide jobs to the formerly homeless and services to the community.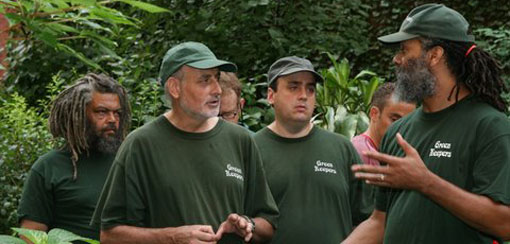 Employees at Goddard Riverside Community Center's Green Keepers plan a landscaping project in New York City. Photo courtesy of Goddard Riverside.
The Doe Fund
The Doe Fund offers several work opportunities to participants of its Ready, Willing & Able program. Its Community Improvement Project puts crews of "men in blue" to work cleaning 150 miles of New York City streets. It also created Back Office of New York, a full service mail house; Pest at Rest, an integrated pest management business; and Resource Recovery, a program that collects used cooking oil from food service establishments for conversion into biodiesel.
Fifth Avenue Committee
In 2000, Fifth Avenue Committee created Brooklyn Workforce Innovations (BWI) to help unemployed and poor New Yorkers find jobs and establish careers. Fifth Avenue also created and is an affiliate of FirstSource Staffing, a social purpose staffing company that provides temp work, direct placement and temp-to-permanent job placement in New York City.
Goddard Riverside Community Center
Green Keepers is Goddard Riverside's small business that provides horticulture, street sanitation and pest control services throughout New York City. Since 1995, Green Keepers has partnered with the Broadway Mall Association, Lincoln Square Business Improvement District and Riverside Park. It offers a complete list of horticulture services for public, commercial and residential properties.
Peter Young Housing, Industries & Treatment
PYHIT owns LeMoyne Manor and Schuyler Inn, two hotels located just outside Syracuse and Albany, respectively. Both hotels serve as training facilities for PYHIT students in culinary arts and hospitality.
Project Renewal
Project Renewal runs Comfort Foods, a catering company in operation since 1997. Comfort Foods generates jobs for graduates of Project Renewal's Culinary Arts Training Program, many of whom were formerly homeless. Project Renewal has also operated Shamrock Construction since 1983.
Saint Joseph's Medical Center
Rainbow Environmental Services provides recycling and document destruction services, floor stripping and waxing, office cleaning services and a courier service. It was created in 1992 to provide jobs for those unable to attain or maintain employment due to their psychiatric disabilities.

Join Our Email List


for News and Updates
Did you know…
For every $1 spent on a Los Angeles supportive housing program, public and hospital costs were reduced by $2 in the first year and $6 in later years.