Richard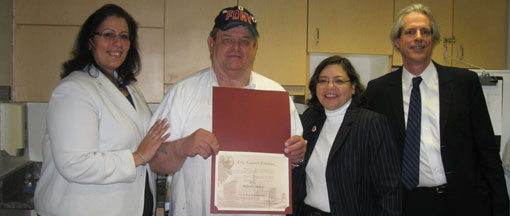 Housing and Services, Inc. (HSI) tenant Richard Calabrese receives a citation for excellent community service from the New York City Council. From left to right: HSI Trustee Dawn M. Carrillo, Richard Calabrese, Councilmember Rosie Mendez and HSI Executive Director Jim Dill.
Every weekday, Richard Calabrese awakes before sunrise to voluntarily prepare breakfast for his fellow tenants at Kenmore Hall, a supportive housing residence in Manhattan. Richard offers a rotating menu, which includes homemade waffles, freshly baked muffins, scrambled eggs, French toast, pancakes and plenty of coffee and juice. He does this work, day after day, simply to volunteer and give back. He doesn't earn or expect a cent in return.

For his commitment to the people of Kenmore Hall, Richard received a citation for outstanding community service in 2011 from New York City Councilmember Rosie Mendez.

Housing and Services, Inc. (HSI), the building's provider, hired him for the volunteer gig in 2010.

"They told me six months, and then they'd get somebody else," Calabrese says. "Well, six months went bye-bye a long time ago."

Richard has lived at the Kenmore since March 22, 1994 -- he remembers the date without hesitation. The neighborhood was quite different back then. In those days, the clever and resourceful Richard would wear a pair of handcuffs around his waist, so strangers on the street would mistake him for a cop.

"No one would mess with me," he says with a chuckle.

Today, few could mistake him for anything but a former firefighter. Richard, who served in New York and New Jersey fire departments for 35 years, can rarely be seen without his FDNY baseball cap. He got his initial taste for cooking in New Jersey, where he would occasionally cook meals for his fellow firemen.

In Jersey, Richard led a relatively stable life until 1986, when a series of misfortunes left him yearning for a drastic change. Richard's father and uncle passed away, and he lost his license after a terrifying car crash.

"I was a good driver, except for that one day on June 15," he recalls. "It was hot that day; I remember that day real good. I'm going down the road, not speeding or anything. Then my eyes just start to close. I must've been tired. Next thing I know, everything was over. It was just me and the pole."

Richard hasn't driven a day since. After his streak of bad luck, he moved to New York City, where he spent some time living out of a cardboard box. Eventually, through the help of a social worker, he found his way to Kenmore Hall.

As one of Kenmore's longest-running tenants, Richard has helped transform the residence into the friendly, inviting place it is today. Through his work, Richard does more than just serve food and coffee: He helps foster a close-knit community at Kenmore Hall, which is what supportive housing is all about.
Want to see your tenant's story on our website? Contact us!

Join Our Email List


for News and Updates
Did you know…
Children with reports of maltreatment declined dramatically in supportive housing, while the number of similar reports among homeless children increased.